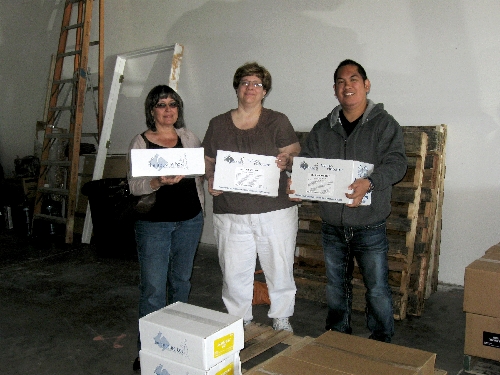 A friend to those struggling at the poverty level has succumbed to a depressed economy.
The Treasure Box, a California-based support organization that provided many Las Vegas-area residents with discounted, store-quality food, went out of business in September.
Fifteen churches and community outreach programs partnered with the Treasure Box. Families and individuals received boxes of food retailing for between $60 and $85 for $32 each. The program was in operation for three years as a division of GoodSource Solutions, a food distribution company, said its former Las Vegas community outreach coordinator, Carlos Sayan.
"With the economic downturn, food prices and transportation costs got so high that the program itself wasn't able to operate," he said. "The more things kept going up, the fewer items we were able to put in the box, making it not as great a value as we had set. It wasn't going to be a good deal to our customers."
The Treasure Box gave its partners a roughly two-month notice of its demise, Sayan said.
Yolonda Kelker , whose husband is pastor at Fresh Wind Ministries, 3231 N. Decatur Blvd., coordinated the program for about 400 congregants and community members, she said.
The church had about nine distributions through the Treasure Box before it closed.
"I felt really bad for the families who really, really depended upon it," she said. "Anyone could take advantage of it, but my heart went out to the seniors and the families really under a limited income."
Kelker fielded several calls from Treasure Box users and told them, "I'm really searching (for a replacement)," she said.
She was in the process of arranging substitute discounted food from the national nonprofit Angel Food Ministries but it also closed in September.
"We were equally disappointed," she said.
The church occasionally has been able to offer free dinners for congregation members, Kelker said, and she is searching for another food assistance agency.
She said she is sad that the Treasure Box partnership dissolved.
"It was a great program while it lasted," she said.
Each Treasure Box contained between 21 and 25 pounds of high-quality frozen foods, including chicken, pork, beef or seafood, vegetables, fruit, a side dish and a dessert. Each box was enough food to sustain a family of four for at least two meals a day for a week or more, Sayan said in March.
Contact Centennial and North Las Vegas View reporter Maggie Lillis at mlillis@viewnews.com or 477-3839.