The Two Non-Motley Crue Classics Written About Vince Neil
February 2, 2009 - 11:08 pm
Two classic rock songs were written about Motley Crue singer Vince Neil. One was Aerosmith's "Dude (Looks Like A Lady)."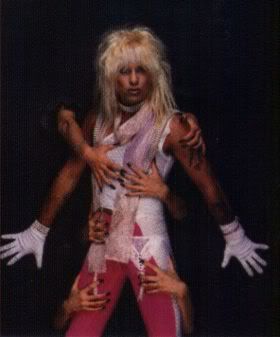 As bassist Nikki Sixx said in his book, "The Heroin Diaries," Aerosmith singer Steven Tyler spotted Neil in a bar and was impressed a guy who looked like a girl (in the hair day heyday of the 1980s) could pick up girls.
"Oh yeah," Neil says when I bring it up. "Steven Tyler and a guy named Desmond Child, who wrote the song, wrote the song about me."
But Neil — whose band closes the Hard Rock's Joint on Friday and Saturday — says he also inspired the Dire Straits old hit, "Money For Nothing."
"That was written about me, too," he says. "Remember the lyrics?"
The song goes: "See the little faggot with the earring and the makeup; Yeah, buddy, that's his own hair. That little faggot got his own jet airplane; that little faggot — he's a millionaire."
Neil laughs about it.
"It's great. Back then, if you didn't have a No. 1 song, you might as well have somebody write one about you," he says.
Did he ever confront either band?
"No, no, it's cool. It's part of rock history!"