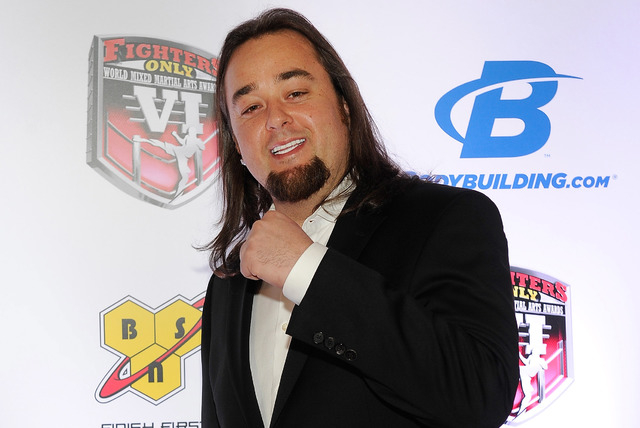 For a guy who keeps getting killed off on the Internet, Austin "Chumlee" Russell of the "Pawn Stars" looks like a million bucks.
The latest hoax surfaced on Wednesday when an attention-seeking website posted a flowery account of his demise.
The bogus "exclusive" even cited a doctor's claim that the reality star's death was likely the result of the rapid weight loss of 100 pounds.
They had something right, at least.
In the past week, he hit the 100-pound mark, and "I've got 50 more to go.
"It's the healthiest I've ever been. It's been a long road and I'm so proud of myself," said Russell, who was named after the portly walrus, Chumley, from the animated cartoon TV series "Tennessee Tuxedo and his Tales."
"I woke up with 15 missed text messages," he said. He knew what they were about without looking.
He fired off text messages to his mother and sister "to let 'em (know) I'm still alive."
It was the second time he was the victim of a hoax by a tabloid website.
Not long after the website (which also reported hoax deaths of Betty White and Justin Bieber) went with the story on Wednesday, Austin tweeted out to his 187,000 Twitter followers: "May we live long, Rich forever."
His "Pawn Stars" boss, Rick Harrison, was considerably more emphatic, tweeting: "Breaking news: CHUMLEE IS ALIVE &WELL! He is actually filming today but we all really appreciate everyone's concern."
Last September, "Chum" explained why he was determined to keep losing more than the 75 pounds he had lost.
"My dad died from pancreatic cancer at 54, two weeks before the show aired. I'm making sure I'm eating my vegetables and staying away from the red meat," he told me in an interview.
Asked how he celebrated the 100-pound weight loss milestone, Austin said, "I celebrate once a week with a cheat meal. I get to eat whatever I want once a week."
What is his favorite cheat meal?
"Probaby the same as 90 percent of the world. Who doesn't like a good pizza?"
Golf has become his latest passion.
He even got a few tips from legendary golf teacher Butch Harmon.
"He said I could beat Charles Barkley, so I'm winning," Austin said.
THE SCENE AND HEARD
I'm in Scottsdale, Ariz., this week for my annual fix of spring training baseball. So I'm following the Pac-12 tournament, back at the MGM Grand again, via The Arizona Republic. Arizona coach Sean Miller had a classic quote the other day about some of the longer road trips: "You come back, and your kids have mustaches and the dog doesn't know you." …
Trumpet ace Carl Saunders joins Sunday Jazz at the Bootlegger from 2-4 p.m. this week. Saunders spent much of his career performing in Las Vegas before moving to Los Angeles. He's a regular on Barbara Streisand's albums. The door charge is $10. …
The April 7 Las Vegas premiere of the supernatural thrlller "Awakened" will be held at the Brenden Theatres at the Palms. The lead actress, Julianne Michelle, has local ties. She is the daughter of longtime Las Vegan Joseph Di Palma. The film co-stars Steve Bauer and Edward Furlong. …
The Animal Foundation's 11th annual Best of Show adoption event will be held April 27 at the Orleans Arena. Jeff Civillico, who headlines at The Quad, will host the fundraiser for The Animal Foundation's Lied Animal Shelter. Tickets: $12 for adults and $5 for seniors and children 2-12 years of age and may be purchased by visiting animalfoundation.com/best-in-show.
SIGHTINGS
Spotted at Wednesday's opening round of the Pac-12 men's basketball tournament at the MGM Grand Garden: Nike co-founder Phil Knight, former Oregon State and NBA star A.C. Green, former BYU star and current Boston Celtics president of basketball operations Danny Ainge and former NFL All-Pro running back Steven Jackson, who attended Oregon State. … At the one-year birthday party of Rockhouse (Grand Canal Shoppes at The Venetian) on Tuesday: former UFC heavyweight champ Frank Mir, former 98 Degrees member Jeff Timmons, cast members from "Fantasy," "Rock of Ages" and "Men of the Strip," reigning Miss Nevada Nia Sanchez, and UNLV mascot Hey Reb.
THE PUNCH LINE
"A family in Oregon called 911 after they were trapped in a bedroom by their cat. I'll say it again. They were trapped in their bedroom by their cat. Apparently the cat held the family hostage until its demands were met. Its demands were food and sleep. The cat was apprehended and received a sentence of four to nine lives." — Craig Ferguson
Norm Clarke's column appears Sunday, Monday, Wednesday and Friday. Reach him at 702-383-0244 or norm@reviewjournal.com. Find more online at www.normclarke.com. Follow @Norm_Clarke on Twitter.