You'll never look at Sun City the same after you read "Boomer Babes, True Tales of Love and Lust in the Later Years" (Maria Grazia Swan, 2008, Dorchester Publishing). You'll never again be fooled by the quiet streets and apparent chaste serenity atmosphere of your local retirement community.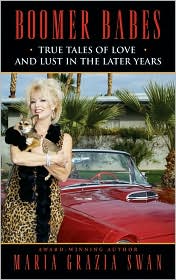 The setting for the book is Phoenix, where Swan is a writer, relationship advice columnist, matchmaker — and Realtor.
Retired is not the word for the people — according to Swan, real people — who inhabit the world of "Boomer Babes." They might not be working, but they're not sitting at home, waiting to meet the Grim Reaper. As one woman says about a friend of hers, if she did encounter him, she'd probably proposition him.
Here are tales of love in unexpected places, of women with secret pasts and men who don't know what they want — or what's not good for them.
There's the wealthy man who lets a succession of young Russian women move into his house, knowing they won't stay and only want his money. There's the woman who meets her true love in a medical facility after she has a nervous breakdown. And there's the gorgeous gold-digger who gets a taste of her own poison when she finally falls in love and her fiance cleans out her bank account and runs off with her maid of honor.
Age is a state of mind, Swan writes. The baby boomers were the generation who embraced women's lib. They're determined to stay younger longer, in many cases, whatever it takes. Time always wins, but they're putting up a heck of a fight, and loving every minute of it.