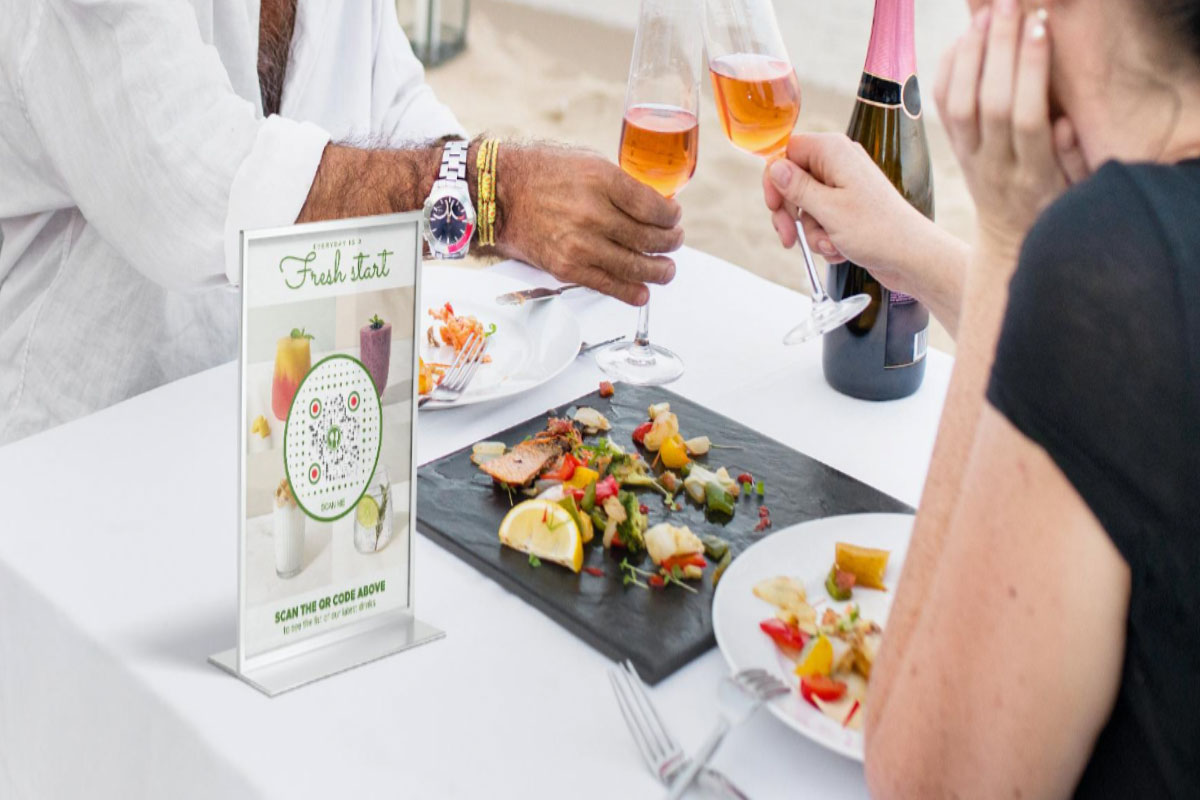 QR codes are versatile tools that offer customers a quick and convenient way to access information and engage with brands.
Different industries use these squares because they are helpful for marketing efforts and offer one-of-a-kind chances to connect with clients in fresh and creative ways.
Marketers can explore the benefits of using QR codes in marketing and provide creative campaign ideas using a reliable QR code generator with logo software.
Read on to learn about the different uses of QR codes in marketing campaigns.
7 QR Code Uses In Spring And Summer Marketing
Mobile Loyalty Programs
Loyalty programs are a surefire way to engage customers and encourage them to repeat business. And with QR codes, you can create a mobile loyalty program that's more convenient to access.
The spring and summer months provide the perfect opportunity for businesses to reach customers spending more time outdoors and looking for new ways to engage with brands.
Contactless Menus
Transform the dining experience for customers by offering a menu QR code in your restaurant.
Let customers view menu items, prices and descriptions from their smartphones. With this digital tool, you can reduce wait times and operate with lesser staff.
And when you use interactive digital menu software, you can also gather valuable data about customer preferences, which you can use to determine your bestsellers and the items that aren't making any sales.
Virtual Events and Experiences
Impress customers by offering virtual experiences, such as virtual tours and events, using QR codes.
Allow them to preview offerings from the comfort of their own homes and gather data about their preferences and behaviors in the process.
Location-Based Offers
QR codes can effectively drive traffic to your business and incentivize customers to engage with your brand.
Offer exclusive promotions and discounts for in-store transactions to encourage customers to visit your business and purchase.
It will allow you to gather valuable data for your customer's preferences and behaviors and provide insights into how to market your target audience best.
Mobile-First Contest and Sweepstakes
Build brand awareness and generate leads by offering mobile-first contests and sweepstakes that incentivize customers to engage with your brand using QR codes.
When customers are more active outdoors, the spring and summer months provide the perfect opportunity to capture their attention and drive engagement.
Streamline the Checkout Process
Make the checkout process faster and more convenient for customers by using QR codes for payments.
Encourage customers to scan codes to quickly complete transactions, reducing wait times and providing a more seamless experience.
Track Inventory with QR Code Labels
Streamline inventory management and reduce the risk of stock discrepancies by using QR codes for inventory tracking.
Encourage employees to scan codes for real-time inventory level updates, making managing stock easier and ensuring customers can access the products they need.
Benefits of QR codes in marketing
Enhanced customer experience
Marketers can enhance the customer experience by offering instant access to information using QR codes to reduce wait times and deliver a more seamless and enjoyable experience.
Provide increased accessibility
Customers can simply scan QR codes using their smartphones to stay in touch with their favorite brands and keep updated with the latest offers.
It eliminates the need for manual data entry and streamlines the customer experience.
Offer cost-effective solutions
QR codes are digital tools that don't require printing or distribution costs. They provide businesses with an easy and quick way to connect with customers.
And should you want to invest in print media marketing, you can easily incorporate QR codes in your posters and banners.
Collect valuable data
Gather valuable data about customer behavior, preferences and engagement with the help of QR codes.
This can empower businesses to make accurate, data-driven decisions about their marketing efforts.
Measure results
Businesses can use dynamic QR codes to track the success of their marketing efforts and create strategies to improve their future campaigns.
Enhance Your Marketing Efforts Using QR Codes
QR codes provide businesses with a powerful tool for driving engagement, generating leads and improving the customer experience.
It's important to use a high-quality QR code generator that provides tools to create custom, professional-quality codes optimized for your marketing campaigns.
If you want to take your spring and summer marketing efforts to the next level, consider using QRTIGER, the best QR code generator, to achieve your goals.
Visit QRTIGER and create your customized QR code today.
Members of the editorial and news staff of the Las Vegas Review-Journal were not involved in the creation of this content.