Ashwagandha has been a staple in Ayurveda for millenniums. It's commonly used to improve sleep, stress, anxiety relief and better athletic performance. It's arguably one of the most popular supplements used today.
As ashwagandha has grown in popularity, so has the number of ashwagandha supplements on the market. This can make it incredibly difficult to determine which ashwagandha supplements are worth buying and which are worth avoiding.
Our editorial team has analyzed over 100 ashwagandha supplements and has found the best ashwagandha products for 2023.
The Best Ashwagandha Supplements for 2023
After examining lab reports, inspecting ingredient labels and pouring over customer reviews, our editorial team has determined these ashwagandha supplements are the best for 2023:
Oweli Ashwagandha

Simple Life Nutrition Ashwagandha

Xwerks Ashwa

Nuzena Ashwagandha Pure+

Essential Elements Organic Ashwagandha

Goli Ashwagandha

Zhou Ashwagandha

Amy Myers MD ZenAdapt

NaturaLife Labs Organic Ashwagandha
Here's a brief overview of each ashwagandha supplement on our list:
Oweli Ashwagandha
Oweli is another popular ashwagandha supplement designed to combat stress and anxiety and improve your mood. In addition, Oweli claims it can also support your sleep cycle and cognition function.
Like many others, Oweli Ashwagandha uses 1,300mg of ashwagandha in each serving. Oweli also added 100mg of black pepper extract to help better your body absorb ashwagandha powder.
A single bottle of Oweli Ashwagandha costs $19.99, which is good for a 30-day supply and competitively priced to comparable products. Oweli also tests their ashwagandha for purity and potency to ensure only the purest, best-quality ingredients are used to manufacture their high-quality ashwagandha capsules.
Simple Life Nutrition Ashwagandha – Best Overall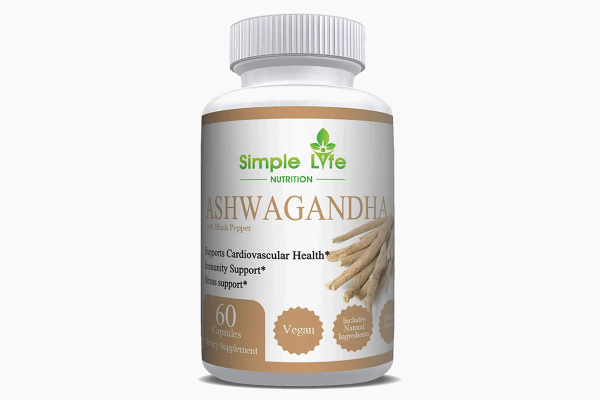 Our top-rated ashwagandha supplement for 2023 is Simple Life Nutrition Ashwagandha capsules. Simple Life Nutrition's organic ashwagandha is designed to improve immune health, relieve stress and anxiety, improve cardiovascular health and overall wellness.
Each two-capsule serving of ashwagandha from Simple Life Nutrition contains a healthy 1,300mg dose of organic ashwagandha powder. Simple Life Nutrition added 100mg of black pepper extract to help you absorb the ashwagandha powder better.
In addition, Simple Life Nutrition uses a vegan capsule over the more common gelatin capsule. If you're looking for a pure ashwagandha supplement made with pure, organic ashwagandha powder, then you need to give Simple Life Nutrition Ashwagandha capsules a shot. One bottle is only priced at $17.99 and comes with a full 30-day money-back guarantee.
Xwerks Ashwa
If you're not a fan of capsules or have trouble swallowing, then perhaps Xwerks Ashwa made be right for you. Their ashwagandha supplement comes in the form of delicious gummies, which are flavored with a strawberry taste.
According to Xwerks, their ashwagandha gummies are designed to help men improve their testosterone levels. It's also designed to enhance athletic support, reduce stress levels, neutralize cortisol production and help sleep better at night.
If you're specifically looking for an ashwagandha gummy supplement, or want ashwagandha for its effects on athletic performance, then you can't go wrong with Xwerks Ashwa. One bottle costs only $19 and is suitable for a 30-day supply. Like all Xwerks products, it also comes with a 100% satisfaction guarantee.
Nuzena Ashwagandha Pure+
Ashwagandha Pure+ is a premium supplement from Nuzena, one of the most trusted names in the industry. Nuzena Ashwagandha Pure+ is explicitly designed for mood support, to combat stress and anxiety and to support thyroid health.
One serving of Ashwagandha Pure+ contains 1,300mg of organic ashwagandha and 10mg of organic black pepper extract to support absorption. Every batch of Nuzena's products is third-party tested for purity and potency to ensure no contaminants or harmful ingredients make their way into the final product.
One single bottle of Nuzena Ashwagandha Pure+ costs $35, which is on the pricier end compared to the other products on our list. However, if you're into the premium ashwagandha market, you may find the costs are well worth it, given the high quality of the ingredients used.
Essential Elements Organic Ashwagandha
Essential Elements sells an organic ashwagandha supplement to combat anxiety and improve mental clarity and concentration. It also may improve mood and help relieve stress as well.
Each two-capsule serving of Essential Elements ashwagandha contains 1,950mg of ashwagandha, one of our list's most potent doses. It also includes a small black pepper extract for better absorption, like the other top options on our list.
There's nothing extraordinary about Essential Elements Organic Ashwagandha. It's a solid overall product backed by hundreds of positive customer reviews and a stellar reputation in the supplement industry. One bottle costs a very reasonable $17.50, which is competitively priced compared to most of the other options on our list.
Goli Ashwagandha
Goli is one of the most well-known names in the supplement industry, despite only having been around since 2019. Their ashwagandha gummies are one of the best-selling ashwagandha supplements on Amazon, with thousands of positive customer reviews.
Every ashwagandha gummy from Goli is filled with KSM-66 ashwagandha and vitamin D, which support relaxation and overall wellness. Goli also claims their ashwagandha gummies can support immunity, cognition, stress relief and anxiety relief.
Goli Ashwagandha is priced at only $19 per bottle, suitable for a one-month supply. It comes in a delicious mixed berry flavor and currently has a 4.6/5 star rating on Amazon, making it one of the best-rated products available. If you want a high-quality ashwagandha gummy, then Goli is an excellent choice.
Zhou Ashwagandha
Zhou Ashwagandha is a unique ashwagandha-based supplement that also includes other adaptogens to relieve stress and anxiety. In addition, Zhou Nutrition claims you can improve energy levels, athletic performance and gut health. Priced at only $14.24 per bottle, Zhou Ashwagandha & Adaptogen Blend is one of the better-valued options on our list.
In addition to 1200mg of ashwagandha, Zhou Nutrition added additional adaptogens like reishi, cordyceps, holy basil, Rhodiola rosea and other ingredients. They also added a small dose of black pepper extract to support absorption.
Overall, Zhou Ashwagandha is a solid choice if you're looking for additional adaptogen support in addition to ashwagandha. Plus, since it offers you extreme value, it is one of the best choices on our list if you are on a tight budget.
Amy Myers MD ZenAdapt
ZenAdapt is a doctor-formulated ashwagandha supplement that minimizes cortisol production and balances stress response. It's made by Amy Myers, MD, one of the leading doctor-formulated supplement brands in the industry.
ZenAdapt's main ingredient is ashwagandha and other adaptogens like saffron extract, PEA, venetron® and Rhodiola rosea. These ingredients are specifically designed to soothe overstimulated nerves and balance stress hormones.
ZenAdapt is currently priced at around $40 per bottle, which does make it one of the more expensive ashwagandha supplements on our list. However, it can justify this price given the strong dose of KSM-66 ashwagandha and other proven adaptogens. It is also one of the few doctor-formulated ashwagandha products on our list.
NaturaLife Labs Organic Ashwagandha
NaturaLife Labs Organic Ashwagandha capsules are the final product on our rankings. It's designed specifically for stress relief, improving mood, boosting immunity, and supporting your thyroid function.
Each serving of organic ashwagandha from NaturaLife Labs contains 2,100mg of ashwagandha and 8mg of black pepper extract. This is one of the most potent doses on our list.
NaturaLife Labs has over 38,900+ reviews on Amazon with an average rating of around 4.4/5 stars. However, some of these reviews seem like they were paid for, which makes it difficult to gauge. This is why we could not rank NaturaLife higher, even though it is a solid ashwagandha product.
Ranking The Best Ashwagandha Supplements for 2023
Every ashwagandha supplement claims to be the best. However, our research has found that most ashwagandha supplements cannot live up to their claims. To determine which ashwagandha supplements were worth buying and which were better off avoiding, we used the following ranking factors:
Ashwagandha Dosage
When buying an ashwagandha supplement, you're strictly buying it for the ashwagandha extract. This is why we considered the dosage our No. 1 ranking factor when reviewing products. Ashwagandha is effective between 25mg to 2,000mg daily, which is why we featured products with all of these dosages to accommodate any individual need.
Organic Ashwagandha
Although it is not necessarily required, we prefer organic ashwagandha extract products. Organic ashwagandha is grown without certain pesticides and insecticides known to be problematic for the human body. This is why we saw organic ashwagandha supplements as of higher quality.
Black Pepper Extract
Much like turmeric, studies have found the human body struggles to absorb the active compounds in ashwagandha. However, when mixed with black pepper extract, the body appears to be able better to absorb the active ingredients by a significant margin. This is why we included supplements with any black pepper extract dosage.
KSM-66® or Sensoril
Not all forms of ashwagandha are the same. For example, two patented forms of ashwagandha are known as KSM-66® and Sensoril®. These ashwagandha forms have several benefits related to sleep, cognition and athletic performance. Although not required, we still credited products that used KSM-66 or Sensoril® since they are both extensively studied.
3rd Party Testing
All of the best ashwagandha supplements have their products third-party tested for purity, potency and quality. This ensures each product has exactly what it says it does. Otherwise, you may not know what you're getting.
Manufacturer Reputation & Transparency
Some supplement companies have a long history of producing high-quality products. Others are simply trying to cash in on the hype surrounding ashwagandha. While we didn't discount a supplement brand merely because they were new, we still preferred companies with a long history of producing safe, effective supplements.
Honest Advertised Benefits
Ashwagandha has been clinically studied and proven to support health in several ways. However, it isn't a miracle supplement by any imagination. This is why we preferred companies that made realistic claims about their product and the potential benefits. We avoided companies that we felt used exaggerated or unrealistic claims.
Price and Overall Value
Ashwagandha isn't all that rare, so it shouldn't be expensive. Most of the best ashwagandha products cost anywhere between $15 and $30 for a one-month supply. However, some premium supplements can demand premium pricing. Therefore, we tried to find the best ashwagandha supplements at various price points.
Money Back Guarantee
No ashwagandha supplement is going to work for everyone. If you don't see results, you should be able to get your money back. This is why we require every product on our list to have at least a 30-day money-back guarantee in the event you are dissatisfied.
Customer Reviews
The best way to evaluate an ashwagandha supplement is to read customer reviews. This gives us insights into the average customer experience. Did customers experience any benefits? Did they experience any side effects? Would they recommend it to their friends or family? Were there any side effects? These were all questions we had to answer when reading customer reviews.
What Exactly is Ashwagandha?
Withania somnifera, better known as ashwagandha, is an evergreen herb used in Ayurvedic medicine to support energy levels, stress response and anxiety relief. It can also be known as Indian ginseng or Indian winter cherry and is naturally found in India, Africa and parts of the middle east.
Over the last few decades, dozens of clinical studies have found potential benefits to taking ashwagandha, such as inflammation support, anxiety relief and better athletic performance.
Since ashwagandha is an adaptogen, it is often used to improve your stress response. This helps to manage several stress-related hormones and may combat weight gain, depression and other adverse effects of high-stress levels.
With so many potential health benefits, it's no wonder ashwagandha has become one of the most popular supplements used every day. Experts claim interest will also grow, especially as more benefits are discovered.
Who Should Take Ashwagandha?
People can take ashwagandha for several different reasons. It is best known as an adaptogenic supplement, which helps relieve stress and anxiety. Still, it supports anything from testosterone production in men to cognition.
Some of the people who may find ashwagandha beneficial include:
Those struggling with high levels of stress or anxiety

Anyone with sleep issues or insomnia

Men looking to increase testosterone production or athletic performance

Those looking to boost cognition, memory, or overall brain power

Anybody looking to improve sex drive, virility, or overall function

Those looking to combat inflammation
In reality, given the vast number of benefits associated with ashwagandha, it can benefit virtually anybody, even if you don't fit the criteria above.
How Does Ashwagandha Work?
Ashwagandha has several phytochemicals that help to calm your brain naturally and blood pressure and, most importantly, reduce your body's response to stress.
Ashwagandha is an adaptogen that helps mitigate the effects of stress on your body. In other words, it affects what is known as your "fight or flight" response to stimuli.
When dealing with stress due to stimuli, your body either chooses to fight or flee. Ashwagandha appears to improve your body's ability to manage this response, affecting how you respond to mental and physical stressors.
To be more precise, research suggests that ashwagandha appears to control various mediators of stress within your body. It seems to regulate stress hormones like cortisol and shock proteins like Hsp70. It also appears to play a role in the stress-activated c-Jun N-terminal protein kinase, or JNK-1. All three of these chemicals are reliable biomarkers for stress and ashwagandha seems to lower levels of these compounds.
Because of these effects, ashwagandha appears to relieve stress and anxiety, mitigate the aging process and potentially stop insomnia.
Science-Backed Benefits of Ashwagandha
Ashwagandha has been used in Ayurvedic medicine for centuries. However, while many health experts claim that many herbal extracts are unproven, ashwagandha is one of the few herbs backed by numerous real clinical studies.
Ashwagandha is known for its ability to combat stress and anxiety, weight loss and immune health. We'll take a look at the most science-backed benefits of taking ashwagandha.
Ashwagandha is best known for its ability to act as an adaptogen, thus reducing stress and anxiety levels. It appears to help achieve this by controlling stress mediators, such as heat shock proteins, cortisol and stress-activated c-Jun N-terminal protein kinase (JNK-1). It also reduces the activity of the hypothalamic-pituitary-adrenal axis, which regulates the stress response.
In the medical journal Cureus, participants taking between 250mg to 600mg of ashwagandha have significantly reduced perceived stress and levels of the stress hormone cortisol, compared to no change in a placebo. These participants also noted a significant improvement in sleep quality compared to the control group.
In another journal, Medicine (Baltimore), 60 people who took 240mg of ashwagandha for 60 days significantly reduced anxiety compared to those who had a placebo treatment.
Ashwagandha may also benefit athletic performance and may be helpful for athletes. In a meta-analysis of 12 studies, ashwagandha appeared to improve physical performance, including strength and oxygen use during exercise. A similar analysis of five studies found that taking ashwagandha significantly enhanced VO2 max in healthy adults and athletes.
Finally, in one study published in the Journal of the International Society of Sports Nutrition, men taking 600mg of ashwagandha per day and participating in resistance training for eight weeks saw significantly more significant gains in muscle size and strength compared to a placebo group.
Men may boost their testosterone levels and increase fertility by taking ashwagandha. In one study, 43 overweight men suffering from mild fatigue took tablets with ashwagandha extract or a placebo for eight weeks. The ashwagandha group had an 18% greater increase in DHEA-s, a sex hormone needed for testosterone. These participants also saw a 14.7% greater increase in testosterone than those who took a placebo.
A four-study review analysis found that ashwagandha significantly increased sperm concentration, motility and volume in men with a low count. In the journal Phytomedicine, ashwagandha increased sperm concentration and motility in men with average count.
Ashwagandha Side Effects and Recommended Dosage
Ashwagandha is a safe supplement for most people, although the long-term effects are not entirely known.
A review of 69 studies found that ashwagandha root powder appears to be safe and effective for managing certain health conditions like stress, anxiety and insomnia. Another study of 80 healthy men found 600mg of ashwagandha for eight weeks caused no adverse effects in participants.
However, it still may not be suitable for everyone. For example, pregnant women should avoid using ashwagandha because the effects are not entirely known.
Also, those with hormone-sensitive prostate cancer or those taking certain medications like benzodiazepines, anticonvulsants, or barbiturates, should avoid taking ashwagandha.
In general, most people should find no issue taking ashwagandha. In some rare cases, ashwagandha has been known to cause:
Minor headaches

Gastrointestinal discomfort

Drowsiness

Diarrhea
Ashwagandha has no recommended dosage, although most clinical trials appear to use a dosage between 100mg to 2,000mg.
However, most studies generally involve a daily dose between 500 and 1,200mg. As this dosage range, ashwagandha has demonstrated the ability to relieve stress and anxiety, improve sleep and positively change several other aspects of your health.
Ashwagandha Frequently Asked Questions
We've gotten several questions about the potential benefits of ashwagandha supplements.
Q: What is ashwagandha?
A: Ashwagandha is an herb in the evergreen family that has been used in Ayurveda for centuries. It appears to positively interact with the body's systems related to stress response, amongst other things.
Q: How does ashwagandha work?
A: Ashwagandha contains plant compounds that interfere with certain enzymes and proteins that activate your body's stress response. By interacting with this system, ashwagandha appears to minimize feelings of stress and, as a result, anxiety.
Q: What are withanolides?
A: Withanolides are thought to be the main active compound in ashwagandha, giving it numerous potential health applications, mainly related to stress and anxiety relief.
Q: What's a good concentration of withanolides?
A: Most ashwagandha supplements are not standardized to contain a specific percentage of withanolides. However, look for a concentration between 2.5% and 10%.
Q: Why do people take ashwagandha?
A: People primarily use ashwagandha because of its ability to act as an adaptogen (controlling your body's response to stress). However, ashwagandha is often used for athletic performance, immunity, inflammation and cardiovascular support.
Q: Can ashwagandha help relieve anxiety?
A: Although the exact mechanism behind a feeling of anxiety isn't known, it's thought that the body's stress response is primarily responsible. Since ashwagandha calms the body's natural systems related to stress, most people experience a sharp drop in anxiety levels when using ashwagandha.
Q: Can ashwagandha help me sleep?
A: Many sleep supplements use ashwagandha for its ability to calm the body and mind. The calming feeling you get from ashwagandha can better help you fall asleep and stay asleep by preventing your mind from racing.
Q: Does ashwagandha boost testosterone?
A: Yes, testosterone levels can rise to 10 to 15% in men after using ashwagandha. It appears to help achieve this by blocking the effects of cortisol—a stress hormone that interferes with testosterone secretion in men.
Q: Can ashwagandha help me lose weight?
A: Ashwagandha can support healthy weight loss for two reasons. First, ashwagandha appears to suppress cortisol levels up to 10 to 15%, which can block new fat storage. Secondly, ashwagandha can boost testosterone levels in men, which supports muscle mass and metabolic function.
Q: Will ashwagandha help me reduce inflammation?
A: Ashwagandha possesses several vitamins, minerals and antioxidant compounds supporting your body's inflammation response. In addition, it appears to directly combat inflammation by suppressing numerous enzymes and proteins responsible for inflammation.
Q: What is KSM-66®?
A: KSM-66 is a patented form of ashwagandha made by the nutraceutical company Ixoreal Biomed. They developed KSM-66 after 14 years of research by isolating many of the beneficial compounds in ashwagandha. Studies have shown it to be a bioavailable, more effective form of ashwagandha.
Q: Is ashwagandha safe?
A: According to research studies, ashwagandha is overwhelmingly safe when used in regular doses. There have been few reports of any serious medical problems resulting from taking it. However, if you are pregnant, have a severe medical condition, or are on prescription medication, you may want to consult a doctor.
Q: What are the side effects of ashwagandha?
A: Most people don't experience any side effects while using ashwagandha. In some rare cases, though, headaches, nausea and indigestion have been reported while using ashwagandha, although it appears to be only temporary in most cases.
Q: What's the recommended dosage?
A: Like most supplements, there is no recommended dosage for ashwagandha. However, it appears to be effective anywhere between 500mg and 2,000mg daily.
Q: What's the best ashwagandha supplement?
A: All the ashwagandha supplements on our list have been thoroughly vetted as high-quality and safe. However, if you want the best, we recommend you consider Simple Life Nutrition Ashwagandha or Xwerks Ashwa over any other product.
Final Word About The Best Ashwagandha Supplements for 2023
Ashwagandha has a rich Ayurveda history and is backed by dozens of clinical studies.
Every day, millions of people around the globe use ashwagandha to combat stress and anxiety, improve sleep, enhance immune system function and improve athletic performance.
Whether you want to use ashwagandha for one of these reasons or any other potential health benefits, all of the products on our top rankings are worth trying.
If you want the best ashwagandha supplements for 2023, try Simple Life Ashwa or Xwerks Ashwa.
ALSO READ:
Affiliate Disclosure:
The links contained in this product review may result in a small commission if you opt to purchase the product recommended at no additional cost to you. This goes towards supporting our research and editorial team. Please know we only recommend high-quality products.
Disclaimer:
Please understand that any advice or guidelines revealed here are not substitutes for sound medical or financial advice from a licensed healthcare provider or certified financial advisor. Make sure to consult with a professional physician or financial consultant before making any purchasing decision if you use medications or have concerns following the review details shared above. Individual results may vary and are not guaranteed as the statements regarding these products have not been evaluated by the Food and Drug Administration or Health Canada. The efficacy of these products has not been confirmed by FDA or Health Canada-approved research. These products are not intended to diagnose, treat, cure, or prevent any disease and do not provide any kind of get-rich money scheme. The reviewer is not responsible for pricing inaccuracies.  Check the product sales page for final prices.
The opinions in this article do not necessarily reflect the opinions of the Las Vegas Review-Journal and you should consult your doctor before beginning any new health related practice.
Members of the editorial and news staff of the Las Vegas Review-Journal were not involved in the creation of this content.