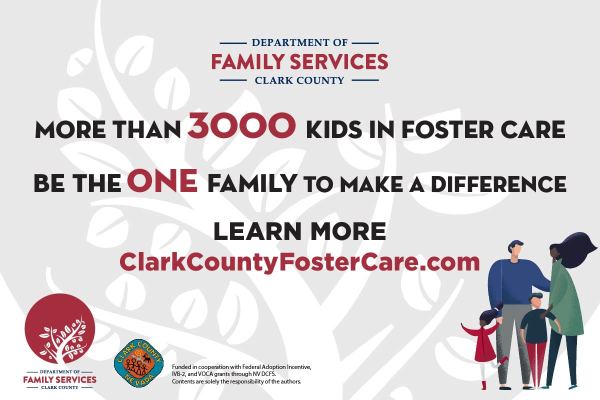 May is National Foster Care Month. Every year, Clark County's Department of Family Services (DFS) recognizes and celebrates foster parents and their vital role in supporting our community's children, youth and families. Caregivers work tirelessly to meet the needs of children and teens in foster care and open their hearts, homes and families. 
 Clark County needs more foster homes for youth in foster care, especially for teens, sibling groups, and children with special needs. There are more than 3,000 children in Clark County foster care, ranging from toddlers to teenagers. Most children need temporary care while their own biological families focus on improving their situations. Foster parents play a critical role in helping children reach their full potential during this time. 
 "Foster care is a partnership between foster families, biological parents and case workers," DFS Director Jill Marano said. "The goal of the Department of Family Services aims to reunify children with their biological families, full-time. Foster parents play an essential role in ensuring parents and children stay connected." 
 DFS is committed to supporting foster parents every step of the way- from the start of training to when licensed parents welcome foster children into their homes and for years to come. 
 If you are considering becoming a foster parent, DFS encourages you to consider the key steps in the licensing process. 
 Step 1: Attend an Information Session
 The first step in the licensing process is attending a no-commitment informational session to learn how to help foster youth in Clark County. Whether it's through fostering, volunteering, or donating, there are countless opportunities to get involved. 
 The information session provides prospective foster parents with the requirements and details needed to decide whether caregiving is right for the entire family. The information session is also a fantastic opportunity to ask a DFS worker specific questions and connect with other families interested in fostering. 
 "The information session is the first-time foster parents learn how and why kids come into Clark County's care, the requirements of foster homes and the support resources and programs available to new foster families," Marano said.
 For Spanish-speaking families, DFS also offers virtual information sessions in Spanish on the first Saturday of the month.
 Step 2: Fingerprinting & Background Check
 Following the information session, a DFS specialist will schedule fingerprinting and background checks if you decide to proceed with the licensing process. DFS encourages families to start the process early, which could take up to six weeks. DFS has recently started offering these services free of charge.
 Step 3: Complete Documents and Foster Parent Application 
While waiting for fingerprinting and background check results, foster parents are encouraged to complete the required documents and application. Following an informational session, a DFS specialist connects with prospective foster parents to guide them through the process, answer any questions and supply required documents, including the universal application. Required documents include a copy of driver's license and social security card, CPR certification, medical exam and vaccination records, auto insurance and homeowners' or renters' insurance, among others. 
Step 4: Foster Parent Training 
To receive a foster care license, the primary caregivers must complete 24 hours of foster parent training. The comprehensive training prepares families to welcome children into their homes. Child development, roles and responsibilities of a foster parent, cultural sensitivity and mental health support resources are just a few topics covered during the training. 
"The training program is designed to equip families with the tools and resources to support children who have experienced complex trauma," Marano said. "During this process, families will build support groups and relationships with other foster families. Every foster family needs a support network and a personal community to help them throughout the journey." 
Step 5: Preparing the Home
Finally, licensed foster homes must follow state-mandated safety requirements, including fire and safety codes. It is important to note that you do not need to own your home to become a foster parent. Renters are welcome to become foster parents, too. 
Foster homes must be kept clean, in good repair, and free from hazardous conditions. Hazardous materials, including medications, household chemicals, tools, weapons, and ammunition, must be stored in a locked cabinet or lockbox inaccessible to children. Homes must also have adequate space and bedrooms to ensure safety, comfort, and privacy. For homes accepting younger children, pools and hot tubs must have protective fencing for homes accepting younger children.
After families have passed the background check, turned in the required materials and completed the home study, a DFS licensing caseworker will send the materials for licensure. The process can take between three to six months, from the first information session to receiving a license to accept the placement. However, when families are proactive in completing their documentation and preparing their homes to meet the safety requirements, licensing can be completed in less time. It's important to remember that every foster care journey is unique and there is no such thing as a perfect foster parent or family. 
"There is an immense need for more foster parents and community support for kids in foster care," Marano said. "While the process may seem long, the standards reduce risks to children's health, safety and well-being in out-of-home care. We encourage anyone who has thought about fostering to attend one of our information sessions to learn more and, if fostering may not be for you, there are many other ways to get involved."
For more information on fostering in Clark County, or to sign up for foster care information sessions, visit clarkcountyfostercare.com and follow on Facebook

Members of the editorial and news staff of the Las Vegas Review-Journal were not involved in the creation of this content.