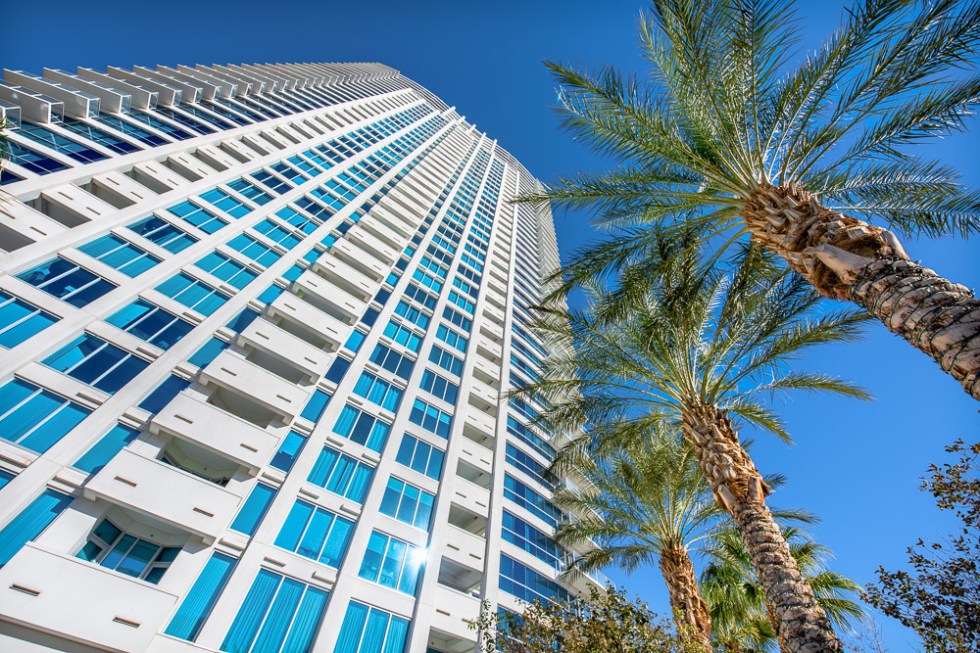 More and more, a growing percentage of the populace are discovering new ways to experience life at its fullest. Instead of homes filled with unwanted stuff, homeowners want lifestyles that fit their adventurous side.
This recent trend accounts for homeowners seeking out lock-and-leave communities.
They give owners the peace of mind to spend time away from home without the worry of a break-in or concern about neglecting maintenance. These communities provide unparalleled security, freedom from maintenance and stress-free ownership through smaller living. All that's necessary is to lock the door and leave the worry behind.
"It's a less cumbersome, simpler lifestyle," Char Luxury Real Estate's Ike Prinsloo said. "You don't have to worry about anything."
Char Luxury Real Estate offers two distinct properties, Park House and Sky Las Vegas epitomizing the lock-and-leave lifestyle.
Park House is in the midtown district, east of the 215 Beltway at Durango Drive (El Capitan) and West Flamingo Road. It offers 83 luxurious modern-design units in a secure, contained community with easy access to area shopping, dining and recreational options.
Featuring 405 sophisticated modern-designed units, Sky Las Vegas is on the Las Vegas Boulevard at 2700 S. Vegas Blvd.  Sky showcases incredible amenities and views.
Low maintenance
Both stylish communities offer low maintenance and freedom from extensive household responsibilities.
"Older homes you have to maintain more often," Prinsloo said. "In condos, you don't have to maintain the building. It's all done by the HOA (homeowners association). Plus, we offer warranties on all the appliances and HVAC system, so that cost and worry go away."
Maintenance at these communities including all the communal areas, landscaping, building exterior, amenities such as pool and gym are taken care of by the HOA.
"If our residents want to travel for a month, it's easier to do," Prinsloo said. "They know their residence will be safe and secure."
Freedom through smaller living
Downsizing into an intimate, smaller residence works in tandem with the lock-and-leave lifestyle. The smaller home provides increased freedom with less effort needed to clean and maintain a larger residence.
"You can get rid of all the stuff stored in the garage and closets," Prinsloo said. "With less stuff, there is more time to do the things you enjoy."
Downsizers receive a higher living standard for the price at both Park House and Sky Las Vegas.
Park House offers one and two-bedroom condominium flats and three-bedroom loft-style townhouses from the upper $200,000s to the mid $500,000s. The units range from 1,058 square feet to 2,500 square feet.
Sky Las Vegas Signature Collection offers one, two and three bedroom condos ranging from 1,240 square feet to more than 1,700 square feet. Priced from the mid-$400.000s to low $800,000s.
Security
Both properties offer state-of-the-art security to ensure the safety of the residents.
"People feel safer and more protected in a condo community than they do in a single-family home," Prinsloo said. "If you lock and leave, your belongings are secure. No one is going to get into your residence."
Park House has security cameras on all the exterior walls and covering the interior communal areas. Security mans the front desk, seven days a week, from 7 to 4 a.m.
"There is a short break," Prinsloo said about the three-hour interlude. "But no one can access the property during that time."
Sky offers 24-hour state-of-the-art security with guards at the front gate and the commercial entrance, 24-hour security attendant at the front desk, roving security throughout the building and a key fob security system.
Amenities
Living in a self-contained lock-and-leave community provides significant advantages including enjoying resort-style amenities without the high cost of maintenance.
Park House offers a 75-foot swimming pool surrounded by two tanning pools, heated spa, plush cabanas and day beds, rooftop sun deck with barbecue stations, communal fire-pit areas, residential lounge and game room. Its two-story wellness center has state-of-the-art equipment, yoga/Pilates area, steam room, dry sauna and two massage rooms.
Sky's incredible lifestyle choices include a billiards room, large fire pit with stylish seating, outdoor professional barbecue areas, gated dog run and putting green. Residents and guests can lounge at the luxurious resort-style pool in a private cabana or relax in the heated Jacuzzi. A 16-seat projection room with surround sound and leather reclining seats, state-of-the-art fitness center, indoor racquetball court, saunas and steam rooms, conference and event rooms and valet parking round out the incredible offerings.
Financial advantage
According to Prinsloo, a lock-and-leave lifestyle offers homeowners significant annual financial savings through lower mortgage payments, property taxes and utility costs.
He further noted the timing of a condo purchase can produce long-term monetary savings. Both properties are selling at a lower price per foot than today's average construction costs.
"Market timing is important," Prinsloo said. "Getting a good deal on a pre-existing unit will offset fees for the long term."
Members of the editorial and news staff of the Las Vegas Review-Journal were not involved in the creation of this content.