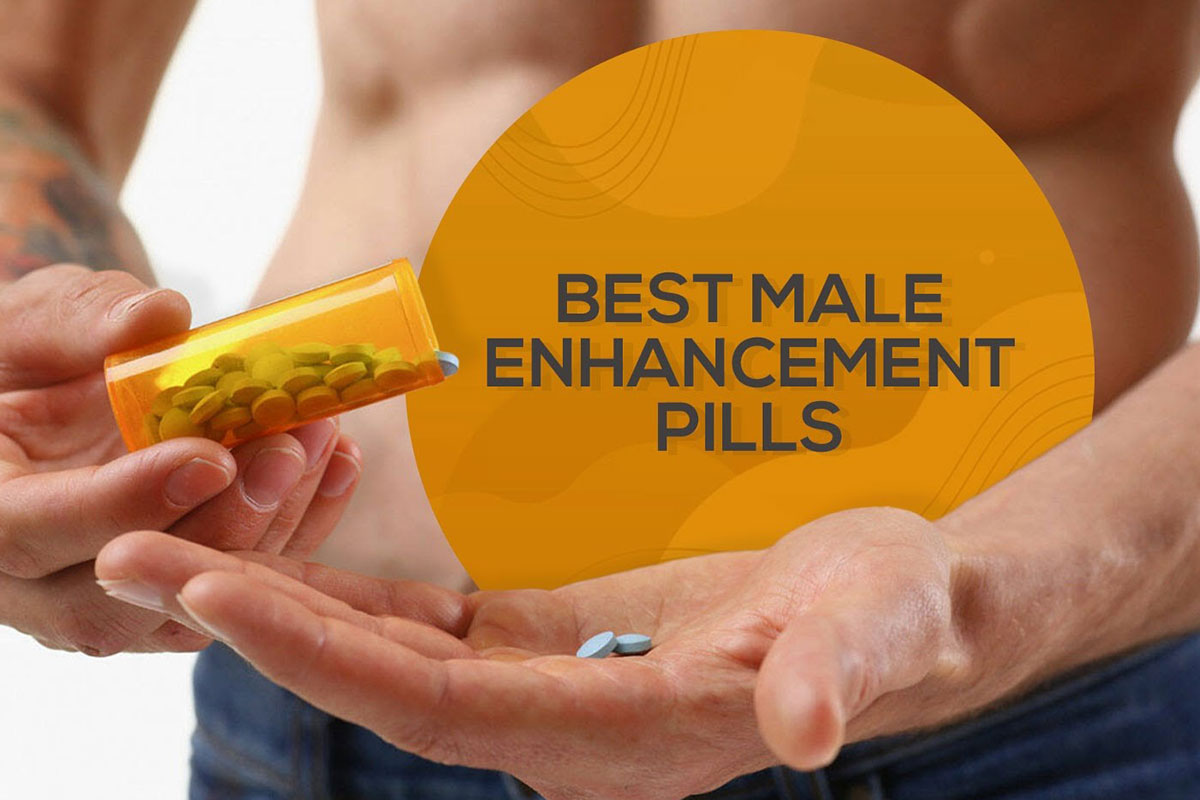 To improve your confidence in the bedroom or boost your sexual performance, you should consider using male enhancement pills or ED medications. The best men's pills are made from a wide range of natural ingredients and pharmaceutical drugs. They can help to improve libido and enhance sexual pleasure and performance.
However, the market is filled with male enhancement supplements of all kinds, making it hard to decide which one to use. That's why this article is to review the best male enhancement pills and one ED service on the market to make things easier for you. This review includes all-natural products only. 
Top Male Enhancement Supplements
First of all, BlueChew is NOT a male enhancement pill. BlueChew is an online service helping men treat all forms of male sexual dysfunction effectively and discreetly. BlueChew is a nice online solution for men. They provide treatment plans with two different prescription medications that can be delivered straight to your door. However, you will first need to complete a free online consultation with one of BlueChew's online physicians.
Men who suffer from ED may get an erection for a short period or may not become erect at all. 
BlueChew treatment plans revolve around a prescription for sildenafil or tadalafil tablets. Both these ingredients are commonly used to treat ED.
Sildenafil is the active ingredient found in Viagra, and tadalafil is the active ingredient found in Cialis. They are classified as "PDE5 inhibitors."
PDE-5 is an enzyme found in the smooth muscles of the penis. It causes blood vessels to constrict. PDE-5 inhibitors stop the enzyme from working and cause vasodilation, which relaxes your blood vessels.
In other words, BlueChew chewable tablets encourage blood flow to the genital region to allow harder, stronger, and longer-lasting erections. The Sildenafil tablets come in 30- or 45-milligram (mg) and usually work in 30 to 60 minutes. However, you can take it up to four to six hours before sexual activity. The Tadalafil tablets are available in 6 or 9 mg and work in about 30 to 60 minutes. However, it can be taken 24 hours or longer before sexual activity.
BlueChew tablets make it easier to get an erection by increasing blood flow to your penis. However, They will not cause an erection unless you're sexually aroused.
Pros
Uses proven ingredients for treating erectile dysfunction

Chewable tablets

Discreet erectile dysfunction medication delivered right to your door

Everything is done online
Con
Not available in North Dakota, and South Carolina.

You need to fill out a medical form and be approved to get access to the medications. 

VIGRX Plus natural male enhancement pills improve male sexual health and performance. It is the best male enhancement supplement for harder and longer erections, according to hundreds of reviews.
This male enhancement pill is excellent if you have erection problems caused by high blood pressure, diabetes, or erectile dysfunction. It can help you last longer and improve sexual satisfaction. 
Diabetes and heart disease can affect your blood flow, leading to issues when obtaining an erection. ED, excessive alcohol consumption, and aging also have similar effects.
VigRX Plus formula includes 10 natural erection precursors, libido enhancers, and aphrodisiacs that quickly improve sexual desire and performance. These include Muira Puama Extract, Ginkgo Biloba, Hawthorn Berry, Damiana, Catuaba Bark Extract, Epimedium leaf extract, Saw Palmetto, and Asian red ginseng. It also contains BioPerine, which allows your body to absorb up to 40% more of the other ingredients in each VigRX pill.
Nitric oxide is a vasodilator, so it widens blood vessels to increase blood supply to the erectile tissue. Together, this potent concoction of natural ingredients triggers the release of nitric oxide from nerve endings into the bloodstream. The increase in blood flow relaxes the penile muscles so your erection can last longer.
Pros
Promotes harder and longer erections

Natural ingredients

Prevent premature ejaculation
Cons
It may not be enough to treat someone who has significant erectile dysfunction or an extremely low sperm count.

It can interfere with other medications, so talk to your doctor before taking it.
Performer8 is great for men wanting to enhance their sexual energy, stamina, and vigor. It is the brainchild of a group of European formulators, researchers, scientists, and male nutrition experts. As such, this powerful formulation is said to boost sexual performance in eight different ways.
Performance8 can enhance erections, improve sperm quality and volume, increase sexual desire and boost testosterone production. This pill can also provide intense orgasms, prevents premature ejaculation, improve sexual focus and boost self-esteem.
Performer8 contains nine natural and safe ingredients. These include muira puama extract, ashwagandha, ferrous bisglycinate, maca root, ginseng, horny goat weed, pine bark extract, glucuronolactone, and grape seed extract. 
Muira puama extract helps to improve erections and increase libido. Ashwagandha increases testosterone, improves sexual desire, and lowers cortisol levels. Ferrous bisglycinate supports natural blood flow so you can stay harder for longer. Maca root improves sexual desire and stamina. 
Meanwhile, ginseng can help with maintaining erections. Horny goat weed may inhibit the erection-deflating enzyme PDE5 and improve blood flow for firmer erections. Pine bark is great for those who have ED issues due to diabetes. Glucuronolactone reduces oxidative stress and protects your blood vessels. Grape seed extract increases the levels of nitric oxide in the blood which can lead to fuller, thicker erections.
Combined, these ingredients can control climax and offer thrilling orgasms. They also help to improve T-levels to promote a healthy sex life.
Pros:
Revitalizes sexual stamina, strength, and vitality

Suitable for men of all ages

100% lifetime money-back guarantee
Cons:
Pricey

May increase heart rate
Male Extra is a male enhancement product that helps to improve sexual performance. If you're experiencing low libido for more than a month, it may be worth considering. Low libido can be caused by medications, medical conditions, or restless leg syndrome. Male Extra is designed to improve your sexual health to boost your energy levels, prevent ED, or control ejaculation.
It contains seven potent ingredients that have been backed by scientific evidence. Five of those seven ingredients are unique to this product, which means you are not likely to find them in other sexual enhancement pills.
The list of ingredients includes 40% l-arginine hydrochloride, pomegranate ellagic, niacin, cordyceps, methylsulfonylmethane, L-methionine, and zinc. They all work to increase the size, hardness, and duration of your erection by improving nitric oxide levels in the blood.
With increased blood flow to your penis, you can achieve bigger erections that last longer. Moreover, you may experience stronger penile muscle contractions when you ejaculate, resulting in more intense and pleasurable orgasms. 
Improved blood flow throughout your body can also delay fatigue during sex, meaning you can keep going until you satisfy your partner fully. It is recommended that you take three Male Extra pills a day. Be sure to take the pills consistently to enjoy the effects of enhanced male sexual function and a fulfilled sex life.
Pros
Increased orgasm and sex drive

Larger and stronger erections

Unique ingredients
Cons
It can take over a month to see the results

Slightly pricey

MagnaRx is a male enhancement pill formulated by a licensed medical professional. It is one of only a handful of these products that can make this claim. Dr. George Aguiller, a board-certified urologist is behind this male enhancement product.
He spent decades researching the ingredients and has finally conjured up a powerful combination to address erectile problems. Dr. Aguiller claims that MagnaRx can improve sexual stamina, confidence, and libido. 
It works by enabling the opening and relaxation of blood vessels in the penis that fills with blood. This promotes rigid and sustainable erections. 
This pill contains more than 15+ ingredients. Some of them are L-arginine, maca, muira puama, Asian ginseng, catuaba bark, oyster meat, and a whole lot more. The active ingredient is L-arginine. This natural diuretic works to improve the circulatory system and overall blood flow to the penis. L-arginine gets more blood to the genital region without raising your blood pressure to unsafe levels.
Dr. Aguiller says with just a few weeks of use will give you awesome results. The pill also has no side effects since it contains a blend of all-natural ingredients. And, if you're not happy with the results, you can simply ask for a refund. 
Pros:
Formulated by a board-certified urologist

Enhances sexual performance 

Contains safe and natural ingredients
Cons:
Takes a few weeks to see the results

Not suitable for those with a wheat allergy
How do natural male enhancement pills work?
Most penis enlargement pills are formulated with unique ingredients to address specific sexual health concerns. However, many male enhancement pills trigger the release of testosterone by the leydig cells in the testes and the adrenal glands. Increasing testosterone production can promote improved sexual health.
Male enhancement products may alleviate erection problems by promoting blood flow and maintaining blood vessel health. Male enhancement supplements can also increase nitric oxide levels in the blood. Nitric oxide widens blood vessels to increase blood flow.
Most male enhancement pills contain vitamins, minerals, and nutrients that promote health and prevent sexual problems.
How to Choose the Best Male Enhancement Supplements
These recommendations are just a few of the male enhancement products on the market. However not all male enhancement supplements are created equal. The FDA has notified consumers that tainted sexual enhancement products are available on the market. They may contain hidden ingredients that can be harmful to your health. You can also suffer from serious side effects as some of them interact with other medications and supplements you may be taking. 
One such case involved a Kansas man who was found guilty of importing and selling misbranded pharmaceutical-grade erectile dysfunction drugs. The drugs were sourced from China and marketed as herbal remedies for men with erectile issues.
It is easy to be misled when you're looking for a solution. However, you still need to be vigilant. This is why this article was thoroughly researched to come up with the best male enhancement supplements for you. Here are some of the factors taken into consideration while research was conducted. 
Ingredients
The ingredients in the supplement are one of the most important things to pay attention to. Companies will make many claims as to how their product will benefit you and how safe it is. However, if the ingredients do not back up these claims, the product won't be very effective. 
When creating this list, this article looked closely at the ingredients in the male enhancement supplements. Products that contain powerful ingredients that are known to enhance sexual performance were sought out. Ingredients like L-Arginine and Muira Puama were high on this list.
This research also looked for products that feature clean ingredients in their formulation.
The best male enhancement products will include their entire list of ingredients. They'll also include an in-depth description of each ingredient stating its benefits and the amount used in the formula.
Only after reviewing the list of ingredients and descriptions of various products, did this list of recommendations come together. 
Sexual benefits
During this research,this article made sure to look for sexual enhancement products that target several aspects of sexual performance. The supplements in this list target at least five aspects. This increases the chances of them helping with one of the things you struggle with. 
Side Effects
Some male enhancement products may contain ingredients that come with harmful side effects. This is why it is important to check the ingredient list carefully. Natural ingredients come with the least side effects. However, this differs from person to person. Ingredients that may give you side effects may not for others. 
These recommendations contain all-natural ingredients that don't have many side effects. If at all, side effects should be mild. However, as mentioned before this differs from person to person. Be sure to check the ingredients list of products you're interested in. Check to see if you're allergic to any of the ingredients or by-products. Also, check to see that none of the ingredients can affect and interact with any other medication you're currently on. If you do experience severe side effects, get emergency help immediately. 
Price
Another thing factored in the search for male enhancement supplements was the price. This article looked for products that stay within a reasonable price range. Male enhancement pills work best when taken over a long period. This is why you want a budget-friendly choice. Being expensive does not mean a better product. This is just a way some companies feed on your insecurity.
On the other hand, some companies offer absurdly cheap products. These are filled with low-quality ingredients and manufactured using unsafe manufacturing processes. Staying in the price range that falls somewhere in the middle is ideal. 
The products on this list stay in this middle range. They aren't too cheap or too expensive. This makes them accessible to many even those who don't have an extremely high budget.
Money back guarantee
Most male enhancement pills claim to offer a ton of benefits. However, only a few can back up what they say. This list preferred products that offer a money-back guarantee just in case it doesn't provide any results. Most of the male enhancement supplements on this list offer a money-back guarantee. Some offer a money-back guarantee for 30 days while some offer a lifetime money-back guarantee. 
What ingredients should I look for in male enhancement supplements?
You will come across various supplements from several brands on the market. However, they are not all created equal as some consist of better ingredients than others. Here's a list of some of the most popular ingredients your male enhancement supplement should include:
Horny goat weed

– this ingredient contains icariin that promotes blood flow and nerve stimulation. It may also balance testosterone levels for improved sexual arousal.

Maca Root

– Maca is a potent aphrodisiac that increases your sexual stamina and boosts sexual performance.

Red Korean ginseng

– This Asian Red ginseng can reduce anxiety and other forms of stress that can make it hard to achieve an erection. Ginseng is also known as one of the most potent natural libido enhancers.

Zinc

– Zinc can increase semen volume, leading to explosive ejaculations and intense orgasms.

Pomegranate

– This fruit extract contains polyphenols and antioxidants. These boost nitric oxide production, protect blood vessels, increase penile blood circulation and prevent fatigue. 

L-arginine HCL

is an amino acid that can double semen and sperm volume, leading to improved fertility and erection quality by helping your body produce more nitric oxide. Higher nitric oxide levels in your blood lead to stronger and thicker erections.

Methylsulfonylmethane

– MSM helps by stimulating cell growth in your penis, thus ensuring that more blood can reach your penis to start and maintain an erection. It can also help to improve your stamina.

Tribulus Terrestris

– This plant can increase sex drive by reducing cholesterol levels and blood sugar. It can also increase blood flow to the penis to increase erection size and duration.
What should I avoid when buying male enhancement supplements?
You're bound to come across scams in your search for male enhancement pills. When buying and using these products, try to avoid the following:
Products that offer quick results in just a matter of few days

Formulas that contain harmful ingredients.

Products that sound too good to be true. If it does, then it is most likely a scam.

if it contains hormones

Knock-offs and fake brands

Products using unorthodox and unsolicited advertising methods.
It is important to research if you're purchasing a natural male enhancement supplement or another type. You need to make sure that none of the ingredients are harmful to your body.
If you still aren't sure whether the product is safe or not, make an appointment with your doctor. A consultation with your doctor is a must if you're taking prescription medication or have underlying medical conditions.
What type of results can I expect from male enhancement pills?
Most male enhancement pills are dietary supplements. They'll have a combination of natural plant extracts, amino acids, vitamins, and minerals. These all can improve your sex life in various ways. The results you get from male enhancement pills will vary depending on the medication and your body. However, most male enhancement pills can:
Improve your testosterone levels
Testosterone is an important hormone for men. It plays a part in sex drive, energy, and physical strength. Testosterone levels drop as you get older. The overall prevalence of low testosterone levels is about 2.1%  according to the American Urological Association. Low testosterone levels may lead to decreased libido and erectile dysfunction.
Some male enhancement pills will contain ingredients like ashwagandha. This evergreen shrub has been used for many things in traditional Indian medicine. This includes erectile dysfunction and infertility. A study in 2015 found that ashwagandha increased testosterone levels in males over eight weeks. When combined with a training program, muscle mass and strength were also increased.
Another study in 2019 examined the effects of ashwagandha on hormone levels in men. The study consisted of a group of men ages 40-70 years with overweight and mild fatigue symptoms. One group was given ashwagandha while the other was given a placebo. The testosterone level in those taking ashwagandha rose by 14.7% more than those taking the placebo.
Enhance libido and improve sex drive
Libido levels vary throughout your life. However, low libido for a long period is a cause for concern. It can be an indication of an underlying health condition. Low libido can be caused by low testosterone, medications, depression, chronic illness, sleep issues, aging, stress, and other factors.
Fortunately, there are various ways to increase your libido naturally. One of the most effective is trying natural aphrodisiacs. Male enhancement products may include, maca, fenugreek, and ginseng. These are all scientifically proven aphrodisiacs that can increase your sex drive.
Maca is a sweet root vegetable found in Peru. People commonly refer to it as "the Peruvian Viagra." In South America, it is usually used to boost fertility.
There is growing evidence that Maca may increase sexual desire in both males and females. Two studies in 2002 and 2008 consisting of men and post-menopausal women found that maca extract can lead to improved sexual desires.
Ginseng is a root plant that is native to Asia and North America. It is used in traditional Chinese medicine to treat sexual problems.
A study from 2002 found that 60% of the participants treated with 900 mg of Korean red ginseng three times a day saw improvements in their erections. It was also found to increase sperm count and quality in another study.
Fenugreek is a herb that has its origin in the Mediterranean, southern Europe, and Western Asia. It is commonly used to increase breast milk production in lactating women. However, research also suggests that it can be used to increase libido in men. In 2011, researchers experimented on men between the ages of 25 and 52. They were given 600 mg of Testofen which is a blend of fenugreek extract for six weeks. The men reported significant increases in arousal and libido.
Help You Achieve Stronger and Harder Erections
Nitric oxide is one of the most important molecules when it comes to maintaining good blood vessel health. It is a vasodilator which means it relaxes the inner muscles of your blood vessels. This allows the vessels to widen so they can receive more blood.
Some male enhancement pills can help to increase nitric oxide in the body. These pills do not contain nitric oxide itself. Instead, they include compounds that your body can use to make nitric oxide. This includes the amino acid L-arginine.
A study in 1999 was done on patients around 50 years old with mixed erectile problems. One group of men was given 500 mg of L-arginine three times per day. Meanwhile, another group was given a placebo. At the end of the experiment, 56% of the patients showed a little improvement with L-arginine while 43% saw improvements with the placebo.
These stats may not be convincing enough. However, a meta-analysis examining 10 different studies concluded that L-arginine does help with ED. Researchers found that increasing the dose to 1,500-5,000mg offered significant improvements in mild to moderate ED when compared to a placebo. Participants also reported higher levels of sexual satisfaction and erectile function.
Increase stamina
Male enhancement supplements may include vitamins and minerals that your body needs for functioning daily. Taking these supplements can help to promote your overall health and well-being. This includes supporting your sexual health as well.
Poor sexual performance can lead to anxiety and low self-esteem. Some may turn to pharmacological options but some natural supplements can help. Male enhancement pills include things like zinc and niacin.
Zinc is a key mineral in the body. Cells use it to metabolize nutrients. It also allows the male body to produce testosterone. This is why zinc levels can affect your sexual libido and performance.
A study in 1996 shows a clear relationship between zinc and testosterone levels. Young men were given a diet with very little zinc for 20 weeks. This resulted in them developing a zinc deficiency. Their testosterone levels were then measured and a significant decrease in almost 75% of the group was reported.
Niacin or Vitamin B3 facilitates various functions in the body. It helps convert enzymes to energy. Energy is vital in it comes to engaging in robust sexual activities. Vitamin B3 helps also improve testosterone levels and increase blood flow, making for stronger erections. A study by the Journal of Sexual Medicine revealed that Vitamin B3 alone can manage symptoms of mild to moderate ED and dyslipidemia. 
 Frequently Asked Questions
How Much do Male Enhancement Pills Cost?
Don't get caught up in this lie. You'll find some cheap male supplements that promise results in just a few days. Most often than not, these products are just a gimmick and won't give you the results you want.
You shouldn't choose price alone, even though the price is the primary indicator of quality and efficacy. Of course, high-end products are expensive, and you can expect to pay $100 or more for one bottle. 
If you're having money issues now, save up and buy the pills later. Some manufacturers even offer bulk discounts so you can stock up and save in the long run. Also, be on the lookout for coupon codes, sales, discounts, and offers for free shipping.
Can I Buy Penis Enhancement Pills Over the Counter?
You can buy male enhancement products from any pharmacy or supplement store over the counter. However, these products will have a much lower potency and may not deliver the same results as other supplements you're prescribed or buy online.
Conclusion
There are many solutions for men who want to improve their sex life. Some will increase testosterone production, others will help get harder erections and improve sexual drive, performance, and satisfaction. Products with high-quality ingredients do not generally have any side effects. 
The male enhancement products and ED medications highlighted in this guide have relatively high potency. They all should be able to produce results in one to two months. However, while potent, they are safe to improve sexual performance with minimal side effects.
DISCLAIMER: The opinions in this article do not necessarily reflect the opinions of the Review-Journal and you should consult your doctor before beginning any new health-related practice.
Members of the editorial and news staff of the Las Vegas Review-Journal were not involved in the creation of this content.