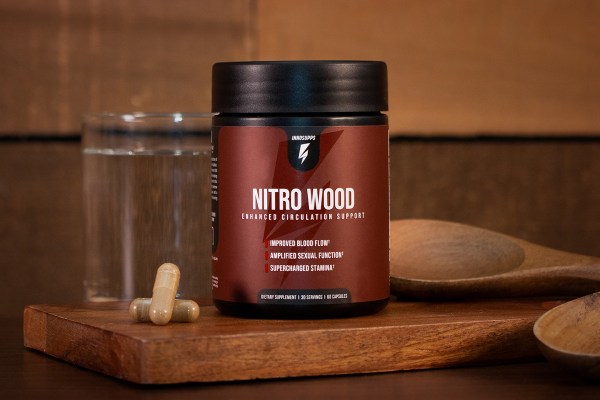 Nitro Wood is a groundbreaking nitric oxide-boosting supplement from industry-leading company Inno Supps that claims to supercharge circulation for better performance in all areas. 
Today, we'll break down the natural ingredients in this formula and examine the results you can expect to achieve from the gym to the workplace and beyond. 
What is nitric oxide?
Nitric oxide is a compound that your body produces naturally. It helps your blood vessels expand, which helps blood flow freely to every area of your body. 
More blood flow means more oxygen and nutrients being delivered to your brain, muscles and organs, which can help you experience:
Better mental clarity and focus 

A boost in energy levels and endurance 

Faster muscle recovery 

Healthy blood pressure 
With improved mental and physical function, better blood flow helps you perform at your best in all areas of life. 
Why do I need a nitric oxide supplement?
Although your body produces nitric oxide on its own, certain factors such as lifestyle, environment and aging can cause levels to drop. 
Natural supplements like Nitro Wood are a great way to help your body produce more nitric oxide on its own, without making major changes to your lifestyle. 
Getting the right ingredients in the right amounts can be costly, and some manufacturers skimp on the good stuff in order to maximize profits. 
That's why it's so important to do your research and make sure any supplement you buy has the right ingredients at the right amounts so that you achieve the results you're looking for. 
What's in Nitro Wood?
The main ingredient in Nitro Wood is a special blend of plant-based ingredients called S7®, which has been clinically shown to boost nitric oxide levels by up to 230%!
With such a big boost in nitric oxide, Nitro Wood supercharges circulation when and where you need it most!
Nitro Wood also contains:
Vitamin C – Helps keep your arteries flexible and promotes smoother blood flow.
Niacin – Increases blood vessel size, which helps with blood flow throughout your body.
Maritime Pine Bark – Enhances nitric oxide production, encourages healthy blood flow and improves strength and endurance.
Cinnamon – Helps expand blood vessels and improve blood flow.
Beetroot – This superfood helps improve blood flow and is known to help lower blood pressure.
Garlic – Acts as a vasodilator to relax blood vessels for better flow.
Grape Seed – Known to boost nitric oxide production in the body.
Inno Supps carefully researched each one of these ingredients and included clinically relevant doses of each one when creating this formula. 
They also made it easy to achieve maximum effect, since most of these natural ingredients reach peak power after taking them consistently for 90 days or more. 
As a result, men of all ages are experiencing
A boost in energy that lasts all-day

Incredible muscle pumps and increased endurance in the gym

Improved muscle recovery

Healthy blood pressure and improved heart health
Conclusion
After investigating the formula behind Nitro Wood, it's no wonder why this product is so effective for boosting nitric oxide and supercharging circulation. 
Plus, Inno Supps' products are produced in a GMP-certified facility and third-party tested for purity, so you can trust that you get only the clean natural ingredients on the label in every dose. 
Click here to visit the Inno Supps website try Nitro Wood for yourself and learn more about the amazing results men of all ages are achieving in the gym and the bedroom!
Members of the editorial and news staff of the Las Vegas Review-Journal were not involved in the creation of this content.
The opinions in this article do not necessarily reflect the opinions of the Las Vegas Review-Journal and you should consult your doctor before beginning any new health related practice.