Imagine having a product that can help maintain your beauty while keeping your weight in check. Inno Supps has done it again with a product that can transform one's physique and reverse signs of aging: a new and improved version of Inno Glow, now with a Fat-Burning Collagen Complex and four sources of collagen. 
This upgraded formula comes in two mouth-watering flavors, watermelon and tropical punch—an unflavored formula is also available for those who prefer their supplements plain.
What is all the hype about the new and improved formula?
The upgraded Inno Glow contains the same beauty-boosting ingredients as the original Inno Glow: Astrion™ and Pepzyme AG™. However, the new formula has an Advanced Multi-Collagen Matrix with added KollaGen I.V.X., which consists of four collagen sources and a Thermogenic Fat-Burning Complex to enhance weight loss and amplify fat-burning from several different angles.
What is collagen?
Before diving into this topic further, it is important to understand what collagen is and how it benefits your body. Collagen can be defined as a protein; it's actually the most abundant protein in your body and is integral to the function of all living things.
Four collagen sources and Thermogenic Fat-Burning Complex
Inno Glow has collagen from four sources: chicken, chicken eggshell membrane, hydrolyzed bovine and marine and each plays a different role in the body:
Type I supports skin structure and elasticity to minimize fine lines and wrinkles, as well as supports stronger, thicker hair and nails. 
Type II plays a vital role in supporting joint health, helping you move with more flexibility and less discomfort. 
Type III is essential for supporting the structure of blood vessels and muscle tissue; this also works alongside type I collagen to support firm, hydrated skin.
Type V supports healthy tissue growth in vital organs, hair and nails to support healthy aging. It's also essential for forming type I and III collagens for a youthful glow.
Type X  is crucial for maintaining strong, healthy joints and bones; it also helps alleviate the aches and pains that come with aging so you can move with ease and youthful vitality.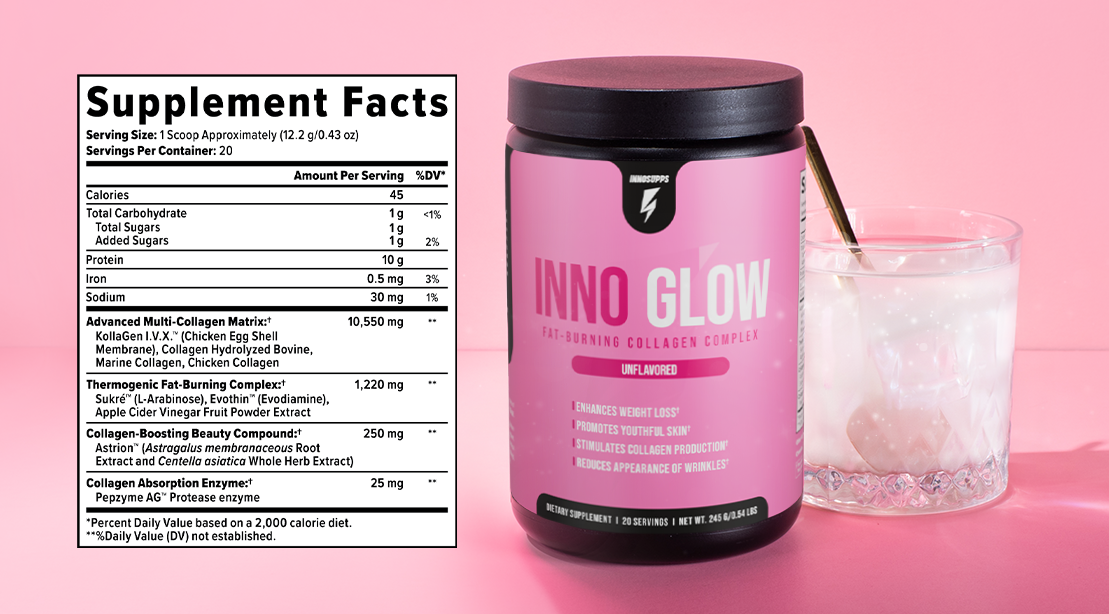 Inno Glow also includes The Thermogenic Fat-Burning Complex, which contains three main components: Evothin™, Sukre™ and apple cider vinegar. These three ingredients help keep your weight in check and closer to your weight loss goals. For centuries, it's been said that evodiamine, an alkaloid found in Evothin™, ignites thermogenesis and prevents the formation of new fat cells, helping you attack stubborn fat with a one-two punch. L-Arabionse, the key ingredient in Sukre™, is known to help keep blood sugar in check and support your body's insulin response, which may promote healthy weight management and enhance weight loss. The acetic acid in apple cider vinegar may help rev up the metabolism, while the potassium and natural enzymes in ACV help send energy levels sky-high. 
So why should you choose Inno Glow?
Here are five reasons why you should add Inno Glow to your daily regimen:
It has a substantial supply of collagen and boasts 10 grams of protein per portion to make your muscles stronger and thinner and boost recovery.

It boosts your body's collagen production, essential for growing longer, thicker nails. It may also help prevent age-related hair thinning and hair loss.

It has a beauty-boosting compound, Astrion™, which helps increase hyaluronic acid by 20 percent for smoothing and reduces wrinkles by 15 percent to prevent aging and offer a healthy glow.

It has ingredients to boost your body's collagen production. It has an ingredient, Pepzyme AG, specially designed to boost your body's absorption of collagen so your body gets optimal benefits.

It promotes healthy digestion and improves gut health, helping prevent bloat and relieve irregular stomach uneasiness. 
Conclusion
Inno Glow has "glowed" up with an added source of collagen (chicken eggshell) and a Fat-Burning Collagen Complex with ingredients designed to give you an extra push if you have trouble losing or maintaining your weight. With the top ingredients in doses, you can't go wrong with this new and improved formula. It's doctor-recommended by a top med spa physician. So how can you go wrong?
Visit the Inno Supps website for more information about how to get your hands on Inno Glow and start aging in reverse!
The opinions in this article do not necessarily reflect the opinions of the Las Vegas Review-Journal and you should consult your doctor before beginning any new health related practice.
Members of the editorial and news staff of the Las Vegas Review-Journal were not involved in the creation of this content.