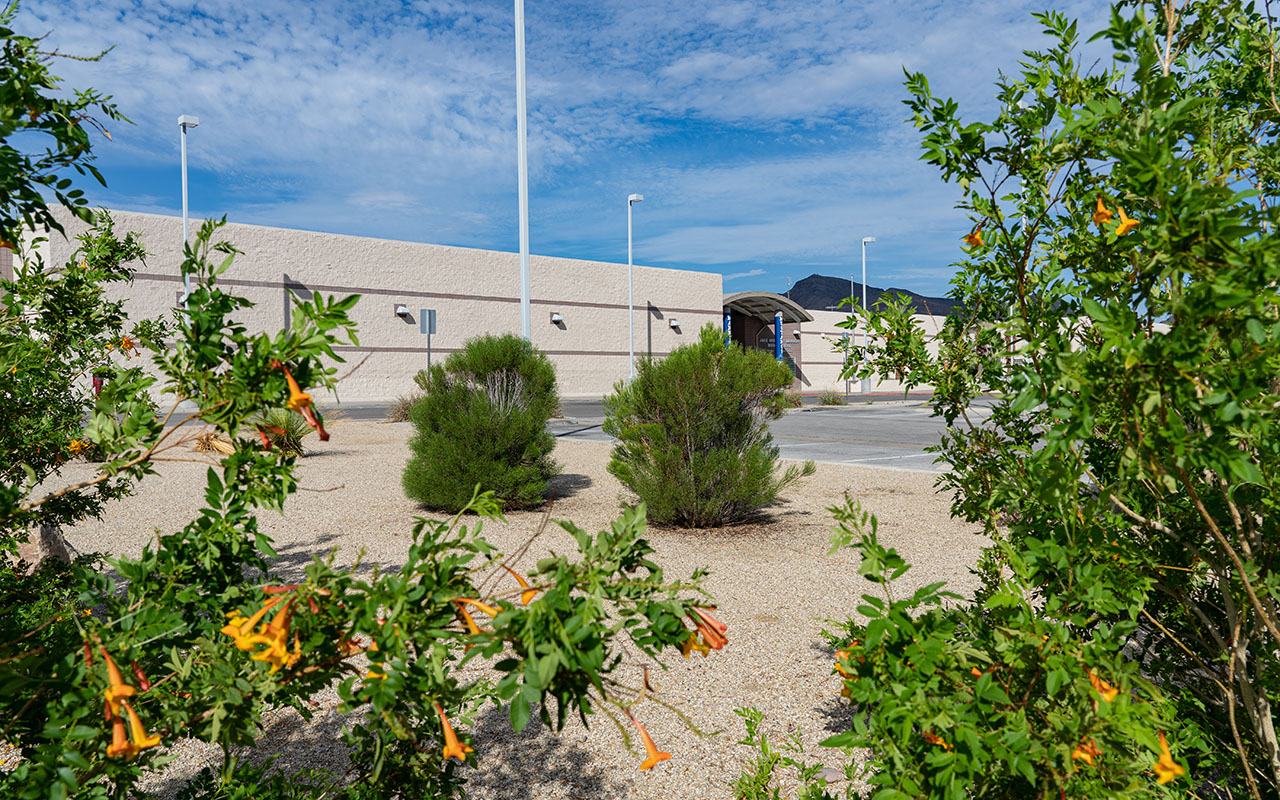 A five-year plan to upgrade the landscapes at 195 Southern Nevada schools is more than a beautification project. The landscape upgrades will reduce long-term costs for the Clark County School District (CCSD) and help protect Southern Nevada's water supply.
CCSD is replacing more than 4 million square feet of grass not used for play or recreation with drip-irrigated plants and trees. The landscape upgrades are expected to save about 240 million gallons of water each year and reduce CCSD's utility bills and other costs associated with maintaining the current landscaping.
"We're being proactive," said Mark Campbell, CCSD Director of Sustainability, Energy & Environmental Services. CCSD planned on the landscape upgrades even before a new Nevada law was passed that prohibits using Colorado River water to irrigate nonfunctional turf by the end of 2026.
"When looking at the labor, materials, and utility costs required to maintain natural grass, it became a relatively easy decision with our management team to convert to water-smart landscaping," Campbell said.
To help with the costs of the landscape conversions, CCSD staff is applying for the Water Smart Landscapes (WSL) rebate for each school. Through the WSL rebate, the Southern Nevada Water Authority (SNWA) offers a cash incentive of up to $3 a square foot for grass removed and replaced with drip-irrigated plants and trees (some restrictions apply).
Tackling a large project impacting nearly 200 facilities takes strategy and planning. CCSD is starting with high schools and moving to older middle and elementary schools with large swaths of ornamental grass.
"We're starting with the schools where we have the most opportunity to save water. High schools, for example, have a lot of grass around athletic fields, and those areas are often in odd shapes or on slopes and hard to maintain," Campbell noted. "The newer schools have far less grass unless it's in a play area, so the square footage starts adding up at the high school campuses and older schools."
The landscape upgrades will be tailored for each school and begin with a site walk with the principal and other school personnel to determine which grass areas are used for play or teaching and which are ornamental.
"We're not using a one-size-fits-all approach," Campbell said. "We're leaving the grass where it's used and removing it where it's not."
Previously, CCSD converted more than 24 athletic fields to artificial turf through SNWA's Sports Turf Program, which offers up to $3.30 per square foot of grass replaced with synthetic turf. That project saves more than 135 million gallons of water annually and an estimated $1 million in water costs.
Campbell noted that saving money on water bills is not the only advantage of updating school landscapes. CCSD also will save on the resources required to maintain natural grass.
"The value of these projects increases year by year as utility rates increase and also because they reduce the amount of labor required for maintenance," Campbell said, adding that reducing water consumption is an important goal for the nation's largest school district in the nation's driest state.
"It's imperative that our community reduces water use to be sustainable over time. CCSD is part of this community, and these projects are a prudent investment from both a resource and cost perspective," Campbell said.
To learn how you or your business can conserve water and ensure you are meeting new landscape and development requirements, visit snwa.com. To take advantage of SNWA's cash incentives for businesses, call 702-862-3740 or email cashincentives@snwa.com.
Members of the editorial and news staff of the Las Vegas Review-Journal were not involved in the creation of this content.