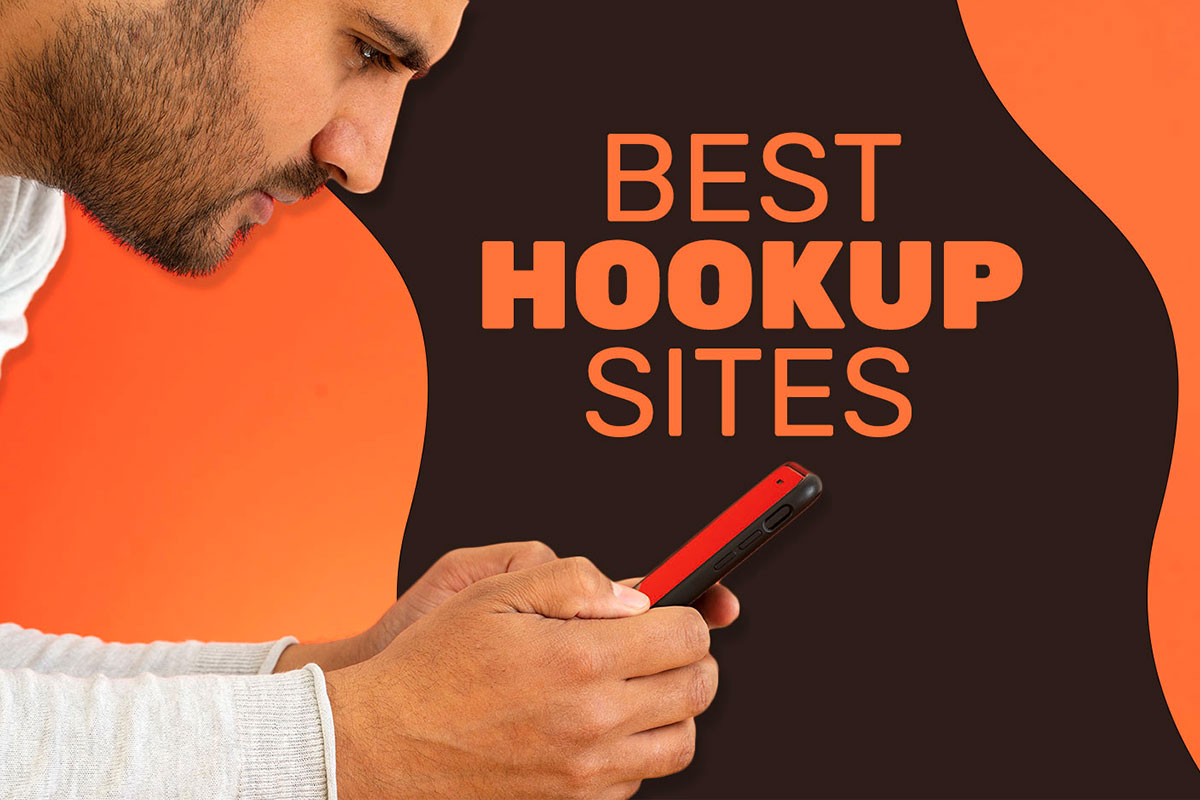 It's normal to desire either long-term relationships or some quick thrills. Perhaps, you're in the mood for a one-night fling right now to help you forget about your recent breakup from a long-term relationship. Maybe you've been too busy at the office with other commitments to be a decent partner to anyone right now, but you still don't want to give up on dating altogether.
Although having a partner, boyfriend or husband might provide great happiness, no one can compel you to enter into a committed relationship if you are not yet emotionally or mentally prepared.
Whatever it is, you should not beat yourself up over your choice. Don't worry; you're not the only one who wants nothing more than a one-night stand. Many available individuals would enjoy engaging in some light, noncommittal and free fun with you. 
Let us formally welcome you to the exciting world of online dating sites and mobile apps as we explore the top hookup sites together!
11 Best Hookup Sites in 2023
Seeking

– Most exclusive dating site

Tinder

– Best overall hookup site

Bumble

– Best female-friendly dating site

Zoosk

– Best for people just now entering the dating community

WhatsYourPrice

– Best no-nonsense hookup site

CougarLife.com

– Best site for meeting cougars

Elite Singles

– Best for meeting high-quality singles 

MillionaireMatch

– Best for sugar dating 

OkCupid

– Best for meeting a wide variety of people

Grindr

– Best for people in the LGBTQ+ community 

Her.com

– Best for lesbian dating

Seeking is an elite dating site designed to pair men with women, with a high expectation for dating services. As one of the most luxe dating apps, you can expect the top caliber of matches to be found here. 
Women are free to join but men do pay a premium. This cost helps weed out anyone that might be on a dating app just to waste time. By signing up for a premium membership you can boost your profile to the top of the searches and be shown to the most eligible matches. Many dating sites are filled with people that just want to chat and never meet up. Seeking members tend to be looking for a real-life connection.
UI/UX: Easy to navigate
Real Profiles: There are tons of real profiles on Seeking which are sometimes hard to find on hookup sites.
Customer Care: To contact Seeking, simply send them an email at Support@Seeking.com
Pricing: For the paid membership, you need to pay $90 per month. For a three-month plan, you pay $80 monthly, and for a six-month plan, you pay $70 per month.
Pros
Best for long or short relationships.

Men and women can initiate relationships.

Allow online daters to use search filters

 More women than men
Cons
Some members are looking for nonserious commitments

Smaller areas might have a smaller selection of dates

Tinder is very common and more populated than many other dating sites. The simplicity and cheap features of Tinder are its primary selling points.This adult dating site has a paid membership tier with advantages like unlimited swipes, but the free level is sufficient for hookups. People can use this hookup website for a wide variety of purposes, including but not limited to casual sex encounters and online dating. 
In addition, Tinder has millions of active users to meet, so the possibilities are practically limitless. Tinder welcomes users of all ages, but it's primary demographic is young adults.
UI/UX: Tinder has a web-based version and an app, both of which are very user-friendly.
Real Profiles: Tinder is arguably the most popular dating site, today, and will unavoidably have fake profiles on it. However, there are lots of real profiles on it, too.
Customer Care: You can contact customer service by phone at 214-853-4309.
Pricing: Tinder has subscription plans for people under 30 and people over 30. Each plan has its unique prices for platinum, gold, and plus. For people under 30, platinum costs $19.99 per month and $39.99 for people over 30 years old.
Pros
Simple swipe navigation

Accepts all sexual orientations and gender identities

Seven-million or more active users per month
Cons
There are only a few profile details for each user.

Aimed primarily at younger users
Since it empowers women to make the first move, Bumble is a fantastic dating app for ladies. Only women can initiate contact by sending a message to a possible match. Ladies can be sure their inboxes won't be swamped with photos of men trying too hard to impress them. The app's sleek and modern design features a cute "bee" motif that makes using the platform more inviting.
SuperSwipe allows you to express your affection for someone instantly, and "Backtrack" undoes a misplaced swipe. The video chat feature of this online hookup site makes it a top pick among many online daters. Although the app's primary function is to facilitate long-term relationships, it can be a fantastic tool for casual sex if you take the time to spell out your preferences.
UI/UX: Bumble has a very simple design that is not overloaded with UI. This makes it one of the most user-friendly online dating apps.
Real Profiles: Bumble makes use of an algorithm that pushes only the most active and right-s wiped profiles to the top. So, there is a low chance of running into a fake profile.
Customer Care: To contact Bumble's customer care, you can send a message to them at feedback@team.bumble.com.
Pricing: For one week, you get to pay $19.99, $39.99 for one month, $76.99 for three months and a lifetime plan for $229.99
Pros
The app allows women to initiate conversations

Allows video chats

The sign-up procedure is simple.
Cons
Weak filtering options

Users tend to be more interested in long-term partnerships.
Online dating has never been more convenient than with Zoosk. Zoosk is very popular among hookup sites and dating app users. Users can make matches, send messages and view photos from the convenience of mobile devices. It's also one of the biggest dating sites because it has more than 40 million users. Because it first appeared in 2007, you know it has stood the test of time. When you first install the app, signing up is simple.
Besides your email and password, you will need to input your gender and the genders of the people you're interested in dating. Age, height, education and even ethnicity are just some of the many search options available on Zoosk. You won't have to waste your time talking to people who aren't interested in you because the site can find a perfect match for you.
Zoosk is an excellent beginning point for people new to adult dating. You'll need to upgrade your membership to Zoosk to initiate chats with other users or send them messages. Premium membership costs $29.95 per month, but you can save money by signing up for three or six months.
When you upgrade, you may send as many messages as you like and use Zoosk's SmartPick tool to identify matched companions in a flash. Finding a compatible partner is a breeze because of the site's extensive member base and sophisticated search filters.
UI/UX: Simple interface for signing up and engaging potential dates
Real Profiles: Too many fake accounts
Customer Care: You can contact Zoosk on their customer care number (888) 939-6675.
Pricing: $29.95 per month
Pro
Visual authentication

More than 40 million active users

'Likes' are free
Cons:
Too many fake accounts

Expensive
WhatsYourPrice was created to see if more can be achieved by allowing generous members to send dating offers to attractive members. Starting with a glamorous opening line, WhatsYourPrice dating offers you the chance to show genuine interest, but also build excitement and motivation to make the date happen. Signing up is free! After signing up, you can proceed to fill out your profile. Show off your best photos and provide some fun facts about yourself. A full profile gives you the best results!
After creating your profile, all you have to do is wait for a generous member to send you an offer for a date. You could also take the first step and send an offer to someone. 
WhatsYourPrice gives you the chance to experience a great first date and get paid. It's a win-win!
UI/UX: Easy to navigate and makes use of a simple design
Real Profiles: Not too many fake accounts
Customer Care: You can find multiple ways to contact this site's customer care here.
Pricing: Credits instead of subscriptions
Pros:
Signing up is free

Most of the features are free for women

No age barriers

Credits instead of a subscription
Cons:
 Men have to pay additional fees for certain functions

 No mobile app
CougarLife.com is a site that focuses only on matching middle-aged women ( 35 years upwards) with younger men. The site is easy to use and has a few features that make it user-friendly.  This site has a large membership base and enough features to give you the best opportunities to find that perfect date.
However, it is important that we mention now that using CougarLife.com does not come cheap. Also, the membership packages are a bit tricky to understand.
With three packages to choose from, it's almost impossible to know which one is best. The important thing is to pay attention to the number of credits. Most features have a small credit fee, so, the more credit you have, the more you can do. It offers unlimited access to features without regular subscription membership benefits. It's free to sign up, create a profile, and browse the site. It also has paid features that come with the premium subscription. Unlimited private messages, sending virtual gifts, sending priority mails, and search engine optimization within the site.
UI/UX: Everything is well organized and you will see that the website is clean and easy to navigate.
Real Profiles: Lots of real profiles
Customer Care: You can send an email to support@cougarlife.com.
Pricing: For a one-month plan, you are to pay $40, for a three-month plan, you are to pay $87 or $29 per month and for a 12-month plan, you are to pay $144 or $12 per month.
Pros
No identity verification.

More than 7,000,000 active members

Access efficient search tools
Cons
The majority of women are more than the age of 35. If you are looking to date a young lady, then this site is not for you.

If you are not a paid member, you will not be able to send messages or access other features.
Elite Singles is a well-established and top-rated online dating site aimed at career-minded, smart, and educated professionals. More than 80% of the people on this site are bachelor's degree owners and are between the ages of 33-50 years old. In 2019, the site's subscribers increased to 2 million. This is a big number considering the higher than average subscription fee.
The site helps you find potential matches based on a detailed 200-question personality test. Their five-factor personality test is complete with 29 algorithms that update frequently based on your usage of the site. The algorithms allow you to find a match easily and ensures that you have a fun and safe online dating experience. This site may look like a pompous elite matchmaker, but this uptight attitude has kept scammers at bay and made them the preferred choice of intellectuals. The entire system is designed to provide a safe online dating experience.
UI/UX: A rigid design and features to keep out scammers
Real Profiles: Very low tolerance for fake profiles
Customer Care: You can call Elite Singles customer care at (800) 942-6026
Pricing: For the yearly subscription, you get to pay $31.95 per month, for the six-month plan, you are to pay $44.95 per month, and for the three-month plan you will pay $59.95 per month.
Pros:
The website maintains the highest level of security to keep out scammers.

These personality test reports are completely free and available without a premium membership.

Easy to use and easy to navigate

There is an extensive personality test with a dual purpose that will only will it help you find a compatible match, but it will also help you better understand your personality.
Cons:
Only premium members can view profile pictures

Most of the exciting features are for paid members.
MillionaireMatch.com is a dating site for millionaires and elite singles including successful CEOs, lawyers, professional athletes, doctors, models, and celebrities. However, people who make less than $200,000 a year are also allowed to sign up, particularly for those who want a relationship with a sugar daddy. 
Free accounts have limited functionality and standard members can upgrade to a gold account to access features such as advanced search, email/chat initiation, mobile access, view new and verified members, view verified millionaire profiles, advanced privacy settings, display at the top of search results, and more. The site focuses heavily on verification, which helps to weed out bad profiles.
To access the gold account, you will have to choose from three available subscription plans.  
UI/UX: has a regularly upgraded interface to improve user-friendliness
Real Profiles: Mostly real profiles due to the caliber of people on the site.
Customer Care: You can contact them on their customer care number; +1 416 628 1072.
Pricing: There is the option of the one-month plan which costs $70. There is the three-month plan which costs $135 or $45 per month, and there is the six-month plan which costs $240 or $40 per month.
Pros:
The app allows you to control who sees your profile.

The app is simple and very easy to navigate.
Cons
No video chats

High monthly fee

If you value gender inclusion, OkCupid might be worth a stop. The majority of the site's features are free to access, with many upgrades and boosts available for an additional fee. Where OkCupid starts to have some issues is the overall user experience. The site has a chaotic feeling and feels like there's too much going on at once. One may find it too overwhelming and have difficulty knowing where to click or what to do. However, it is a great platform if you can dedicate time to figuring things out in your love life. If your primary goal is finding someone special—you're probably going to get frustrated.
The dating site has multiple payment options which are purposely setup to suit your financial strength and your needs. There is the premium plan and the basic plan. 
UI/UX: Not the easiest interface to navigate when compared to the other dating sites
Real Profiles: Too many fake accounts
Customer Care: You can send them an email; support@okcupid.com
Pricing: For the premium plan, you are to pay $34.99 per month, $69.99 for three months or $104.94 for six months. For the basic subscription plan, you get to pay 24.99 per month, $49.98 for three months, or 74.94 for six months.
Here is a breakdown of what you get with each plan
Pros:
 A high level of inclusivity for singles of all genders and sexual orientations

Utilizes compatibility questions to enhance matchings

A reported user base as large as 50 million
Cons:
The app has a history of serious data leaks.

Unless you upgrade, you are inundated with ads.

There are a lot of fake profiles on the site that seem to have slipped past the moderators.

There are still a lot of users that are looking for hookups instead of relationships.
Grindr is the largest dating app for people in the LGBTQ+, and it has millions of daily users from all across the globe. As a location-based app, it has a reputation for a way for singles to find hookups. However,  that doesn't mean people haven't found more serious relationships on the site. That said, those looking for Prince Charming will likely find more success on other dating apps.
Grindr's free option includes a ton of features and makes it extremely easy to connect with other members. You can view and favorite up to 100 profiles, send unlimited messages and share up to five private photos at the same time.
Other free features include the option to share your location, so you can meet other members nearby for a one-minute video call a day, and the ability to send up to 10 video messages a day. 
Grindr is only available through the app. A desktop version is not currently available. It can be downloaded from the App Store or Google Play and is easy to use. The app simplifies in-app purchases and allows you to upgrade to the XTRA Plan or Unlimited Plan at any time. However, sometimes the app has bugs or shuts down unexpectedly.
UI/UX: Simple interface
Real Profiles: Reputable for its engagements
Customer Care: You can visit their call center here.
Pricing: $9.99 per month (reduces if you pay for the three-months, six-month, or 12-month plans).
Pros:
Great free membership option with lots of features

Ability to surf anonymously

Diverse communication options
Cons:
Not many users are looking for a long-term relationship

Only available on smartphones – no website option

Her.com is a dating site like Grindr. But this time, it's strictly for the ladies. If you are a lesbian, then you might want to check this one out. Before it was renamed Her in 2015, the dating site was originally called Dattch. The site is set up to help ladies in search of "true love." In other words, if you are looking for a fling or a one-night stand, then you have come to the wrong place. Although the app is more popular in the United States than in other countries, it boasts approximately 1,000,000 members. This may have something to do with most of its features being free. However, like many other dating sites, there are paid features. To access its best features, you have to pay a $14.99 monthly subscription.
UI/UX: Simple interface
Real Profiles: Not too many fake accounts
Customer Care: You can contact her.com through their support center: https://support.weareher.com/hc/en-us
Pricing: To access its best features, you have to pay a $14.99 monthly subscription.
Pros:
Matches people up based on their location

All users have profile pictures.

You can't search for someone manually.
Cons:
Her has no website version.

You can only create an account using social media platforms like Instagram and Facebook.
How We Evaluated The HookUp Sites and Apps
There are many factors to consider when ranking the best adult hookup sites. The following are the key criteria that have guided our evaluation:
Ease of Use:

In some communities, using the online dating platform easily is vital. Dating platforms should be simple to use on desktop and mobile devices.

Total Users:

More and more people are searching for casual hookups, one-night stands, or casual encounters. The widespread acceptance of the concept of casual dating has called for the proper evaluation of a suitable platform. A good hookup site should not have a disproportionately high number of users in one region. Naturally, certain sites will only appeal to a specific demographic.

Pricing:

Many websites get this fundamental detail wrong. Giving your customers what they pay for is crucial in online dating. We approach the world of the best casual hookup sites from the perspective of value rather than price alone. We don't dismiss an expensive casual dating site but investigate the factors contributing to the asking price to arrive at a fair assessment. Even a seemingly expensive dating platform may receive excellent marks if the price is justified by the functionality they provide.

User Experience:

The interface of hookup sites or dating apps must be reliable and easy to use. Even for relatively new websites, this is a portion prone to error because it's not easy to create a platform that works equally well on computers and mobile devices. It's also important that the user interface looks nice. Those who plan to use the site for longer than 30 minutes daily will appreciate the effort put into the app design.

Confidentiality and Safety:

This is a necessary feature of a casual dating app and hookup site to facilitate casual sexual encounters among users. Given that anyone with the correct set of resources can access material online, casual sex sites must take precautions to protect the users' information. Fundamentals like encryption should serve as the foundation for security measures. Any online dating site without encryption will never compete at the highest levels no matter how great the platform is. Online daters should be able to exercise some control over their profiles. Thus, it's vital to equip them with adequate privacy options.

Reviews:

It's possible to learn a lot about the best hookup site by reading the reviews written by other users. These comments come from other actual users who have spent some time on the site. It is essential to consider them seriously.
Tips For Finding A Good Hookup Website
So, what really constitutes a high-quality dating app?
Knowing what to consider before using a casual dating app is essential for any potential user. You can skip the in-depth profile creation and questionnaire responding that a site like OkCupid requires if all you want to do is find a quick fling on a sex site.
Signing up on legit hookup sites like the list above is the most reliable way to avoid scammers searching for legitimate hookup apps. In addition, your chances of meeting someone special on the most popular dating apps are better because of the sheer number of people who use them. 
Having more potential suitors to choose from is always a plus. Keep an eye out for your special interests and preferences, and choose adult hookup sites that encourage open communication about needs and preferences. Apps typically include preferences, and you can set yours to "casual relationship" or "hookup." A hookup website should let you get in touch with customers quickly by making their contact details easily accessible.
How Do You Initiate a Hookup On Hookup Sites?
It may be difficult to initiate a sexual encounter through traditional online dating platforms. Making a move on someone is the only way to find out if they are interested in you. You can test the waters sexually by making modest recommendations to the person you're texting.
Even if they claim to be "open for anything" in their dating profile, that doesn't mean they'll find your compliment endearing or your online dating profile attractive. Perhaps you're just not their cup of tea. 
Do not be discouraged! There are many opportunities to try again and improve your skills in making sexual fantasies a reality on casual dating sites and apps. You can gauge your potential partner's interest in a casual encounter even on a free hookup site by using a flirtatious pick-up line or being honest about what you want.
Although you should be honest, you should not be crude with your messages. Also, do not meet privately with anybody that you do not know. Always make sure a first date happens in a public place, and wait until you can trust someone before you invite them into your car, let alone your home. 
How To Be Successful on Adult Dating Apps
Be choosy about the apps you download:

When it comes to finding a partner, online dating isn't like other decision-making games where you can check out all your possibilities before picking one. There are apps created to bring together people with specific interests, religions, or other characteristics. Check out our list and choose apps by your "partner preference."

Be Honest:

People are more likely to fall in love with someone who shares their values and lifestyle choices such as family composition, pet preferences, religious beliefs, and sexual orientation. If you're honest and open about who you are and what you want, you'll likely meet and talk to someone with whom things can work.

Profile Picture:

Pick a picture that showcases the qualities you want others to see. Photos should be truthful depictions of your physical self, but you should also like them. A  person's first impression of you can be greatly influenced by your pictures, even if they have never seen you in person.

Go Straight to the Point:

Don't waste time rambling, and make sure you highlight your unique selling points in your profile. Nobody will read an unnecessarily long profile introduction. Put your priorities forward and stop wasting time. Incorporate some of your qualities and include your preferences in a partner. In general, people are more fascinated by intriguing characters. Remember, never be crude or crass with other users. 

Keep an Open Mind:

Don't write someone off because they participate or don't participate in an activity you do or don't like. Be as receptive as possible to the possibility that you might learn something new from someone you meet online.

Try to Keep Conversations (Relatively) Brief and Specific: 

It is impossible to learn everything about a person or a relationship through digital communication. You can ask questions regarding specifics in a person's profile, such as interests and preferences. According to experts, users should limit internet conversations to no more than 14 days before a meeting. After a few weeks, make an honest attempt at connecting with them.

Enjoy Yourself:

Dating app use should be lighthearted. There should be no struggle involved. If it's becoming tedious, you're not having fun, or you're feeling horrible about yourself, stop what you're doing and do something else.
Benefits of Adults' Hookup Sites
Finding people with similar interests
The online dating market would collapse without legit hookup sites. Many individuals prefer kinks to more conventional forms of sexual expression. It might be challenging to find sexual preferences in the streets, in bars, or anywhere else.  Hookup apps provide a welcoming, safe space for people who prefer a specific hookup partner to express their desires.
Easy unwinding
People can get a break from the monotony of daily life in flings and casual meetings. For example, women seeking sexual partners don't have to worry about being shamed by society's more conservative voices. Individuals who have difficulty meeting new people in bars or other public settings will find refuge on legit hookup sites. With so many scammers in the world today, these sites provide a safer alternative for finding a hookup.
Free vs. Paid Hookup Websites
The internet has helped countless men and women find hookup partners. Online daters strive to pick the best hookup app considering the features and selections available. While that is happening, the cost issue is not last on the list. Some people would rather not spend money on online dating and instead join a free site. Others, however, are willing to pay to ensure their security and productivity.
It's important to note that either a paid or free hookup site could be effective. The websites' veracity and specificity are crucial. Let's break out the differences between paid and free dating sites.
Free Hookup Sites
You can find a free dating site with chat rooms, message boards, and other social features. You might strike it lucky and meet a pretty girl or handsome man. The quality of the audience, however, is generally low on any free online dating site. Even if the site is genuine, you'll likely encounter many scammers and "weirdos." Be wary of fraudulent platforms that pose security risks to your computer, and don't protect your anonymity while you're online.
Paid Hookup Sites
Even paid adult dating sites have free versions, i.e., some features that are free to use. Signing up and making a profile is typically free on paid hookup sites. Moreover, the most satisfactory services usually include a few free communication capabilities that could be sufficient for testing purposes. When you sign up for a hookup dating service, you get access to everything that the service has to offer. Keep in mind that many paid dating sites advertise themselves as free sites.
Finding out what is truly free and what features you can access after purchasing a subscription plan on each site is essential. The best hookup sites usually have a range of membership options at various price points and durations, as well as free trials, money-off coupons, and other deals to ensure that their services are accessible to all potential users.
Best hookup sites FAQs
Are hookup sites safe?
Even though the best adult dating sites have built-in safety mechanisms, users should still exercise caution. Take precautions because it can be harmful otherwise. Reputable hookup sites and apps enforce security by blocking automated accounts and scammers and providing means to report inappropriate or illegal activity. You can't predict who you'll meet in an online community and hookup apps, so be cautious when signing up.
Are there any free hookup sites?
It's annoying that most casual sex and dating apps need paid memberships for the best experience. However, you may find a free hookup website or dating app to talk to strangers, flirt with them, get a one-night stand, and set dates on Reddit and Craigslist Activities. The main drawback is that it is not moderated, so you cannot be assured that the person you are talking to has a legitimate profile.
What hookup sites are free for women?
In most cases, dating apps make membership much more accessible for women. The best dating sites typically provide free memberships to women to maintain a healthy gender ratio. Bumble, Tinder, OkCupid, Seeking, Her, Hinge, and Pure are all examples of hookup websites that are free for women.
Where can I find LGBTQ+ users?
There are a few choices for LGBTQ+ casual hookup sites and apps. These adult dating apps welcome those who do not identify with a binary sex system. Her is the best site for women looking for other women, while men looking for other men should use Grindr.
Are Free Hookup Sites Reliable?
Free hookup apps and sites are not as reliable as paid sites. Most free subscriptions will not give you access to the app's bare bones—likes, matches, and messages. However, if you don't intend to spend money on hookup sites, you can use dating and hookup apps like Tinder, Plenty of Fish , or OkCupid.
A successful hookup can be yours, even on a free site if you take the time to craft a compelling online dating profile and hone your conversational abilities. However, there is no assurance of success in getting a  hookup partner.
Can I use hookup sites without signing up?
Users can access adult hookup sites like Omegle without signing up for an account. However, there are just a small number of such legitimate sites, and their greatest strength would be the convenience of meeting individuals without having to go through a time-consuming registration process.
How do I find partners on hookup sites?
You can find partners and have no-strings-attached sex and relationships by completing your profile on any of the reviewed websites in this article. The platform's algorithm would use this information to pair you with profiles you will find most suitable.
Can I use Tinder For hookups?
Some people even attribute the recent uptick in the "hookup culture" to the popularity of Tinder. Although Tinder markets itself as a serious relationship app, it is fair to say that anything goes on the app. It doesn't matter if you're looking for a hookup or on the prowl for a lifelong partner; you'll probably meet someone.
Can I trust the hookup sites recommended here?
These are the best hookup sites that have been tried and tested, with multiple layers of security to ensure your safety. To that end, you can confidently scour these sites looking for the right person for you. 
Conclusion
The use of hookup apps and websites is a fantastic way to meet people who share your interest such as having casual sexual encounters and one-night stands.
Because there is such a wide variety of options to pick from, it could be difficult to decide which is the best online adult dating app. Luckily, this article will help you find the online dating service that is most suited to meet your individual requirements.
If you sign up for one of the online dating apps or sites that we've recommended, you'll have access to a wide variety of potential partners and a better chance of meeting a partner to share your wildest dreams. There's no time like now to begin living a life of excitement and adventure.
Members of the editorial and news staff of the Las Vegas Review-Journal were not involved in the creation of this content.