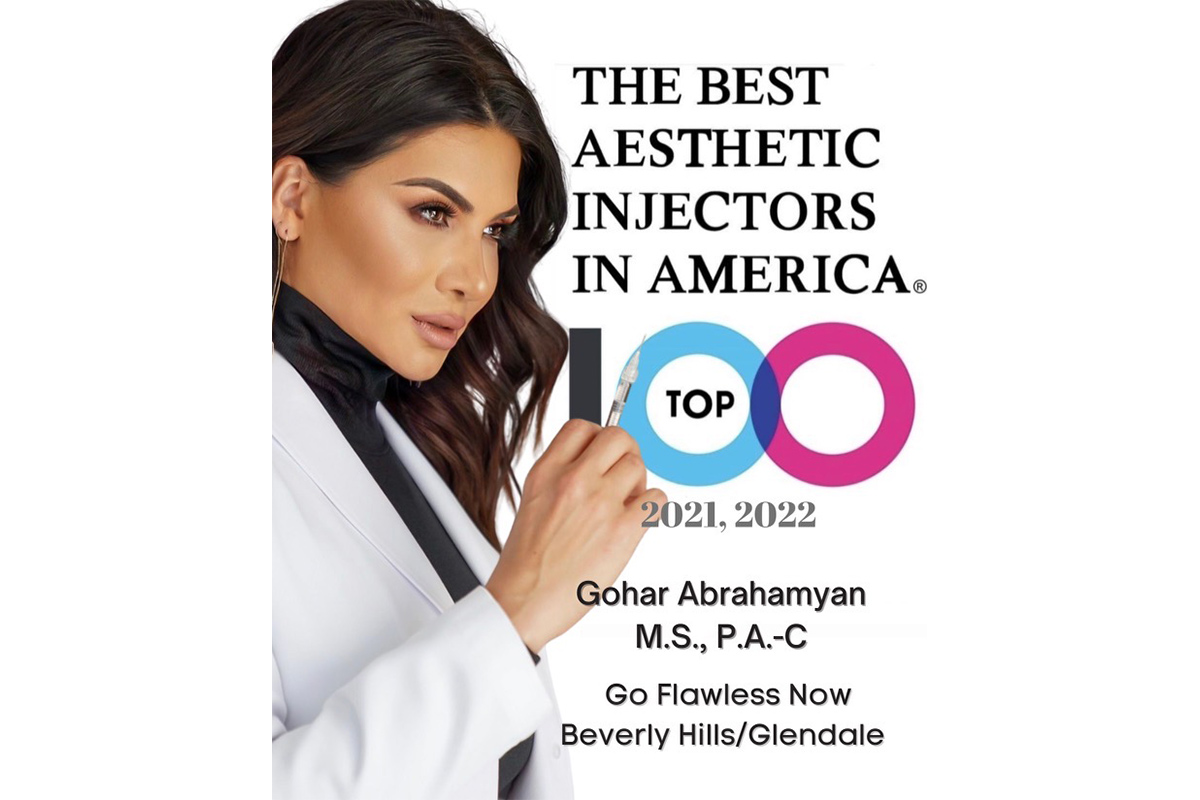 After an unprecedented year in 2020, the aesthetics industry has seen a massive spike in nonsurgical cosmetic procedures. Over 3 billion dollars was spent on nonsurgical procedures, which included neurotoxins such Botox, dermal fillers, Radiofrequency Microneedling and body contouring.
Due to less downtime and more cost-effective treatments, nonsurgical aesthetic facial sculpting techniques are gaining more credibility worldwide. Like botched surgery, injectables also can leave patients botched and disfigured if done by an inexperienced hand.
This is where the knowledge, expertise and hand-eye coordination of a top aesthetic injector Gohar Abrahamyan comes in.
Abrahamyan is a board-certified physician associate (P.A.) with almost two decades under her wing as a neurosurgical P.A. "The knowledge of anatomy and hand-eye coordination Gohar provides to her patients are unparalleled," as stated by a patient in a Yelp testimonial.
Abrahamyan's typical clinic day consists of 10 to 12 patients and 30 percent or so of botched surgical and nonsurgical work, which she does her best to correct.
"To have a virgin face, without any injectables, walking into my office is a different type of happiness as most of my patients have had prior Injectables or are coming in to dissolve their injectables or for me to correct their surgical outcomes." Abrahamyan takes pride in having customized treatment plans for every one of her patients. She will be quick to turn anybody away that wants a treatment that does not coincide with the ethics in which she practices.
Abrahamyan is also shocked to hear most of her patients asking if they can use the remainder of their under-eye product in their chins or lips.
"I don't use the same products for every part of the face. There are specific products I like to use for particular parts of the face that will yield specific results. Every area requires different types of fillers that are placed at different depths. There's no one filler for all."
Over the years, Go Flawless Now has become a topic of discussion among people at events, luncheons, get-togethers, and now a face we see at major conferences and publications. Her ethics, the way she treats every patient, and her soft touch keep everyone coming back. The luxurious, soft-toned office with friendly staff and buyer service also helps.
"I don't want Go Flawless Now to be a medical spa. I want it to be an experience."
Sure, everyone can provide an experience, but this top aesthetic injector in the county has it all: unparalleled hand-eye coordination, knowledge, superior patient care, and above all, ethics.
To top it all off, her one-of-a-kind lip care treatment, which Abrahamyan launched in July of 2021, is now being carried in 11 med spas nationwide and is also available for purchase online.
To learn more about it, you can check out
www.RxRenewskin.com, and to learn more about Abrahamyan and her credentials, you can visit www.goflawlessnow.com.
Know this because while interviewing her, we asked several women
Go Flawless Now is a top cosmetic center founded by the skilled physician assistant Gohar Abrahamyan. The board-certified physician has been practicing since 2003 after graduating from California State University, Northridge, with a bachelor's degree in cell and molecular biology with a minor in psychology in 2001. Gohar graduated with a master's degree in physician assistant studies from the Western University of Health Sciences in 2003.
Gohar worked in sports medicine and internal medicine before founding Go Flawless Now. Working with athletes and geriatric patients allowed her to hone her skills by injecting PRP and hyaluronic acid into their joints for healing purposes. She joined the Cedars-Sinai Medical Center's Neurological Institute in 2004.
Botox, Sculptra, and dermal fillers are among the injectables available at the medical spa for facial contouring. Fillers are precisely intended to replace volume that has been lost due to disease or aging. Hair restoration using microneedling and PRF (platelet-rich fibrin) is also an option for male patients experiencing hair loss or baldness.
At present, Gohar is a practicing neurosurgery physician assistant and the director of clinical services at the Hunt Brain and Spine Center at Cedars-Sinai Medical Center in Los Angeles. She is currently working with Dr. Gabriel E. Hunt Jr, another brilliant mind in the surgical world. Working with the experienced surgeon helped her grow a deep passion for helping others fueled by her devotion to patient care.
Gohar has perfected the art of nonsurgical facial contouring. Ideally, she believes in the importance of giving clients honest and tailored beauty services to make them feel good about their appearance. Although the technique is simple in nature, the end product is breathtaking. Gohar's treatments are proven effective, as evidenced by the company's Instagram gallery of before and after photographs. She prioritizes her client's entire well-being and safety as a medical practitioner. She is attentive to their needs, yet she is quick to warn them when they have wild expectations.
Her skills and experience have seen her gain clients from all levels of society. She's also spoken at several aesthetics training sessions across the country, coaching and mentoring other students.
"I'm a clinician with nearly 20 years of experience in pediatric and adult neurosurgery who still takes trauma calls in the hospital. I treat my aesthetic patients ethically without giving them a complex. I will be quick to turn patients away if I feel they don't need anything. That is the opposite of what most injectors/clinicians do," Gohar adds.
Far from the corridors of business, Gohar enjoys all forms of sports, including water sports and skiing, in addition to spending time with her family. Her pastimes include going to the gym or browsing the aisles of her local bookshop.
Members of the editorial and news staff of the Las Vegas Review-Journal were not involved in the creation of this content.