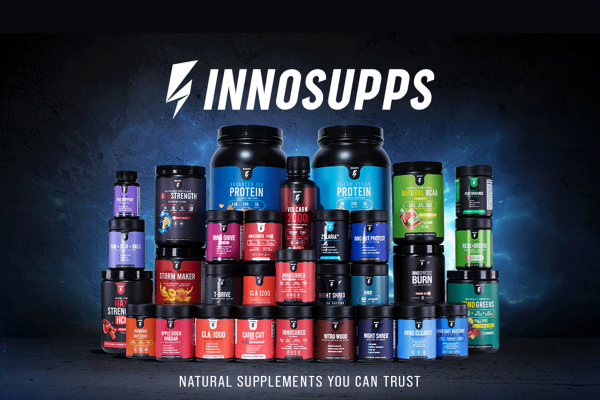 It can be hard to know which supplements are good for you and which are full of fillers and artificial sweeteners. Most supplements contain unhealthy additives and artificial sweeteners that can do more harm than good. Inno Supps is a different kind of supplement brand. 
They only produce natural and clean products free from artificial sweeteners, fillers and harmful additives. Their products are doctor-approved and come in a variety of delicious flavors. Plus, they have an online community of thousands of people who can provide support and accountability.
Inno Supps is a premium supplement brand that offers something for everyone! So let's take a closer look at what makes this brand stand out.
The Problem With Most Supplement Brands
Supplement brands can often be misleading, with impossible promises and no proof to support their claims. Moreover, their pursuit of profits often comes at the cost of your health; many brands include harmful additives, fillers and artificial ingredients in their products rather than high-quality nutrients that are beneficial for your body. 
Without proven scientific research to verify benefits, it is a trial-by-error experience for customers who may not realize what they're consuming. Therefore, it's best to research brands before taking any supplements to establish the credibility and quality of their products before purchase.
What Makes Inno Supps Different?
Inno Supps only uses top-quality ingredients to formulate their supplements. All their products are natural and contain no added sugars or fillers — so you can trust that you're getting the most effective results from your supplement regimen. In addition, their expert team has researched to ensure their products are safe for consumption and formulated with the highest standards.
In addition to quality ingredients, Inno Supps offers delicious flavors to enjoy with their various products. Whether it's a smoothie mix or protein powder, each flavor has been carefully crafted so you can savor every sip!
Moreover, they have an online community of thousands of people who use their products and share tips on staying motivated with your goals. This Facebook group provides invaluable support for anyone looking to meet personal health targets or stay fit, no matter how many setbacks.
What Products Does Inno Supps Offer? 
Inno Supps is the perfect choice for men and women looking to reach fitness — and overall health and wellness — goals. You can be assured of the highest quality products since they offer a clean supplement line with natural, effective ingredients tested and certified as non-GMO and GMP compliant with no artificial flavors. 
They offer various products designed to support different needs ranging from muscle-building, fat-burning, and overall wellness to more specific formulas that consider men's health, women's health and enhanced athletic performance. 
Those with dietary restrictions will be pleased to find a selection of vegan options that work just as effectively toward achieving your objectives. Inno Supps will help you reach your goals quickly, safely and naturally.
Best-Selling Products
Depending on your goal, Inno Supps offers an array of top-product options to improve your health and fitness. Let's look at a couple of their best-selling products. 
Inno Supps understands that making progress toward fitness or weight-loss goals is often a long journey, so they have created effective supplements to assist in your journey to success. Their top-selling products are specifically tailored with potent researched-backed ingredients that make them highly effective. 
Night Shred contains well-known ingredients such as GABA (gamma-aminobutyric acid) (), magnesium (), grains of paradise (), and CLA (), which research has shown to work for sleep and fat burn. And Inno Cleanse will detoxify you inside and out for better digestion, improved gut health, and reduced bloating with its clinically effective dosage of ingredients, such as cascara sagrada and cape aloe. 
In addition, Inno Supps provides stacks like the New Year Shred Stack, which incorporate five supplements into one product, saving time and money while simultaneously harnessing the power of each supplement to achieve your 2023 fitness goals rapidly.
Another powerful best-selling supplement stack is the Thermo Shred Stack. This stack combines a daytime fat burner (Inno Shred), nighttime fat burner (Night Shred), thermogenic fat-burning carnitine (Volcarn 2000), and total body detox (Inno Cleanse) to rev up your metabolism and force your body into a fat-burning state. 
Overall Value 
Inno Supps is leading the way in providing quality health supplements with delicious flavors and a supportive online community. So if you're looking for a reliable supplement brand to help keep you accountable toward your health goals, look no further than Inno Supps!
Whether you're just starting your fitness journey or want to take your workouts up a notch, Inno Supps is here to help! Their high-quality supplements contain only natural ingredients free from artificial sweeteners or fillers — and best of all, they come in unique flavors! Plus, with an online community offering advice and guidance, there's no better time than now to try these supplements. So don't wait any longer — start unlocking the benefits of Inno Supps today!
Members of the editorial and news staff of the Las Vegas Review-Journal were not involved in the creation of this content.
The opinions in this article do not necessarily reflect the opinions of the Las Vegas Review-Journal and you should consult your doctor before beginning any new health related practice.