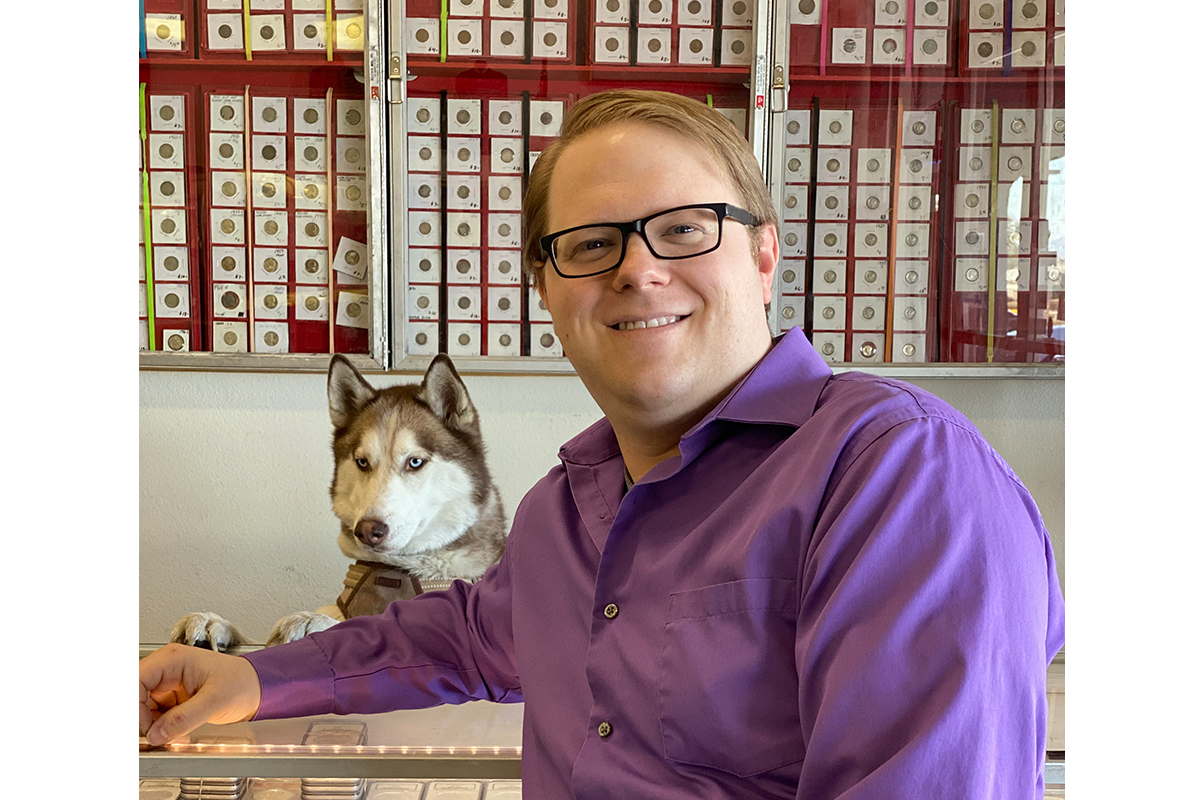 Archangel Coins owner and founder Chris Shands turned his passion for history into a successful numismatic business.
"When it comes to coins, the fun part is remembering it is history," Shands said. "It brings the past to life."
Shands' successful coin shop located 594 S. Decatur Blvd. underwent a recent expansion doubling the store's footprint to 1,800 square feet.
"The expansion was planned the day I leased the original space," Shands said. "I knew quickly it was going to grow into something that needed more room."
The additional floor space allows Shands to significantly increase the inventory on display including a wide selection of U.S. and foreign collector coins, currency and precious metals such as gold and silver.
"I would say we have the largest selection on display," Shands said about his local presence. "I can't think of anyone else that has eight full cases of coins, plus multiple wall cases. We have well over 2,000 coins on display daily."
Shands further increased his inventory of historical antiques, including rare American and Civil War items.
"We were literally tripping over each other behind the showcases," Shands said as the reason for expansion. "The extra space allows us to help our customers quicker."
Shands, a proponent of education, now has space to conduct educational classes focusing on the complexities of coin collecting. He plans to cover topics such as grading, and counterfeit detection.
"The store serves as a place for a free exchange of information," Shands said. "We don't want to rush people. One of our biggest goals is to make sure when someone leaves our store, they feel like they've made new friends."
In addition to the retail shop, Shands plans to launch a new website this spring.
"We hope to have it completed by the end of April," Shands said. "It will replace our current website."
The amended website, www.archangelcoins.com, features a blog, video channel titled "Saturday Numismatics Live," and the self-paced educational program Coin University. All the resources are completely free of charge.
"The website is going to be an in-depth learning platform about coins," Shands said. "The overall experience is going to be intensive, like a digital textbook."
In addition to the educational component, the website expands the virtual storefront.
"It'll be the first time we have inventory listed on our website to purchase," Shands said. "And not through another platform."
The renovation is timely with significant changes taking place in the numismatic marketplace as the economy reacts to record inflation and global uncertainty.
"On March 8, gold reached an all-time record price," Shands said. "That is significant."
As markets transition, interest in precious metals and collector coins is rapidly increasing.
"For those looking to sell, it's potentially a good time," Shands said. "The market is on fire."
Archangel Coins is open Monday through Saturday from 10 a.m. to 5 p.m. For more information, visit archangelcoins.com or call 702-683-2196.
Members of the editorial and news staff of the Las Vegas Review-Journal were not involved in the creation of this content.