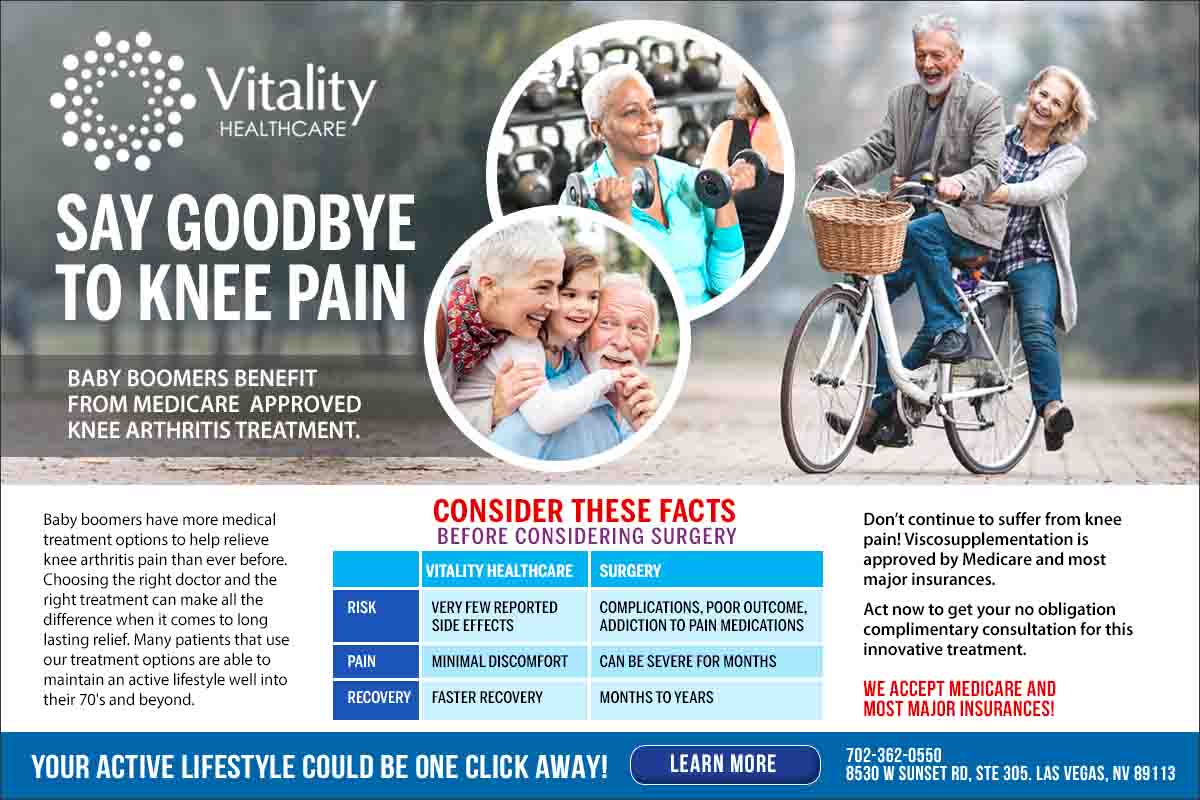 Baby boomers now have more scientific medical options to help relieve knee arthritis pain than ever before. Choosing the right doctor and treatment can be the difference between long-lasting relief and an active lifestyle or a future filled with misery and suffering. Many seniors are now able to maintain their active lifestyle into their 70s and 80s.
We've seen plenty of patients who didn't find relief elsewhere, get very favorable results because of the advanced technology and procedures at our clinic.
A life with chronic pain can feel like it's not worth living. And if you can't stay active and enjoy the things you love — like walking, being outdoors, playing golf, spending time with your grandchildren — it's not really much of a life at all. It is more like a prison term. To make things worse, there are doctors and companies that only add to the pain by promising miracle cures for lots of cash and then don't deliver. Nothing is worse than getting your hopes up and spending your hard-earned money only to be let down.
It is easy to give up, but while these companies are promising "wonder cures," real doctors have been working hard to develop an actual medical solution for knee arthritis pain. This is why these treatments are provided only by qualified medical professionals and can't be purchased on late-night television infomercials.
HAS ANYONE SOLVED THE CHALLENGE OF ARTHRITIS PAIN?
For the past several years that's exactly what our local medical clinic has been doing. We have been able to help thousands of patients suffering with knee arthritis using cutting-edge treatments and technology that a generation ago could only be dreamed about.
This treatment is called viscosupplementation, and it might be the pain-relief solution you've been looking for. But this is not the typical viscosupplementation that you may have had already, and may or may not have helped you. So, if you have already had knee injections and they didn't help, what you're about to read is incredibly important.
Here Is Why:
With viscosupplementation treatments, a lubricating gel is put directly into your arthritic knee joint. This substance is often referred to as "joint oil" because in addition to adding extra cushioning it helps the knees glide more smoothly. In about 85% of patients this treatment can lessen or even eliminate knee pain and often lasts for six to 12 months or more. Even better, viscosupplementation does not have the side effects associated with cortisone injections, which actually eat away at joint cartilage over time. But it can be tricky. The secret to this treatment being successful is getting the lubricating gel into the right spot in the knee where it can work. That's why our medical providers use advanced image guidance that allows them to see directly into the joint and make sure the cushioning gel soothes the problem area and give the best chance for success.
Studies show that without this type of special imaging technology that doctors doing these injections can miss the joint space entirely up to 25% of the time.
It is not uncommon for patients to travel up to two hours or more for the advanced technology used at our clinic.
STATE-OF-THE-ART IMAGING
Many patients make the mistake of assuming that since their doctor took an X-ray of their knee that they know exactly where the medicine is being injected. If live-motion ultrasound technology is not used, the doctor has no way of knowing if the lubricating gel went where it was supposed to.
The only way to know if the procedure was pinpoint accurate and the viscosupplementation gel went directly to the right place is the use of advanced image guidance. If you did not see your knee live in a digital imaging screen you do not know for sure if you had the chance for relieving your knee pain.
At our clinic you will be seen by actual medical providers who have extensive experience with this procedure … and do it every day. The latest technology combined with a caring, skilled, and experienced medical team helps you get the best results possible.
Don't continue to suffer from knee pain! Viscosupplentation is approved by Medicare and most major insurances. Call now! Your active lifestyle may be one phone call away.
This complimentary consultation is no obligation and allows our knowledgeable medical team to determine if you are a candidate for this innovative treatment.
OUR PATIENT COORDINATORS ARE TAKING CALLS RIGHT NOW.
Vitality Healthcare is now scheduling a free consultation for patients to determine eligibility.
Call 702-362-0550 or visit the website, vitalityhcg.com for more information.
Vitality Healthcare has two locations in Nevada.
Las Vegas: 
Vitality Healthcare
8530 W. Sunset Road, Suite 305
Reno:
Vitality Healthcare
343 Elm St., Ste. 201
Members of the editorial and news staff of the Las Vegas Review-Journal were not involved in the creation of this content.

Learn more about how you can benefit from this treatment
Enter your information here to have one of our professionals schedule your free consultation today.