Las Vegas may be the nightlife capital of the planet, long flocked to by DJs, actors and other famous types. But every now and then, it's nice to spend an evening with some real stars. Luckily, Nevada boasts the darkest skies in the Lower 48, and—even with our metro's millions of lights beaming into space—you don't have to go too far beyond the glow to find them.
Scope out our lineup of (literally) stellar spots to gaze at twinkling constellations, planets, thousands of stars, and even entire galaxies with your naked eye—as well as where to stay and what else to do to make a proper Nevada night of it.
Ash Meadows National Wildlife Refuge
Located just east of Death Valley National Park, this literal desert oasis (the Mojave's largest) is one of the closest astro-jaunts to Las Vegas. By day, explore 23,000 acres of desert uplands, lush wetlands and sapphire spring pools, all home to nearly 30 species of plants and animals that exist nowhere else on Earth—the highest concentration of endemic organisms in the U.S. The world's rarest fish also has made its home here in the mysterious, 500-foot-deep Devils Hole warm spring. By night, the lights of Las Vegas become but a distant glow beneath a blanket of constellations, planets, the sparkling ribbon of the Milky Way and even the occasional nebulae.
Distance from Las Vegas: 1 hour 45 minutes / 93 miles: Find it on the Death Valley Rally road trip.
Grab Grub: Taste test your way around Pahrump at Sanders Family Winery, Pahrump Valley Winery, Artesian Cellars and Stonewise Mead & Cider; then cool off with a cone at Seemore's Ice Cream, the "World's Tallest Ice Cream Stand." Go gourmet at Amargosa café (located at the historic Amargosa Opera House). Or head to the Longstreet Inn for hearty meals at either the on-site café or steakhouse.
Turn In: Longstreet Inn Casino & RV Park (Amargosa Valley); Holiday Inn Express & Suites – Pahrump, Saddle West Hotel & Casino, Wine Ridge RV Resort & Cottages (all in Pahrump).
Rhyolite Ghost Town
The many still-standing remains of this rough-and-tumble, 1905-built mining town have lured the lenses of pro photographers, makers of films and commercials, and its hundreds of thousands of annual visitors to dub it the nation's "most photographed ghost town." However, astrophotographers and stargazers know it's at night when this ghost town—along with the out-of-this-world art installations at adjacent Goldwell Open Air Museum—comes to life. Fancy camera or not, ogling several crumbling building facades, the Tom Kelly Bottle House, the Ghosts of Goldwell, and other intriguing objects with a backdrop of a few thousand stars is a way to take stargazing to a whole new level.
Distance from Las Vegas: 2 hours / 125 miles: Find it on the Free-Range Art Highway and Death Valley Rally road trips.
Grab Grub: Nearby Beatty's got your belly covered with exactly what it sounds like at Happy Burro Chili & Beer, BBQ bites at Smokin' J's Barbecue, and Mexican family favorites at Gema's café.
Turn In: Atomic Inn, Death Valley Inn & RV Park, Stagecoach Hotel & Casino (all in Beatty).
Nevada State Parks (Caliente)
Some of Southern Nevada's most blissful starry night serenity awaits in a close cluster of parks around cute, quaint Caliente. Fifteen minutes north, Cathedral Gorge absolutely stuns at any time of day with its unfolding amphitheater of maze-like slot canyons and the ever-eroding fins, "hoodoos," and spires that earned the place its name; but at night, hours from any kind of light pollution, they glow and dance in the starlight.
A one-hour dirt road ramble to Beaver Dam earns you a heavenly show above the trees and erosional rock features, serenaded by trickling streams, wild turkeys and even bobcats—likely with just you and your crew for an audience.
Meanwhile, 10 minutes from town, the easy trails up to Kershaw-Ryan's 700-foot-tall canyon walls lead to pristine perches for primetime stargazing. [NOTE: While Cathedral Gorge and Beaver Dam are open 24/7 year-round, you'll need to camp at Kershaw-Ryan to access after-sunset enjoyment.]
Distance from Las Vegas: 2 hours 25 minutes / 150 miles: Find it on the Great Basin Highway road trip.
Grab Grub: Feast on fresh, hot sammies and burgers at Side Track Restaurant (and schmancy cocktails at Side Car Speakeasy next door) or dig into hearty diner classics at Knotty Pine Restaurant & Lounge.
Turn In: Patty's Motel, Caliente Hot Springs Motel (Caliente); Pine Tree Inn & Bakery (Panaca); Overland Hotel & Saloon (Pioche).
Tonopah Stargazing Park
There's a reason USA Today named the "Queen of the Silver Camps" America's No. 1 Stargazing Destination, and you don't have to look too far (up) to find out why. BYO telescope to the Tonopah Stargazing Park and set it up on a concrete pad or table designed exactly for that purpose and aim it at the several thousand stars visible from this vantage (most towns are lucky to get about 20 twinkles), or just lie back and take in the Milky Way. Better yet, show up for a monthly Star Party and take a guided tour of the galaxy with a certified astro pro, high-tech viewing glass and all.
Distance from Las Vegas: 3 hours 15 minutes / 210 miles: Find it on the Extraterrestrial Highway and Free-Range Art Highway road trips.
Grab Grub: Fresh craft brews pair perfectly with meaty house-smoked delights at Tonopah Brewing Co., while saucy slices await at Hometown Pizza.
Turn In: The Mizpah Hotel, Belvada Hotel, The Clown Motel (all in Tonopah).
Worth the Trip
These dark sky destinations often feel light years away from Las Vegas. But if you're really shooting for the stars, you're gonna want to get these gaze-worthy hotspots firmly on your radar.
Great Basin National Park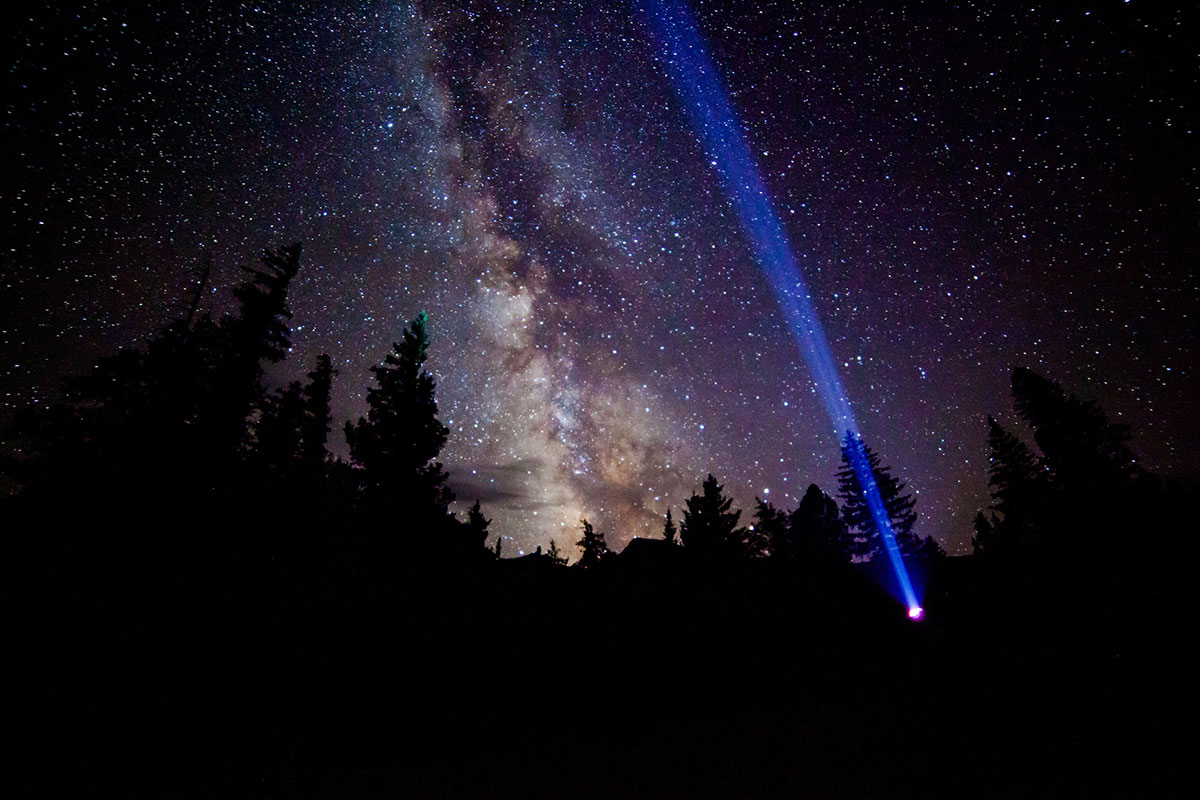 Great Basin gleams with the distinction of being an International Dark Sky Park, bestowed by the International Dark Sky Association. Join a park ranger (here they're "dark rangers") for a star-studded talk at the recently built Astronomy Amphitheater to gaze at constellations, planets and other heavenly bodies through high-powered scopes. Or rub red-tinted headlamps with instrument-swapping international astro pros each September at the Great Basin Astronomy Festival.
Massacre Rim Wilderness Study Area
In 2019 the International Dark Sky Association designated this swathe of wide-open valleys and volcanic plateaus about 150 miles north of Reno an International Dark Sky Sanctuary—one of only seven places on the entire planet with skies star-studded enough to earn this distinction. In fact, it gets so dark out here that, during a moonless night, even the stars can cast shadows. It's about as remote as it gets, so primitive camping is the name of the game in the sanctuary itself, but cozy beds and warm hospitality await at Old Yella Dog Ranch just 15 miles west.
Black Rock Desert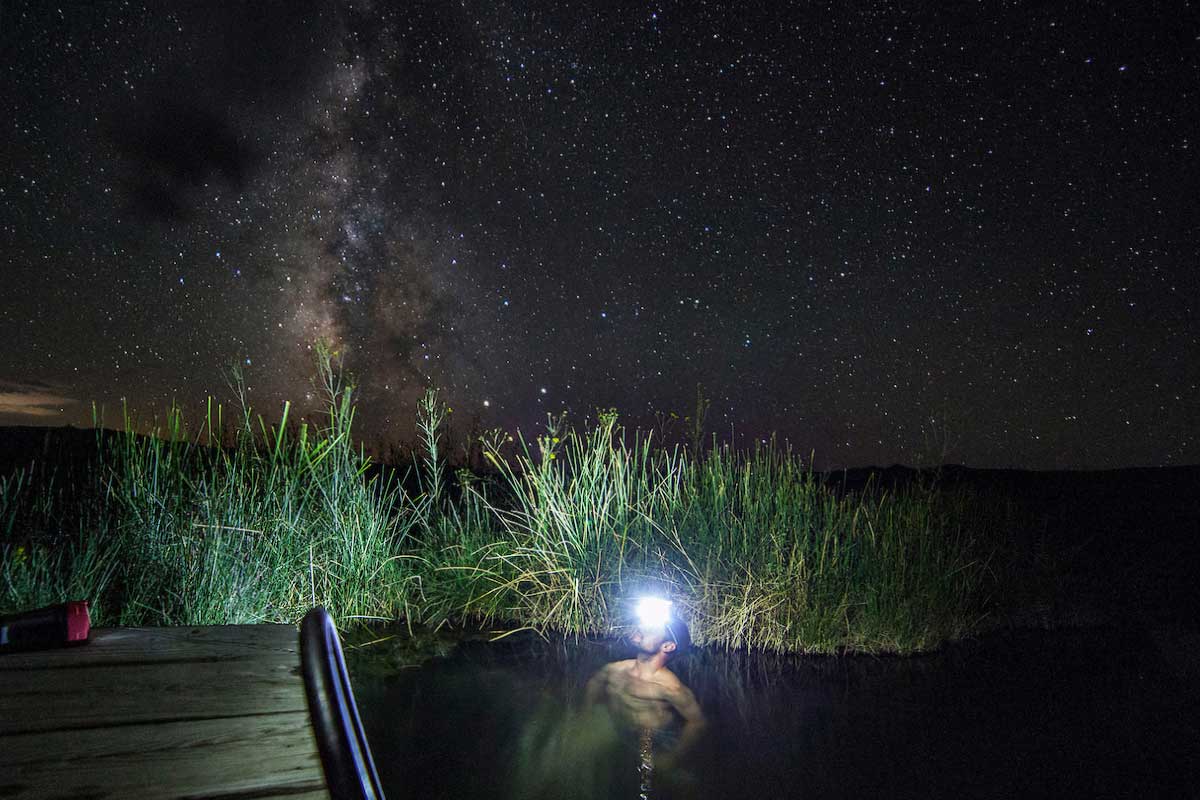 One glimpse of the 200-square-mile playa's otherwordly majesty confirms why people love coming here during Burning Man. But it's even better without radiating space lasers, pulsing EDM beats, and 70,000 LED-illuminated bikes on it. This 1.2 million-acre wonderland offers some of the most uninterrupted vantage points of the heavens you can find, from its playa centerpiece (one of the flattest, openest pieces of land on Earth), remote hot springs, and far beyond.
Dark Sky Designation Program
Nevada's stretch of US-6 is now the "Park to Park in the Dark" route, tracing a constellation of stargazing hubs from Death Valley National Park to Great Basin National Park, with overnight options in Beatty, Tonopah, Ely and Baker. And thanks to the passage of May 2021's Nevada State Senate Bill 52, our very own state-sanctioned Dark Sky Designation Program will help recognize and protect Nevada's celestially rich regions for good.
Members of the editorial and news staff of the Las Vegas Review-Journal were not involved in the creation of this content.