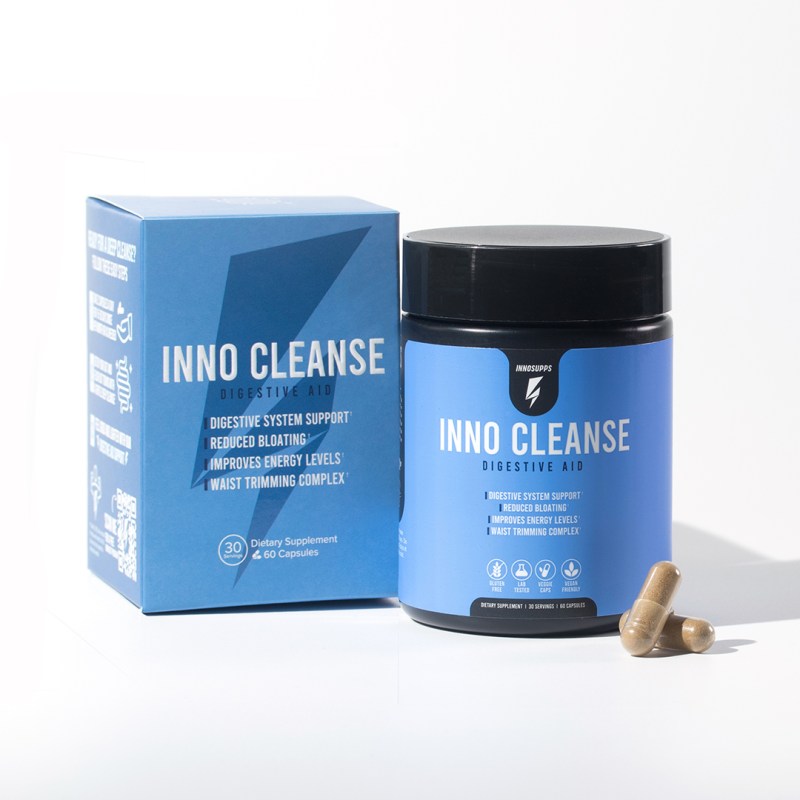 You most likely know that your gut is responsible for digesting food, absorbing nutrients and expelling waste, but the human gut is far more complex than you probably realize.
The group of gut bugs (microorganisms) that live in and make up your GI tract plays a role in almost every aspect of your health, from preventing and fighting off illness to supporting brain health and mood, sleep quality and more.
Your gut bacteria can even impact whether you are fat or thin. Both human and animal studies show that moderate-weight people have different gut bacteria than those with overweight or obesity. Evidence also indicates that gut bacteria can alter the way you store fat, impact insulin resistance and glucose in the blood, and how you respond to the hormones that make you feel hungry or full. (1, 2, 3, 4)
Whether you are looking to lose weight or just be healthier in general, here are five science-backed ways to improve your gut health and, in turn, improve every aspect of your health and well-being. 
Incorporate Prebiotics, Probiotics and Postbiotics
Restoring the balance between good and bad gut bacteria is the number one way to improve gut health. Many things can cause harmful gut bacteria to populate, such as a poor diet, some medications, poor sleep, prolonged stress, drinking too much alcohol, smoking and lack of physical activity.
Flooding your body with good bacteria is the best way to fight back. You can do this by incorporating foods rich in prebiotics and probiotics. (5)
Probiotic-rich foods include sauerkraut, kefir, yogurt, cottage cheese, miso, pickles, sourdough bread and some cheeses.

Prebiotic-rich foods include chicory root, dandelion greens, Jerusalem artichoke, garlic, onions, leeks, asparagus, bananas, oats and flaxseed. 
While these foods can help heal your gut, some foods can do the opposite. You might want to avoid these vegetables if you have gut issues. 
Most people need more variety of prebiotics and probiotics from diet alone. The most effective way to boost your microbiota and restore gut health is to supplement with a quality preboitic and probiotic.

When choosing a pre and probiotic supplement, there are several things you should consider:
Ensure that it has a wide variety of microorganisms.

Make sure it has a high CFU count, which tells you how much bacteria you get in each dose.

Make sure it's formulated by a trusted company. The FDA doesn't regulate supplements, so it is also crucial that you select a brand you can trust. Studies that looked into several different probiotic brands found that five of 19 had lower counts of bacteria than listed on their labels, and some even had other bacteria besides the ones that were supposed to be in them!!

You also can't forget about postbiotics. Prebiotics and probiotics work to provide your gut with good bacteria, but you will only see optimal benefits if your gut lining is intact. That's where postbiotics come in.
Look at postbiotics as the endgame of probiotics and prebiotics. Their job is to fortify the gut lining to prevent toxins from seeping into your bloodstream. 
Reduce Stress Levels
Being stressed takes a toll on your mental health and affects your physical well-being and gut health. Your gut is home to a "second brain," and a "gut-brain" connection is happening that links stress to stomach problems and vice versa.
The gastrointestinal tract is sensitive to emotion. Also, stress is known to create an imbalance in gut bacteria, which can cause GI symptoms and even weight gain. (6)
Removing stressors in your life is not always possible. However, adopt stress management strategies, such as exercise, deep breathing, meditation, journaling, yoga and supplementing with stress-lowering adaptogen herbs such as ashwagandha. 
Increase Vitamin D 
Research shows that many people don't get enough vitamin D and that these deficiencies play a key role in increasing the chance of diseases such as colitis, IBS and leaky gut. Additionally, researchers concluded that the makeup of a person's gut microbiome is linked to their levels of active vitamin D.(7,8)
Ensure you are getting plenty of sunlight, and invest in a UV lamp if you live in an area where sunlight is limited. Also, eat foods rich in vitamin D, such as fatty fish, mushrooms, milk, oranges, or orange juice.

If you have a vitamin D deficiency or do not consume enough vitamin D from foods alone, experts suggest supplementing with a quality vitamin D3 supplement of at least 1000 IU.  
Get Enough Quality Sleep 
When you don't get enough sleep, your whole body is affected, including your gut. Researchers found that poor sleep can negatively affect your gut microbiome and increase inflammation in the bowel. (9)

It is also said that a lack of sleep increases toxins in the gut. This is because the bacteria in your gut has its own circadian rhythm. If you stress out this system by not sleeping, your body will produce toxins called lipopolysaccharides, known to cause brain fog, fatigue, autoimmunity and intestinal permeability, such as leaky gut.

Experts say most people should aim to get seven to nine hours of quality sleep every night. If you're having trouble improving the quality of your sleep, try these research-backed sleep tips and consider supplementing with natural herbs like the one in this nighttime thermogenic sleep aid.
Get Regular and Eliminate "Stuck" Waste 
Maintaining healthy bowel movements is critical for digestion and gut health; there is no debate. However, how many bowel movements one should have is a debatable topic. 
Studies show bowel movements happen at a different frequency for everyone. In general, you can consider yourself "regular" if you can completely empty your colon often enough that you don't feel pain, bloat, gas, or feel the need to strain when it's time to go. 
That said, even those that are regular still likely have pounds of backed-up waste in their intestines. Some argue that the average person has between 5 and 20 pounds of stool hanging out in their small and large intestines at all times.
Even if you don't feel it right now, this toxic sludge inside your intestines can eventually lead to a host of problems, including:
Intestinal permeability (IBS, leaky gut, colitis) 

Constipation 

Diarrhea 

Skin-related health issues 

Weight gain 

Mood imbalances

Inflammation 

Poor sleep 
In addition to taking steps to ensure you are regular, such as drinking plenty of water, eating fiber-rich foods, and incorporating some of the gut health tips above, you should also consider a natural gut cleanse. 
The Best Colon Cleanse to Eliminate Pounds of Toxic Waste and Lose Inches Off Your Waist 
There are a lot of "cleanse" products on the market. If you've tried any of them, we understand why you'd be hesitant to try another. Most of them are harsh, causing cramping and having you rush to the nearest bathroom. Many do nothing to get to the root cause of your "elimination" issues. 
Before you give up on cleanses, we suggest you try Inno Cleanse by Inno Supps. 
The natural ingredients and dosages used in this cleanse are different from others on the market and is endorsed by a highly trusted gastroenterologist. 
According to customer reviews, after only one dose of Inno Cleanse, most users dropped anywhere from two to five pounds and saw a flattening of the stomach due to excreting built-up waste and decreasing bloating and water retention. With consistent use, some customers report losing upward of 20 pounds.
In addition to weight loss, Inno Cleanse works to gently help flush out toxins that accumulate in your gut and intestines, supporting:
healthy digestion

waste elimination

reduced bloating

hunger regulation

overall gut health
Conclusion 
Whether you realize it or not, your gut always tries to tell you something. Gut issues are at an all-time high, but you don't have to be a victim of poor gut health.
Try implementing the five tips above, and if you are interested in trying Inno Cleanse, you can learn more and pick up your bottle by visiting the company website.
If you are hesitant to try a cleanse, Inno Cleanse is risk-free. If you do not gently and safely eliminate waste, trim down your waist size and look and feel better, they will give you your money back! 
RESOURCES
1: https://pubmed.ncbi.nlm.nih.gov/19043404/ 
2: https://pubmed.ncbi.nlm.nih.gov/15505215/ 
3: https://pubmed.ncbi.nlm.nih.gov/17456850/ 
4: https://pubmed.ncbi.nlm.nih.gov/27616451/ 
5: https://www.ncbi.nlm.nih.gov/pmc/articles/PMC5867888/ 
6: https://www.ncbi.nlm.nih.gov/pmc/articles/PMC7213601/ 
7: https://www.ncbi.nlm.nih.gov/pmc/articles/PMC6116667/ 
8: https://www.sciencedaily.com/releases/2020/11/201130131356.htm 
9: https://www.ncbi.nlm.nih.gov/pmc/articles/PMC6779243/
The opinions in this article do not necessarily reflect the opinions of the Las Vegas Review-Journal and you should consult your doctor before beginning any new health related practice.
Members of the editorial and news staff of the Las Vegas Review-Journal were not involved in the creation of this content.