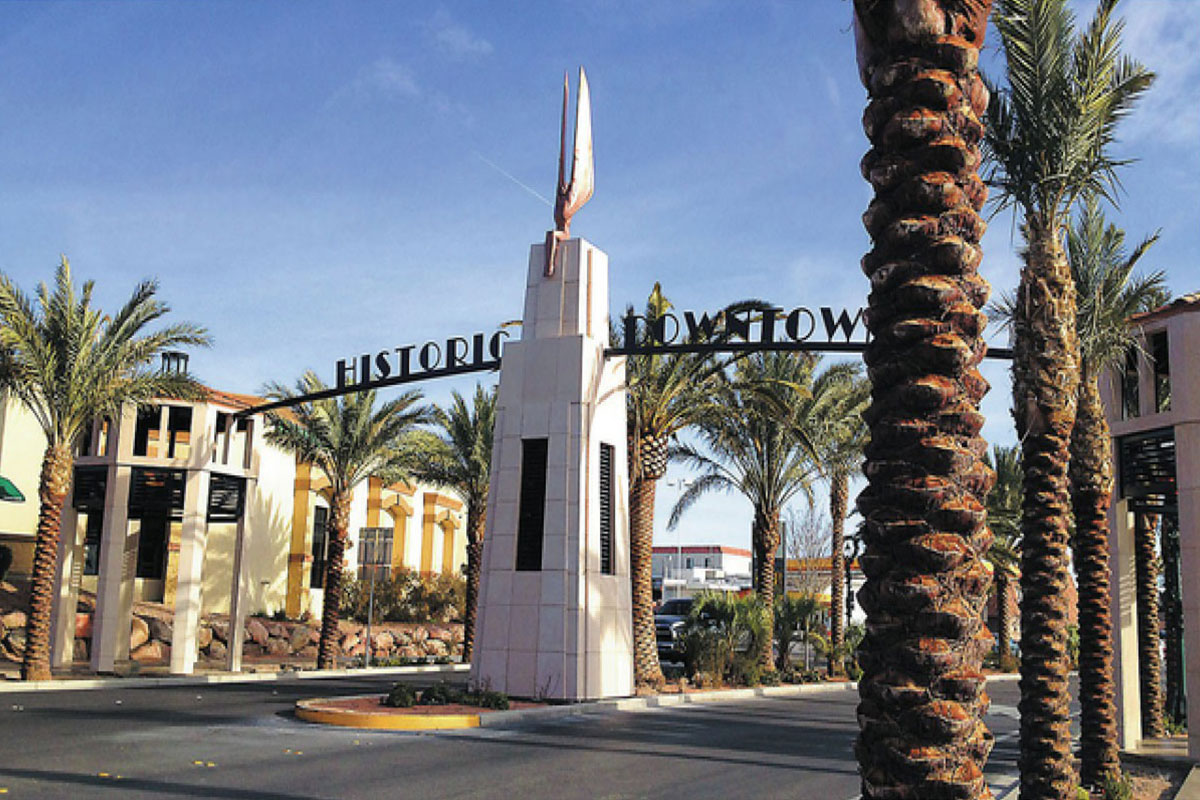 The holidays are here, with students out of school for winter break and others taking vacation days. For those looking for day trips and weekend getaways, Southern Nevada offers a place that embraces the small-town vibe with world-known attractions. Boulder City, bordered by Lake Mead and Lake Mead National Recreation Area, is the gateway to Hoover Dam. The town offers dining, adventures and a world away to enjoy, explore and share those Instagrammable moments.
Below are our five reasons to visit Boulder City and make memories for a lifetime during an enjoyable getaway.
The 44th Annual Parade of Lights will light up the boats and lake on Dec. 3. Enjoy the holiday spirit watching the Lake Mead Boat Parade featuring floats decorated by boaters, local businesses and organizations, as well as bands, holiday carolers and Santa. Bring the entire family to cheer on the brightly glowing boats and watch the parade from the Special Events Beach. Before the sun sets, come early to catch Santa's Electric Night Parade starting 4:30 p.m. on Nevada Way in the historic district.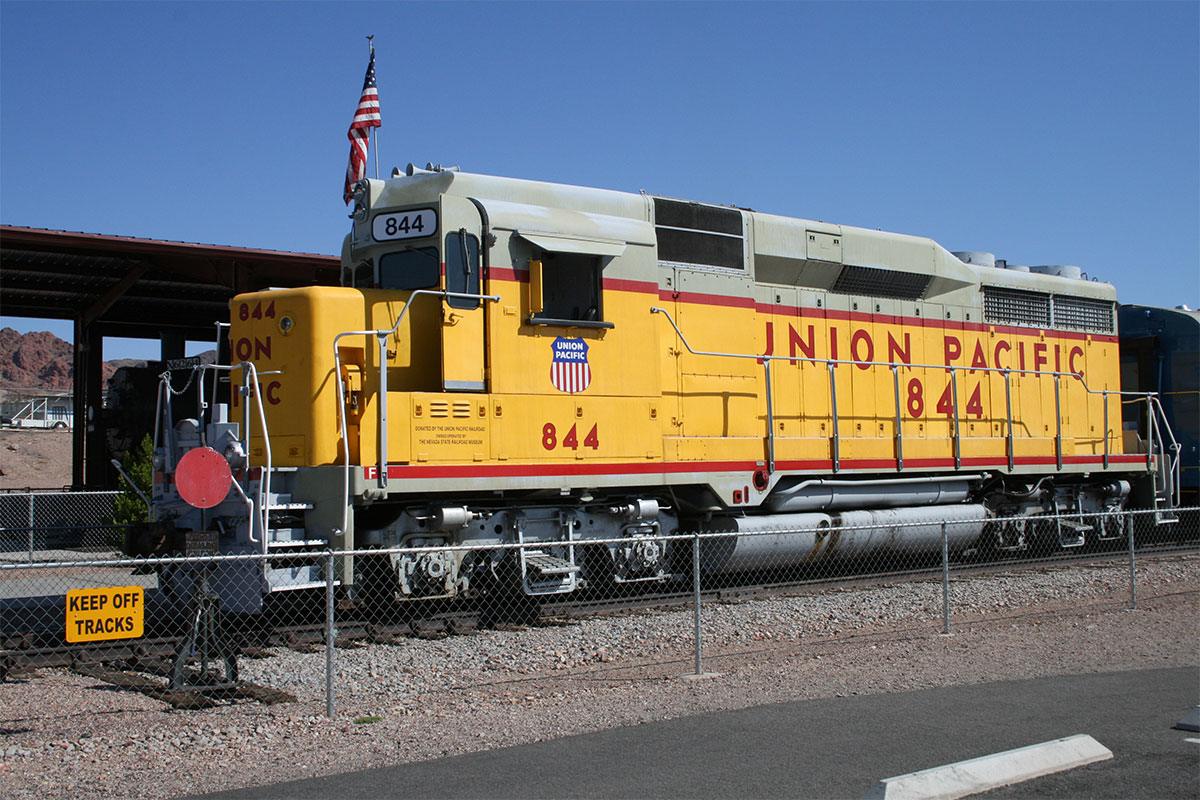 Nevada State Railroad Museum Boulder City
The Nevada State Railroad Museum Boulder City preserves the story of railroads. Guests can visit the outdoor pavilion to view historical artifacts, as well as enter and explore stationary railroad cars. Excursion train rides include Boulder City Santa Express, through Dec. 22, offering stories before a stop at Santa's Village with guests enjoying hot chocolate, cookies and photos with Santa before returning to Boulder City station. From Dec. 3 to Dec. 18, Santa Trains return featuring rides between Boulder City and Railroad Pass on historic railway equipment while visiting with our special guest from up north, Santa. The Holiday Train Show Dec. 17-18 displays model and toy train layouts with holiday décor in the museum's maintenance facility.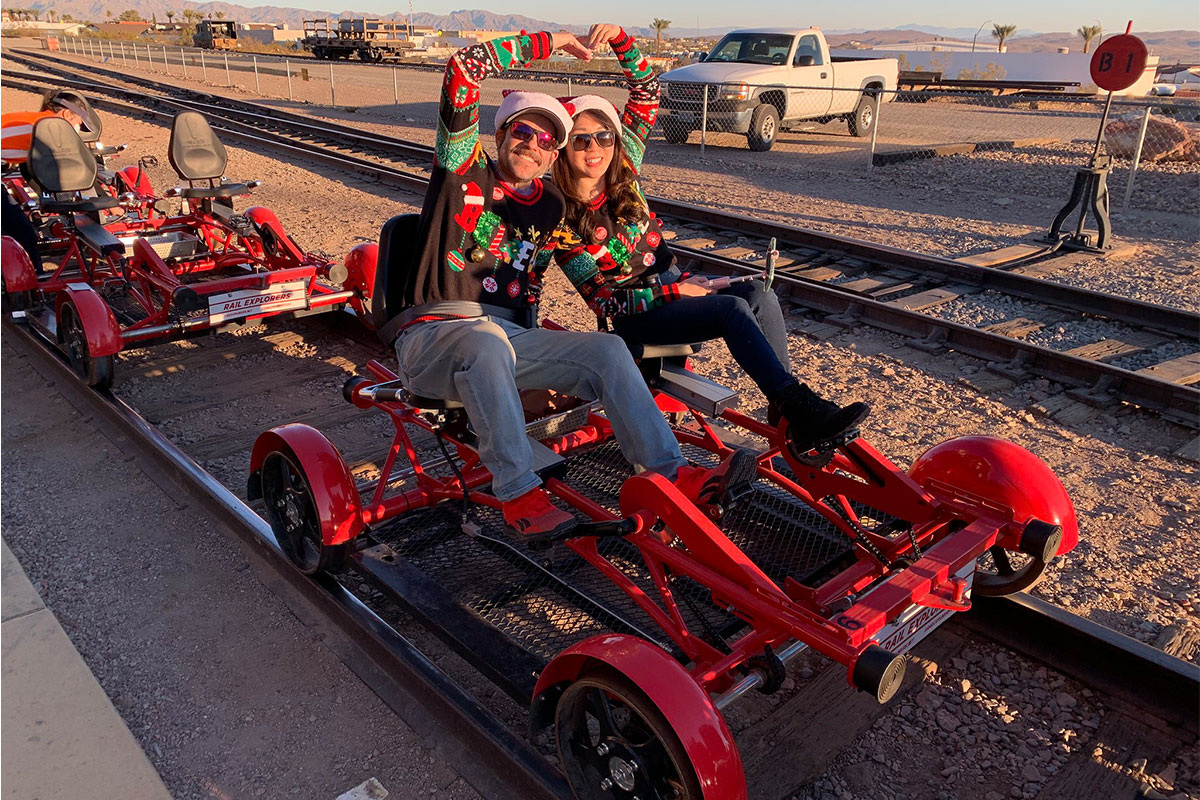 Ride pedal-powered rail vehicles along the rail tracks; since the cars are attached, all fitness levels are welcome. The Fireside Starlight tour is a ride from the Nevada State Railroad Museum to the Pass Turnaround and back. Guests will enjoy personal fire pits relaxing on signature red Adirondack chairs, surrounded by cafe lights and under a canopy of stars. The weather is mild enough to enjoy winter evenings on this adventure. During daylight hours, the Southwest Ramble is an exhilarating 4-mile downhill pedal-assist ride from the Nevada State Railroad Museum to Railroad Pass and back to the top of the hill in one of the museum's historic trains, and free entry to the museum. Plan on this for the month of December since the experience will be on hiatus.
Boulder City Hoover Dam Museum
If visiting Hoover Dam, plan a visit to The Boulder City | Hoover Dam Museum. Located in the historic Boulder Dam Hotel, this museum offers insight into the Boulder Canyon Project through the eyes of the men and women who braved the environment to build what has been called one of The Seven Wonders of the Industrial World. The museum offers three-dimensional, interactive displays and exhibits on why thousands of people moved to the Nevada desert for employment. Photographs, oral histories, artifacts and the sounds of Hoover Dam construction bouncing off the walls of Black Canyon demonstrate the construction project's complexity, danger and immense scale, as well as living an ordinary life in an extraordinary time and place.
A series of wine walks are held throughout the year and those 21 and older can enjoy the Best Dam Ugly Sweater Wine Walk on Dec. 10. Stroll the historic downtown Boulder City streets and shops while sampling a variety of wines. This ticketed event includes a Boulder City Chamber of Commerce Best Dam Wine Walk glass with a chance to try 1-ounce samples of wine at least 25 businesses and restaurants. Throughout the historic features small-town charm, and along with sipping wine, there is antique shopping and other quaint shops to explore.
Boulder City is the perfect place to visit and plan a day trip or weekend getaway with lodging and restaurants. Explore history, experience small town charm and shop one-of-a-kind shops and businesses. The winter temperatures are mild and it is easy to reach from any point in Nevada.
Members of the editorial and news staff of the Las Vegas Review-Journal were not involved in the creation of this content.