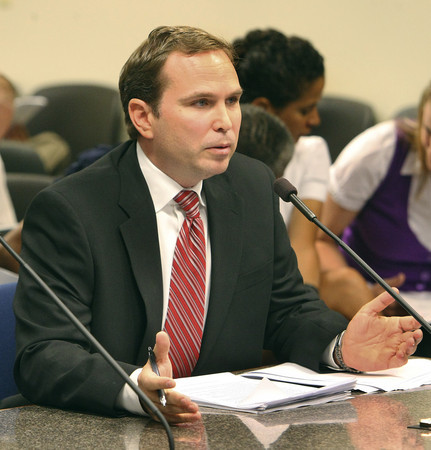 Ian Hirsch knew he was onto something a couple of years ago when one of his employees at Fortress Credit Services in Las Vegas came to him in a panic requesting a raise.
The guy's adjustable-rate mortgage was about to reset and he was going to be buried by the new payment.
Hirsch, who learned to work with banks during his 18 years in the auto finance industry, did his first loan modification, negotiating a better rate and lower payment for the employee. Hirsch didn't need to give him a raise after all.
"It's an interesting time, a crazy time, like nothing I've ever seen," the 40-year-old president of Fortress Credit Services said. "There is some positive to all the crazy lending and mortgage fraud. The positive is those houses are out there. They're not going anywhere. They're built and people can live in them … new, nice homes."
Hirsch started his business in 2006 to help people repair credit and settle debt. He's modifying more loans these days for homeowners facing foreclosure and other hardships with their mortgages. Nearly two-thirds of Las Vegas homeowners are "underwater," or owe more than their home is worth.
Wanda Dail gave video testimony about how Hirsch saved her home within a week of the notice of trustee sale. The single mother of three boys had bought a fixer-upper home in 2000 and refinanced in 2006, "pressured" by a man who told her the house would rise in value.
Question: How did you get into this business?
Answer: I was in the auto finance industry for a local dealership and a lot of (customers) would get these "second-chance" loans. They were promised a better interest rate when they refinanced. They'd come back a year later and still have bad credit. I would help clients by sending letters to the banks and credit agencies. I got good at it, so I decided I might be able to make a living at it. I used my debt adjuster license to help people settle credit bills and old medical bills and improve their standing.
That evolved in this crazy mortgage market we had, so my business was very good, especially when the mortgage market was hot. I had brokers sending me clients to fix their credit so they could get them a loan. Usually debt settlement and credit repair go hand in hand.
Question: We're seeing more advertisements from mortgage modification companies and attorneys. What makes your company different from the others?
Answer: I think we've been doing it the longest. I think the new regulations (requiring licensing from the mortgage lending division) will stop a lot of that, these outside companies coming in here. Trying to get this licensing approved is one step along the way.
Question: What about people who are "underwater" on their home loans but current on their payments? Is it fair that they can't refinance or get a loan modification under the government's Making Home Affordable Program?
Answer: I've gotten modifications done for people while they're current, but it's not the best. I've gotten a reduction in interest rate, a reduction in principal, but only for people significantly in default. I got a reduction in principal of over $100,000 for one guy, from $380,000 to $272,000. I'm not allowed to tell people not to make payments. However, the truth is, it won't be the best modification unless they're in default. About half of mortgage modifications don't lower the payment. They just help people get current, throw the payments on the back of the loan. That's not what I do. Am I allowed to tell the truth? The worst (loan modifications) are for current and the best are for past-due.
Question: What advice do you have for people whose home value is down 50 percent?
Answer: The advice I give is tailored to them. People's cases are as unique as their fingerprints. I always ask, "Is this a house or this a home?" Because my advice would change depending on their answer.
Question: How does this job compare with the auto finance business?
Answer: What I did there was good training for this. But this job allows me to truly be an advocate for the people. In the car business, their loss is your gain and their gain is your loss. The more you charge, the more you make. In this, I'm truly the advocate, working only in a win-win situation.
Question: What have you learned from this business?
Answer: Read everything you sign. Overdisclosure is the new nondisclosure. If you tell somebody in advance what he's going to sign, it doesn't matter if you're ripping him off, you're in the clear. I'd say a title escrow officer or mortgage broker could convince consumers to sign for a million percent interest rate and they wouldn't notice.
Question: Who are some of the people you admire and why?
Answer: Can it be a fictional character? George Bailey (played by Jimmy Stewart) in "It's a Wonderful Life." He helped people who couldn't help themselves. He helped them get homes. I help them keep their homes. At the end of the day, these loans that I help people modify … even though these mortgage brokers had a lot of greed, a lot of good comes from it. People got their house.
My grandfather Ray Harris was a big influence on me, how to be a man and have compassion.
Question: If you weren't in the credit repair business, what might you enjoy doing?
Answer: My initial plan was to go back to school and become and attorney and I still have that dream. I also have three children and a wife, a stay-at-home mom.
Question: What brought you to Las Vegas in 1993?
Answer: I had just finished up at college and wanted to get away from my family, get a fresh, new start. I wanted to go to Australia, but I couldn't get a work visa, so I went halfway.
Contact reporter Hubble Smith at hsmith@reviewjournal.com or 702-383-0491.
VITAL STATISTICS
Name: Ian Hirsch.
Age: 40.
Quotable: "About half of mortgage modifications don't lower the payment. They just help people get current, throw the payments on the back of the loan."
Position: President, Fortress Credit Services.
Family: Wife, Jennifer; daughters, Emma and Grace; son, Jack.
Education: Buffalo Grove (Ill.) High School, 1971; Purdue University, 1987-91.
Work history: Automobile finance industry for 18 years; started Fortress Credit Services in 2006.
Hobbies: Avid baseball fan.Favorite book: "The Art of War" by Sun Tzu.
Hometown: Des Plaines, Ill.
In Las Vegas since: 1993.
Fortress Credit Services is at 7854 W. Sahara Ave. and can be reached at 363-7977.