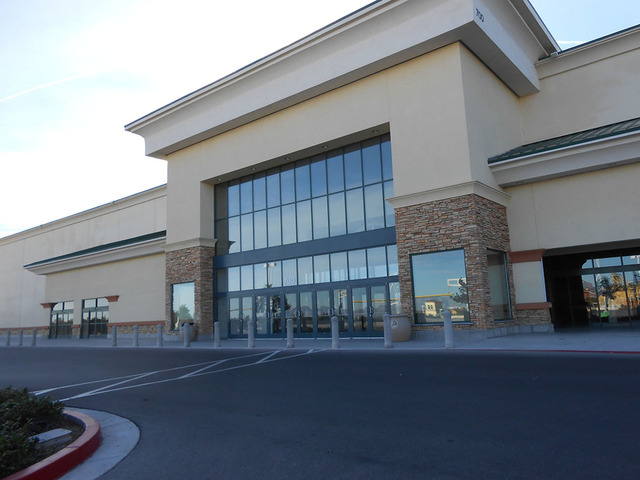 Listen up Las Vegas — it'll be at least a year before the new Fry's Electronics is finished in Boca Park.
The planned location has been delayed by the company but Boca Park's management noted Fry's is still committed to the shopping center. Boca Park is owned and operated by Triple Five, the development company that owns the Mall of America and West Edmonton Mall. Its U.S. corporate offices are in Las Vegas.
"We're hoping all that is resolved and they're open by Christmas 2014," said James Grindstaff, Triple Five's vice president of planning and development.
Until then, Boca Park is in the midst of a one-year, roughly $1 million capital improvement project that includes a fresh coat of paint added earlier this year, landscaping additions, Christmas decorations and new signage. Included in the new signage are electronic reader boards that will be placed on the corner of Rampart and Charleston boulevards and used to communicate special events.
In case you haven't been there, Boca Park is a sprawling regional shopping center with multiple national anchors such as Target, Vons, Total Wine, REI and Ross Dress for Less. Included in the mix are locally owned businesses such as the ever-popular Sambalatte Torrefazione coffee shop interspersed with other nationals such as Chase bank and Sally Beauty Supply.
At the Boca Fashion Village entry near Kona Grill, the shopping center soon will have an arch-shaped sign designed to help customers notice there are two sides to the center. The effort is a result of Triple Five-conducted surveys that said customers shopping on the Target side had no idea there was a Vons on the other side.
"You'd be surprised. It's actually shocking," Grindstaff said.
Boca Park isn't short on visitors by any means. The center's Target, for instance is the No. 1 or No. 2 location in the valley, and the parking lots are packed on any given weekend. Once Fry's opens Grindstaff said he expects customers will have to use the parking garage's lower level during the holiday season.
"If it wasn't for that we'd be in real trouble," he said.
The center is 100 percent leased. Next to Total Wine, Mosaic Salon is building out its 5,000-squre-foot space, which is slated to open by the end of February or early March.
"The market is improving. It's a slow improvement gaining some stability. Growth in Vegas will be slow of course," Grindstaff said.
Elsewhere in the city, Triple Five also owns 18.5 acres across from the Mandalay Bay, and 5 acres across from the Peppermill. As of now both sites will remain as dirt lots until the economy picks up, Grindstaff said.
In the meantime, Triple Five has leased its lot across from the Mandalay Bay to 7 Wheel Wonders, a company that rents out motorcycle-drawn carriages for special events. The land is slated to be transformed into a revolving holiday village called Wonderland on the Strip, with the first incarnation being a Christmas village taking up 12 acres.
Jason Feltz, the project's executive director, said the Christmas project is expected to be open from Dec. 20-27. Through Feb. 14, 7 Wheel Wonders has planned an ambitious schedule for changing out its special event village to accommodate New Year's Eve, the 2013 International CES, Chinese New Year, the Super Bowl and Valentine's Day.
Triple Five also owns just under an acre of land at Eastern Avenue and Pebble Road. Grindstaff said the company is looking at selling it or putting in small, fast food-style restaurants.
"Something will probably happen with that piece in 2014 for sure," he said.
Grindstaff said the overall retail environment in Las Vegas is improving but buyers are still a little cautious.
"They check prices and do price comparisons before they go. Obviously that has affected the high-end market," he noted.
The best sales are still coming from the restaurant sector, because he said, people have to eat every day but they don't have to buy a new pair jeans.
"That's where Boca Park really excels," Grindstaff said of the center's many restaurant offerings.
When he's not in Las Vegas, Grindstaff travels across the U.S. scouting new sites for Triple Five. This week he was in Washington, D.C. looking at possibilities and meeting with colleagues. With increasing pressure from online retailers, Grindstaff said the traditional retailers that survive will be all about an experience. He also sees the market shifting back to enclosed malls such as the Mall of America.
To combine experience with enclosed malls is a specialty of Triple Five, which released its plan to add a ski slope and hotel to its American Dream Meadowlands mall in New Jersey earlier this year. Think 365 days of snow.
"It's about that experience and people will pay top dollar for that experience," Grindstaff said.
Contact reporter Laura Carroll at lcarroll@reviewjournal.com or 702-380-4588. Follow @lscvegas on Twitter.