Going up and down and eating, too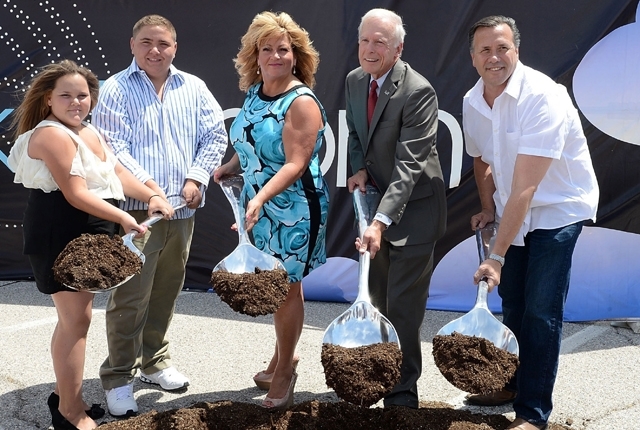 Maybe it just seems expensive.
At its June board meeting, the Las Vegas Convention and Visitors Authority requested and received approval for $206,800 to cover elevator and escalator maintenance for a year. Yep, it costs more than some single-family homes to maintain 27 elevators and 20 escalators at the Las Vegas Convention Center.
• • •
Chic can be temporary, too.
Starting June 24, pop-up shop Maison de Mode opens at The Shops at Crystals. Through July 5, the store will stock socially responsible ready-to-wear brands including Osklen, Laura Siegel, M. Patmos and Kayu. Accessory lines include Morgenthal Frederics, Edie Parker and Marisol Umbrellas.
• • •
A new chain has entered Las Vegas, but this is one only Rover and his parents will jump for.
Woof Gang Bakery opened its 36th location and its first in Las Vegas over the weekend at 7080 N. Durango Drive, Suite 140. Locally owned by Jim and Adrienne Breen, the shop offers grooming, pet foods and supplies.
And if you're into the doggie raw food diet thing, (I mean, who isn't, right?) the store sells food to satisfy that need too. Yippee.
• • •
It's really happening.
Construction has begun on the Dinner in the Sky Las Vegas project. In case you haven't heard, dinner soon will be offered at this attraction from 180 feet in the air. And no, you can't swing your legs above the Las Vegas sky while eating; you'll still be semi-secure in your dinner table above the sky. Cost has been set at $290 per person for a three-course meal, wine pairings and souvenir photo.
Once construction is finished, up to 22 people can eat at two tables while strapped in by six-point harnesses. Sounds fun.
• • •
Seriously, this was probably the most lavish announcement I've ever received.
To announce its grand opening at the Grand Canal Shoppes, Cuadra, a boutique that carries handcrafted Mexican products, sent out handcrafted square leather folders measuring about six inches on each side. On the front and back, the company's logo and name were etched, along with store information.
On the inside, rich brown suede provided protection for a business card and product information. Consider the ante upped.
• • •
Patty Barba is at it again.
The woman behind the Patty's Closet stores that have popped up all over the valley has opened a new addition to her growing retail empire. Ooh La Vintage opened on Saturday at 7920 S. Rainbow Blvd. inside a Smith's Shopping Center, next to Patty's Closet.
At this location, though, Barba's even selling the furniture.
• • •
Expect to see many more locations of Honest-1 Auto Care in the future.
Area developer Brian Bennington has plans to open 10 more franchises in the Las Vegas area, adding to the two already here. Apparently, the brand is doing really well, with a reported 31 percent revenue increase when comparing first quarter 2013 with first quarter 2012.
Do you have a news tip for Intel? Email lcarroll@
reviewjournal.com. Be sure to include contact information.