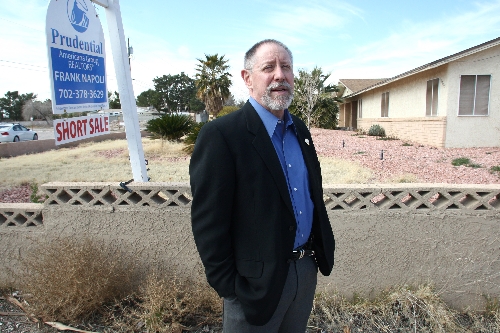 Thousands of distressed Nevada homeowners have inquired about the Hardest Hit Fund, federal money designated for mortgage assistance, though less than half of them qualify to apply for the money, a state housing official said Thursday.
Of roughly 6,500 inquiries, 2,700 qualify as applicants and more than 600 of those are in various stages of submitting paperwork, Nevada Housing Division Chief Financial Officer Lon DeWeese said.
The U.S. Treasury released more than $150 million in federal grants to the Nevada Affordable Housing Assistance Corp., the nonprofit organization handling the money. Nevada is one of five original states to receive Hardest Hit Fund money, along with Arizona, California, Michigan and Florida. The program has since been expanded to 19 states.
DeWeese, a board member of NAHAC, announced in early March that the organization would be rolling out the mortgage assistance program in phases to ensure adequate allocation of the money and proofing of vital support systems.
"Remember, it takes 30 to 35 days. It would be naive to think the paperwork would be ready," DeWeese said Thursday during a visit to Las Vegas.
About 300 applications are more than 50 percent completed, but are still waiting for remaining paperwork from borrowers, he said. After telephone inquiries, NAHAC sends necessary documents for application and follows up with a phone call and two letters.
The goal is to help 17,000 unemployed or underemployed Nevada households make timely mortgage payments over the next 18 to 24 months, DeWeese said. Homeowners can check on their eligibility criteria at www.nevadahardesthitfunds.org or call 855-428-HELP.
"We're pretty heartened by the interest so far. We've been a little surprised that callers are with banks not signed up. We've got eight of the top 10 banks signed up," he said. "As soon as we have 10 applicants with banks not signed up, we go after them. Now how fast the banks move is their choice."
The mortgage assistance plan is not able to modify loans held by the Federal Housing Administration, Freddie Mac and Fannie Mae, DeWeese noted.
The good thing is the money is under contract between the U.S. Treasury and NAHAC, and there's no talk about killing off the program, DeWeese said. The House voted to end the largely ineffective Home Affordable Mortgage Program last week, though the bill is expected to die in the Senate.
To date, HAMP servicers have restructured more than 500,000 loans, far short of the program's initial goal of 4 million units.
"The Hardest Hit Fund will produce data for analysts to chew on and determine the effectiveness for future policy recommendations in comparison to HAMP and HAFA (Home Affordable Foreclosure Alternative)," DeWeese said. "Is it better to reduce the interest rate or reduce principal? Which leads to lower foreclosure rates?"
The four phases of Nevada's Hardest Hit Fund distribution are mortgage assistance program, principal reduction program, short-sale program and second-lien relief program.
The five original Hardest Hit Fund states were chosen because of high unemployment rates and steep declines of 20 percent or more in home prices.
Nevada has an unemployment rate of 13.6 percent and leads the nation in foreclosure rates. Roughly three-fourths of Las Vegas homeowners with a mortgage are "underwater," owing more than their homes are worth, and 7 percent of mortgages are at least 90 days delinquent.
"As long as we have an unemployment rate in double digits, we'll continue to see more foreclosures in the state," DeWeese said.
Nationwide, foreclosures slowed in the fourth quarter, the Office of the Comptroller of the Currency and Office of Thrift Supervision said. But, the office said, foreclosures are expected to intensify.
In the fourth quarter, completed foreclosures dropped by almost 50 percent to 95,067, while newly initiated foreclosures fell by almost 8 percent to 352,318. Foreclosures in the pipeline actually increased because the number of newly initiated foreclosures was larger than those completed in the quarter.
Contact reporter Hubble Smith at
hsmith@reviewjournal.com or 702-383-0491.