After criminal conviction, Las Vegas urologist Michael Kaplan promoting male enhancement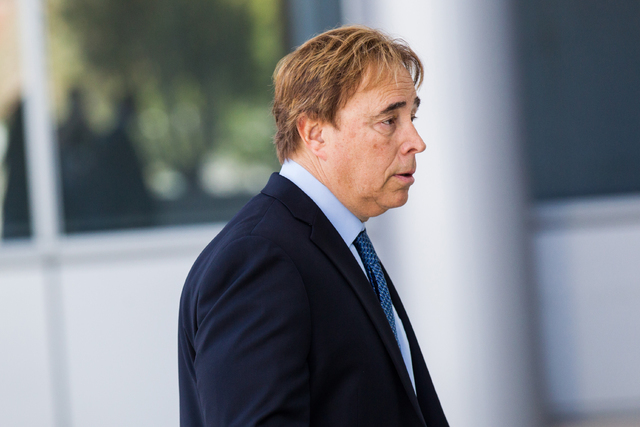 Dr. Michael Kaplan gave up his urology practice last year after he was sentenced to four years in prison for reusing equipment meant for single use in medical procedures.
But he's not out of the profession completely while he remains free and appeals his federal conviction.
These days Kaplan is known by his Twitter handle: "@doctorgetbig."
Kaplan, 61, has become an Internet pitchman for a line of male enhancement products that he has developed.
His products are built around a dietary supplement called Largagenix, which, according to his website, is "designed to enhance libido and boost pleasure."
For $129.98, Kaplan's "Largagenix Basic Plan" offers two bottles of Largagenix and several "free gifts," including his "top grade penis stretch device" and a book he wrote called "The Urologist's Guide to Penis Enlargement."
His website says he is "recognized as a leader in male sexual health," and in recent weeks Kaplan has been promoting penis enlargement procedures and pitching his products in short, and sometimes graphic, segments on YouTube.
Kaplan was convicted by a federal jury in September 2014 on one felony count of conspiracy to commit adulteration. The charge stemmed from his reuse of rectal needle guides during prostate biopsies on his patients, mostly cancer victims.
Federal prosecutors argued at his sentencing that he endangered the lives of his patients out of greed and arrogance.
None of Kaplan's 100-plus patients became infected with blood-borne diseases, but Assistant U.S. Attorney Crane Pomerantz said Kaplan showed an "utter lack of remorse" for putting his patients in harm's way.
Kaplan said at his sentencing that he always looked out for the well-being of his patients and in hindsight would not have done what he did.
Since his conviction, Kaplan also has been sued for malpractice by the widows of two former patients who died after surgeries performed by him. Trials in both lawsuits are scheduled for next year.
Over a 15-year period, Kaplan had built his urology practice into one of the largest in the Las Vegas area, but his lawyers said at his sentencing that he gave up his practice after his conviction because he could no longer get insurance. The Nevada Board of Medical Examiners briefly suspended his license in March 2011 during the investigation into his reuse of medical equipment.
Efforts to reach Kaplan for comment Tuesday were unsuccessful. His San Francisco lawyer, Dennis Riordan, said Kaplan was not doing anything illegal in his online business venture.
Riordan said he believes he has a good case to overturn his client's conviction on appeal, which will be heard by the 9th U.S. Circuit Court of Appeals in San Francisco in July.
Contact Jeff German at jgerman@reviewjournal.com or 702-380-8135. Find him on Twitter: @JGermanRJ
RELATED
Vegas urologist Michael Kaplan faces sentencing for endangering patients