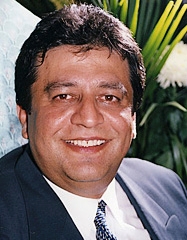 A high-rolling, international businessman who supplies luxury gifts to the casino industry has been arrested in Las Vegas and charged with running an "elaborate" Ponzi scheme.
Ramon DeSage, 61, who holds dual citizenship in the United States and Lebanon, is alleged to have used his chief Las Vegas company, Cadeau Express, and other companies to defraud investors out of tens of millions of dollars since 2005.
He owes investors more than $75 million, according to a wire fraud complaint filed under seal late last week by the Internal Revenue Service.
One unidentified investor, described as a former casino executive, is owed about $40 million, the complaint said.
DeSage used the fraudulently obtained money to repay earlier investors, maintain his wealthy lifestyle and cover millions of dollars in gambling losses at casinos along the Strip, some of which he supplies with high-end customer goods, the complaint alleges.
The complaint described DeSage, a Las Vegas resident since 1977, as a "prodigious gambler" who, according to Nevada gaming regulators, has lost more than $20 million on the Strip since 2006.
"DeSage lulls investors and convinces them to make additional and more lucrative investments by making small periodic payments to them," the complaint said. "But he never pays them back in full and never pays the rate of return he initially promised."
On the Cadeau Express website, DeSage calls himself an international humanitarian and philanthropist who has rubbed elbows with world leaders, including presidents and presidential candidates in the United States. He says he was born into a "prestigious family" in Lebanon, was educated in France and once worked as an attaché for UNESCO, the United Nations Educational, Scientific and Cultural Organization.
DeSage has a previous criminal case in Nevada. In 1999, a Reno federal judge fined him $175,000 and put him on one year of probation for making illegal contributions to former U.S. Sen. Bob Dole's 1996 Republican presidential campaign.
Cadeau Express is described on its website as a "unique company that caters to hotels and casinos who roll out the red carpet for selective guests and high-end gamblers." Among the items it offers are jewelry, crystal, watches, fragrances, electronics and leather goods.
DeSage also has a line of high-end chocolates.
"Mr. DeSage's refined tastes, remarkable business savvy and brilliant marketing skills are at the core of the company's success," the website states.
But at a 90-minute detention hearing late Friday, Assistant U.S. Attorney Gregory Damm said DeSage has been running a "sham business" and living off the "assets of others" for years.
Damm asked U.S. Magistrate Judge Peggy Leen to keep DeSage behind bars while he faces the wire fraud charges, arguing that DeSage was about to flee to Lebanon, where he is referred to as a "sheik."
The criminal complaint said DeSage owns a 40,000-square-foot palace in Lebanon and more than $10 million in real estate holdings there.
He also has access to large sums of money outside the United States and is known to use private aircraft to fly around the world, Damm told Leen.
Between 2005 and 2010, DeSage spent $3.8 million on private air travel, the prosecutor added.
DeSage, dressed in a suit with no tie and shackled with chains around his ankles, often shook his head and sighed as Damm addressed the magistrate.
His Las Vegas lawyer, Richard Wright, told Leen that DeSage has no plans to leave the country and that his seven children are coming to Las Vegas from Lebanon this week as part of a divorce agreement with his wife, Debra.
"He is not going to flee to Lebanon because of this case," said Wright, who denied his client was involved in a Ponzi scheme. "We are going to vigorously defend this case."
Wright said DeSage has been aware that the IRS was investigating him for 18 months.
Leen ordered DeSage released on his own recognizance, but kept under electronically monitored home detention while he fights the charges. She also ordered him to surrender his passports.
The IRS complaint alleged that De-Sage defrauded at least four wealthy investors who were not identified.
Of some $56.4 million the former casino executive invested with DeSage between May of 2011 and May 2012, DeSage wired $23.5 million to Las Vegas casinos to pay off gambling debts, the complaint alleges.
DeSage also is alleged to have entered into a fraudulent business arrangement with high-end hair care company Bumble and Bumble Products LLC.
He persuaded the New York-based company to sell him its products at a "deep discount" in return for a promise to place the products in expensive suites at Wynn Las Vegas, the complaint alleges.
Instead, he sold the hair care products to an "unauthorized reseller" for more than $20 million, the complaint alleges.
Bumble and Bumble severed its dealings with DeSage and later filed suit against him in Clark County District Court, the complaint says. He paid Bumble and Bumble $1.8 million with investor money to settle the suit, it says.
Contact reporter Jeff German at jgerman@reviewjournal.com or 702-380-8135.