Man indicted in slaying of Arbor View student
October 7, 2011 - 11:50 am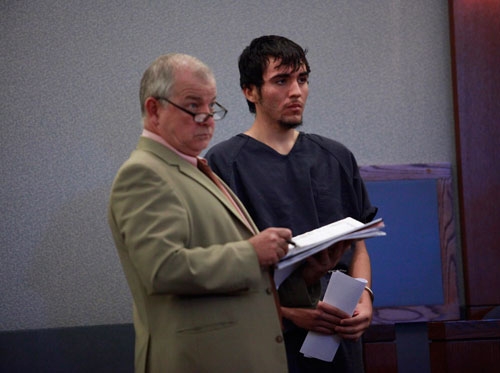 A Clark County grand jury indicted Javier Righetti on Friday in the sexual assault and slaying of 15-year-old Alyssa Otremba over the Labor Day weekend.
Righetti, 19, also was charged in the March kidnapping and violent sexual assault of another 15-year-old girl, who survived being strangled in the attack.
Chief Deputy District Attorney Christopher Lalli said in court as the indictment was returned that Righetti admitted torturing Otremba while stabbing her in the face and other parts of her body with a knife more than 80 times.
In his "elaborate" confession, Righetti told police that he carved the initials "LV" on the Arbor View High School freshman's body because he "wanted to look more like a gangster," Lalli said.
Righetti told police he killed Otremba and committed other acts of violence because of the power it gave him, Lalli said.
Otremba's burned body was discovered Sept. 3 in a vacant lot along the route she took between home and school in the northwest valley.
The sexual assault of the other teenager occurred on March 8 in tunnels that run under U.S. Highway 95 in the same area of town, Lalli said.
The girl was choked so hard in the attack that blood vessels in her face burst, giving her the appearance of having freckles, Lalli said.
Righetti was charged with a total of 10 felony counts in the two attacks, including murder, sexual assault, kidnapping and armed robbery.
His arraignment was set for Oct. 20 before District Judge Michelle Leavitt.
District Attorney David Roger said Friday his office is considering seeking the death penalty for Righetti, who is being held on no bail at the Clark County Detention Center.
Sheriff Doug Gillespie has described Righetti as a "predator" who will be held accountable for his crimes.
The Las Vegas Review-Journal reported last month that Righetti was expelled from Centennial High School in 2009 after a bathroom assault of a 16-year-old girl and was sent for a year to one of the state's secure facilities for juveniles.
Righetti told detectives that he committed his first sexual assault at the age of 12, and would continue to do it again if not stopped, Lalli said Friday.
Righetti also told police that he sexually assaulted his cousin while on a family vacation in Mexico two weeks before Otremba's slaying, Lalli said.
The Otremba killing was a random act, and Righetti and the victim did not know each other, police have said.
Righetti was arrested at his home on the 7900 block of Willow Pines Drive, minutes from Alyssa's home and less than a mile from the vacant lot where her body was found.
Police tracked down Righetti through his friend Daniel Ortiz.
Ortiz told detectives Righetti called him about 12:30 a.m. Sept. 3 and said he had killed a girl during a robbery.
Ortiz reported that he gave Righetti a ride to a convenience store where Righetti bought gasoline and matches.
Ortiz then drove Righetti to the vacant lot on Grand Teton Drive and Tee Pee Lane.
Ortiz told detectives he "felt like he was going to throw up" and left.
Later, Ortiz's girlfriend called police after she learned of the missing girl and became suspicious of Righetti, police said.
Contact Jeff German at jgerman@reviewjournal.com or 702-380-8135.