Nye County assistant sheriff still in charge after arrest by own deputy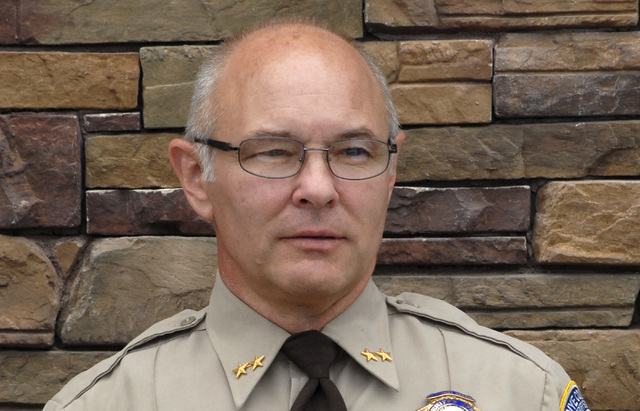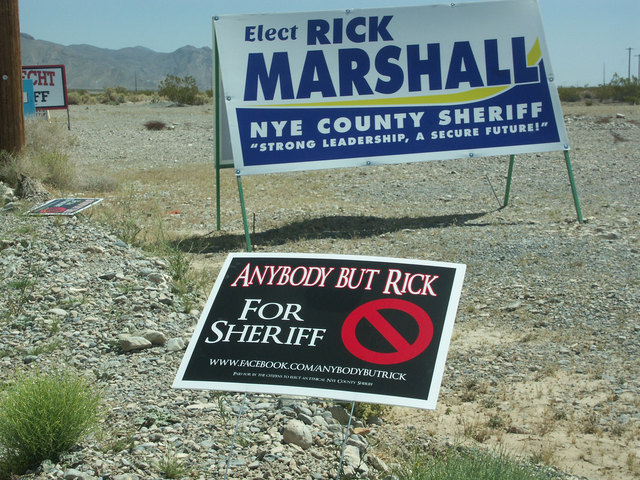 Nye County Assistant Sheriff Rick Marshall remained on the job and in charge of the rural police department Wednesday, less than 24 hours after he was arrested by one of his own deputies.
Marshall and longtime sheriff's office volunteer Ben Gulley were taken into custody Tuesday night for allegedly stealing and destroying 40 to 50 political signs aimed at defeating Marshall's bid to replace outgoing Sheriff Tony DeMeo in November's election.
According to Nye County Sheriff's Office arrest reports released Wednesday, investigators targeted the men after receiving a report on Sunday from Steven Lee, a 15-year Pahrump resident and the president of a political action committee, Citizens to Elect an Ethical Nye County Sheriff.
Lee says he told police he suspected Marshall and Gulley of stealing and destroying his signs, many reading "Anybody But Rick."
Marshall was booked on charges of conspiracy to commit a crime, possession of stolen property and resisting arrest. Gulley was booked on charges of conspiracy to commit a crime and possession of stolen property, according to the arrest reports, which note that more charges are pending.
The men were arrested at about 7:15 p.m. Tuesday at an intersection in central Pahrump. Lee says he was keeping an eye on his signs in the area when he saw Marshall pull an "Anybody But Rick" sign from the ground and throw it. He then saw Gulley put it into a dark Bronco "towing a trailer with Rick Marshall campaign signs in the back," the reports say.
A short time later, a patrol deputy stopped the Bronco, which Marshall was driving.
Gulley told the Pahrump Valley Times he was shocked when a least half-dozen other sheriff's cars converged on the scene bearing deputies who pulling their weapons and ordering the men out of the truck. The 76-year-old said he was sure he and Marshall would be shot.
"They hollered 'don't move, don't move' and I seen them take their guns out," Gully said. "I said what the f—- is going on Rick, they're going to shoot us.' Then I started to open the door and I just fell on the ground with my hands open."
Gulley, an unpaid volunteer for the sheriff's office for more than 10 years, said the experience was terrifying, that he's never been in trouble with law.
The volunteer said while he was being questioned by Detective David Boruchowitz he saw deputies get physical with Marshall.
"I heard him say 'No, no, they're too tight,' when they were putting the handcuffs on him, and when I turned around they were manhandling him. They were throwing him around, and I was like 'what are you guys treating Rick like that for? What are you doing? Why are you doing this to him?' Last time I seen him they threw him into the back of the car and he hit his head. I said 'you guys can't do this, you can't do this to him!'"
In Marshall's arrest report, deputies claim it was the assistant sheriff who got physical first.
"He attempted to use his feet to take deputies off balance and grabbed onto the metal bar on the trailer in an attempt to prevent them from putting his hands in handcuffs," the report reads. "Once placed in the vehicle he used his feet to keep NCSO deputies from closing the door."
Gulley said he and Marshall were originally booked into the Nye County Detention Center on multiple felony charges. But after sitting in jail for a few hours, the two were released about 9 p.m. on their own recognizance by a justice of the peace. The felony charges were replaced with misdemeanors and lower bail amounts.
A check of jail records showed Marshall's bail was $3,780 and Gulley's was $3,140.
Gulley was placed on administrative leave Wednesday. He was forced to return a sheriff's vehicle and items he used to transport evidence and perform other tasks for the department, including running the sheriff's prescription drug disposal program.
He said he's done volunteering for the office, regardless of the outcome of his criminal case.
Marshall also was initially placed on administrative leave by DeMeo, who is traveling outside the country, but the sheriff then changed his mind.
When reached for comment, sheriff's office Lt. Frank Jarvis said he could not release any details beyond what was contained in arrest records, per DeMeo's orders. A phone call to DeMeo was not returned.
Marshall was back at work Wednesday morning, shortly after being released from jail. He also could not be reached for comment.
Lee said he was not surprised to hear that Marshall was allowed back at work.
"I don't believe in his ethics. A lot of people don't believe in his ethics. And yesterday, by tearing down that sign, you know, to me it just shows that he believes he is above the law," the former Clark County School District police officer said. "These things don't apply to him."
Lee admits that he and Marshall have had past disagreements. Lee's now-deceased father, Don Lee, unsuccessfully ran for Nye County sheriff in 1998 and 2002, and the younger Lee said that was used against him when he later applied to become a deputy in Marshall's department.
"Rick ran me through the ringer" during the hiring process, Lee said. "My father ran for sheriff two times, and he (Marshall) didn't like it."
Lee said he wants the candidate to be treated like everybody else.
"He's not above the law. We all have to abide by the same laws. It's apparent so far that they are treating him a lot differently. I think it stinks," he said.
Nye County District Attorney Brian Kunzi could not be reached for comment.
Marshall drew a number of opponents in his bid for sheriff, but he was widely considered the leading candidate after winning DeMeo's endorsement earlier this year.
His campaign has been anything but smooth.
In January, his son-in-law, NCSO Sgt. Michael Horn, was accused of stealing narcotics from the sheriff's evidence room and from residents of the area. His criminal case is pending.
Gulley could also be called as a witness in the case against Horn.
Review-Journal reporter Henry Brean contributed to this report. Matt Ward is the editor of the Pahrump Valley Times. He can be reached at mward@pvtimes.com or 775-727-5102.