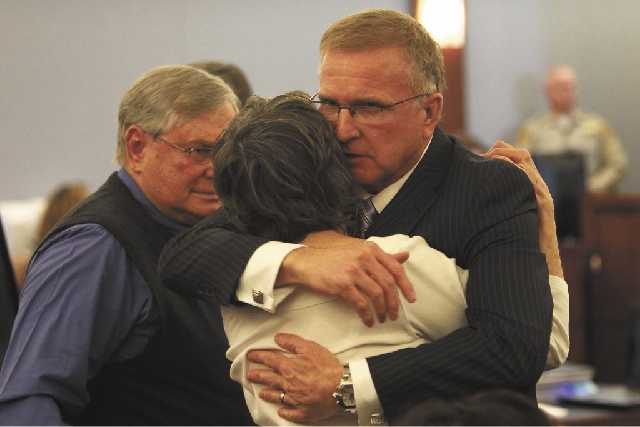 Health Plan of Nevada should be punished to the tune of $2.49 billion for its role in the 2008 hepatitis C outbreak, lawyer Robert Eglet told a jury Monday.
The same eight-member jury last week awarded a total of $24 million in compensatory damages to three people, two of whom contracted hepatitis C at a facility operated by Dr. Dipak Desai, the central figure in the outbreak.
HPN lawyer Lee Roberts argued that an award in the billions of dollars "would annihilate or destroy this company."
Such an award would be the largest in Nevada history.
After more than six hours of arguments, the jury adjourned Monday evening and will start today deliberating what punitive damages, if any, should be awarded to the three victims.
Eglet said that he arrived at the figure by computing about 15 percent of the total profit of the insurer and its parent company at the time, Sierra Health.
He asked the jury to send a message from "Las Vegas to Wall Street" that will deter health insurers from putting the needs of its shareholders above the needs of its members.
But Roberts said the punitive damages should be "reasonable and proportionate" to the compensatory damages.
The $24 million in compensatory damages was enough of a deterrent to the company, Roberts said. However, he said that if the jury chooses to award punitive damages, they should not exceed $24 million.
At one point Roberts suggested the jury could choose to award only $1 in punitive damages.
Eglet harped on the comment during his rebuttal. "This company has not learned any lessons. They have not taken any responsibility," he said.
The lawyer said that HPN's former CEO and President Jon Bunker, who left the company after the outbreak, works for HPN's new parent company, United Healthcare.
Bunker's new job includes negotiating lower medical loss ratios with medical providers — the same practice that led HPN to bring Desai into its network of doctors.
Eglet told the jury that its punitive award could effect change at HPN and in the health insurance industry across the United States.
"You have an opportunity to change the way this insurance company acts and make other insurance companies think long and hard before they act the same way," he said.
During the two-month civil trial before District Judge Timothy C. Williams, Eglet, who represents Bonnie Brunson, 70, and her husband, Carl, 71, said that in 1992, HPN dropped Desai from its network of doctors because of quality concerns, only to reinstate him five years later because of his high-volume, low-price bid.
The jury awarded Bonnie Brunson $12 million and her husband $3 million for loss of consortium, or regular marital relations. Eglet hugged Bonnie Brunson, then her husband.
Helen Meyer, whose attorney is Will Kemp, was awarded $9 million.
In 2011, Eglet and Kemp won hundreds of millions in civil judgments against drug companies they blamed for recklessly supplying large 50-milliliter vials of the anesthetic propofol to Desai's clinics. Ten to 20 milliliter doses are common for outpatient colonoscopy cases.
Health investigators traced the infections of Brunson, Meyers and at least seven other patients to procedures at endoscopy clinics owned by Desai. In early 2008, the outbreak became public when the Southern Nevada Health District notified more than 50,000 people to get tested for blood-borne diseases, including hepatitis and HIV.
Desai is scheduled for trial on criminal charges, including second-degree murder, in District Court later this month and in federal court in May. But his attorneys have said in recent weeks he suffered another stroke –– a condition that previously delayed court proceedings.
Contact reporter Francis McCabe at fmccabe@reviewjournal.com or 702-380-1039.