Puffinburger case kidnapping charges dropped
February 16, 2011 - 1:07 pm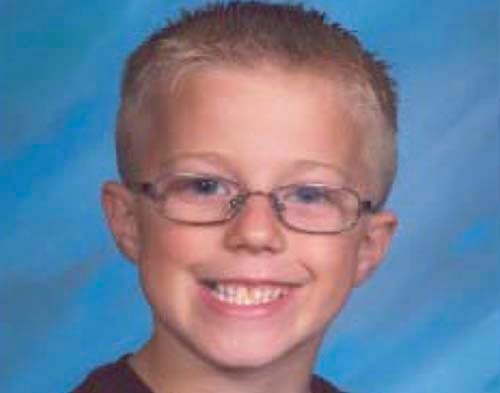 Hopes of solving the mystery behind Cole Puffinburger's 2008 disappearance were dashed Wednesday as the case against two kidnapping suspects unraveled after three weeks of trial.
News of Cole's abduction on Oct. 15, 2008, circulated around the country with a photo of the smiling 6-year-old boy wearing glasses. Later, federal prosecutors promised to prove that members of a Mexican drug cartel had kidnapped Cole at gunpoint and held him hostage for four days before releasing him unharmed.
But on Wednesday, prosecutors dropped all kidnapping and hostage-taking charges as part of plea negotiations with the two suspects, angering the boy's father.
"I can't grasp the concept that my son had to endure all this stuff, my family had to endure all this stuff, and nobody's, you know, paying for it," Robert Puffinburger said.
Prosecutors claimed during the trial that Cole had been kidnapped as revenge after his maternal grandfather, Clemens Tinnemeyer, stole $4.5 million in drug money. But defense lawyers went on the offensive, accusing Cole's mother and grandmother of staging the kidnapping to lure Tinnemeyer out of hiding with the cash.
Cole's mother, Julie Puffinburger, testified during the trial and denied the allegations. She and the boy's father are divorced and share custody.
When asked Wednesday for his opinion about the allegations against his ex-wife, Robert Puffinburger replied, "At this time, I can't answer that question. I don't know what to say about it. I don't know."
As a potential witness, Robert Puffinburger was not allowed to observe the trial. Neither he nor his son testified.
U.S. District Judge Gloria Navarro had ordered the father to bring Cole to court by 1 p.m. Wednesday as a potential defense witness. Robert Puffinburger said prosecutors later told him not to bring the boy because of the plea negotiations, but they did not tell him the details.
"I'm relieved that he didn't have to go up, because he's been through enough already," the father said.
Prosecutors wouldn't comment on plea agreements reached Wednesday with three defendants, including the two kidnapping suspects, Luis Vega-Rubio of Los Angeles and Jose Lopez-Buelna of Las Vegas. Navarro sealed the courtroom when she accepted the pleas.
The trial is scheduled to proceed today against a fourth defendant, Erik Webster, who faces drug trafficking and money laundering charges.
Attorney Todd Leventhal said his client, Vega-Rubio, pleaded guilty to a reduced charge of interference with commerce. Leventhal said he reluctantly advised his client to accept the deal and avoid the possibility of a life sentence.
"I don't want to do this," Leventhal said. "I want to go to the jury, but he's looking at four counts of 20 to life."
The attorney said Vega-Rubio, a father, was thrilled with the offer.
Leventhal said prosecutors will have the right to argue for a prison term of 51 to 63 months, but the defense lawyer plans to ask Navarro to sentence his client to the two years he already has spent in custody.
Julie Puffinburger identified Vega-Rubio as the man who delivered a threatening note to her home in July 2008. A fingerprint found on the note also matched the suspect.
Attorney Robert Draskovich Jr. said his client, Lopez-Buelna, pleaded guilty to conspiracy to distribute cocaine, conspiracy to launder money and two counts of money laundering. The defendant is facing a minimum prison term of 10 years but also will avoid the possibility of a life sentence.
Draskovich said his client has maintained his innocence in connection with the kidnapping since his arrest on Oct. 18, 2008.
"I'm glad that the government had the wherewithal to see that there really may not have been a kidnapping and there really may not have been a hostage taking and, for that reason, agreed to enter into this negotiation with us," the lawyer said.
With good-time credit and credit for the time he already has spent in custody, Lopez-Buelna could be released in five years, his lawyer said.
At trial, prosecutors claimed Lopez-Buelna, 50, ran cartel operations from Las Vegas. Draskovich said the defendant has a wife in Mexico.
During their opening statements to the jury, defense lawyers said Cole spent the four days after his disappearance playing games, eating peanut butter sandwiches, drinking Capri Sun juice drinks and watching movies.
Draskovich said Cole was never bound, drugged or otherwise mistreated, "because he was taken by insiders who cared about him." He even went shopping for new clothes, the lawyer said.
A surveillance camera recorded Cole as he boarded a paratransit bus at 10:30 p.m. Oct. 18, 2008, at Oakey Boulevard and 17th Street.
Jurors watched the recording and heard Cole calmly ask the driver to take him to "Greymouth." His mother owns a home on Greymouth Street. The boy said he had been with a "guy" who knows his grandfather.
Draskovich and Leventhal said they planned to show the jury pictures that were taken when Las Vegas police searched a home on Shodall Circle in southeast Las Vegas on Oct. 21, 2008.
Leventhal said 11 items in the home matched items that Cole had described seeing in the home where he was held after his disappearance. The lawyer said those items included black bunk beds with blue sheets, a large television, a green bird and Capri Sun juice drinks.
Records show that Tinnemeyer's friend Roger "Country" Rice was at the Shodall Circle home when police searched it. He has not been charged.
Tinnemeyer, 54, pleaded guilty in February 2009 to conspiracy to transport cocaine and is in custody while awaiting sentencing.
He testified that he worked as a drug smuggler for Lopez-Buelna but decided to run off after he discovered "a big pile of money" stashed in a motor home he drove for the cartel.
Tinnemeyer surrendered on Oct. 17, 2008, and authorities found more than $3.5 million of the stolen cash in a Riverside, Calif., storage unit.
Defense lawyers told the jury that Julie Puffinburger and her mother, Diane Tinnemeyer, showed no emotion after Cole's disappearance.
They also said Julie Puffinburger lied about knowing of a false rumor involving Cole's kidnapping that was circulated in August 2008. They said she helped stage the later kidnapping after the earlier ruse failed to lure her father out of hiding.
Another defendant, Jesus Gastelum, has been charged with kidnapping Cole but remains a fugitive.
Lopez-Buelna's younger brother, Las Vegas resident Roberto Lopez, 44, accepted a plea bargain Wednesday to end his involvement in the trial. Attorney Gary Myers said his client, who is not in custody, has agreed to plead guilty to one count of money laundering.
Myers said his client faced a potential sentence of 25 years if convicted at trial but now faces a potential sentence in the range of 12 to 18 months.
"I'm reasonably optimistic that we may be able to avoid incarceration," the attorney said.
Robert Puffinburger said his son knew about the trial, but he had not discussed the plea agreements with the boy, who is now in third grade.
"Cole's doing fine," his father said. "He's doing good in school. He's doing great in his extracurricular activities that he's involved in. He's just a normal, 8-year-old boy."
Contact reporter Carri Geer Thevenot at cgeer@reviewjournal.com or 702-384-8710.