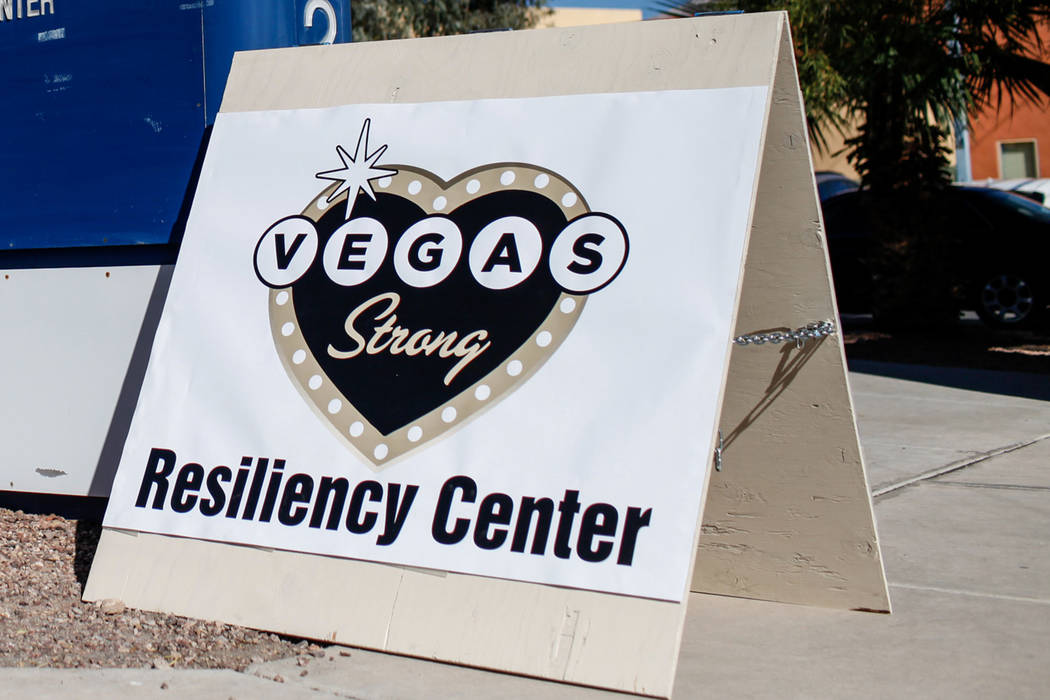 Two weeks remain for survivors of the Route 91 Harvest festival attack to apply for benefits through the Nevada Victims of Crime program.
The Las Vegas Review-Journal spoke with the program's manager, Rebecca Salazar, for more details about what the program can provide, who is eligible and why survivors should fill out an application before Oct. 1.
What type of financial assistance can the Victims of Crime program provide?
The program provides a variety of benefits. The most common types of expenses we're paying for Route 91 survivors and victims have been funeral payments, medical bills, counseling, lost wages and prescription medication. We've paid travel expenses in some cases and for home or car modifications to accommodate disabilities.
Who is welcome to fill out the application?
Anyone who was at the festival during the shooting is eligible, regardless of your home state, country of origin or whether you were physically injured.
Family members of the deceased wouldn't be eligible under their own application, but they can access counseling funds through the deceased's application. You can find the application in both English and Spanish here: https://vegasstrongrc.org/.
About how long does it take to fill out the application?
The application is four pages plus a signature page. It is very simple and we have an application on our website with some pre-filled information for Route 91 victims. The only document that is required is an insurance card for anyone covered by insurance.
How long does it take for the financial assistance to become available?
Applications can be approved within days of submission, and we issue payments weekly.
Has your office been able to touch base with everyone who is eligible?
There is no master list or database of Route 91 ticket holders that has been made available to us or the Vegas Strong Resiliency Center, so there is no real way to touch base with everyone.
We are attempting to reach as many possible applicants as we can through PSAs, news releases and with the help of the news organizations. If you believe you are eligible, we encourage you to apply.
How much money does the Victims of Crime program have available for those affected by Oct. 1?
We have roughly $11 million available for victim payments. We work hard to keep our fund healthy so that we can manage our costs so that we can help all victims of violent crime who apply.
Is there a maximum amount of financial assistance that one person can receive?
The maximum available per applicant is $35,000. However, many applicants will not reach that limit, as individual benefits are capped. For instance, if a person was not injured and only seeks counseling, the limit for that benefit is $5,000.
Exceeding benefit limits may be possible on a case by case basis.
What would you say to someone who is apprehensive about applying?
I would say that we are here to help. This is the reason that we exist. There is no reason not to apply, and it's better to get the application in just in case there are needs that come up later. The application is so easy, you might as well get it submitted, just in case.
I've had a lot of people tell me they didn't seek treatment right away because there were so many others with immediate needs, but I tell them that they are just as important and just as deserving of care — that they need to get whatever it is taken care of so that they can move forward.
For a lot of people, what they experienced isn't just going to go away, and we can pay for them to talk to a therapist if it would help.
If anyone affected by Oct. 1 has questions, how do they get hold of you? Should they contact the Vegas Strong Resiliency Center or your program directly?
The Vegas Strong Resiliency Center is definitely a resource, as is our office.
Our number is 702-486-2740 and our address is 2200 S. Rancho Drive, Suite 210-A. The Vegas Strong Resiliency Center can be reached at 702-455-2433 and is located at 1524 Pinto Lane.
Do you have any other advice you would like to share for readers?
I would just stress again that this is a quick and simple application and that there is no reason to not get it submitted before the deadline. My staff and I are happy to discuss anyone's needs and are here to help.
Contact Rachel Crosby at rcrosby@reviewjournal.com or 702-477-3801. Follow @rachelacrosby.
How to apply
To apply for benefits through the Nevada Victims of Crime program, visit https://vegasstrongrc.org/.