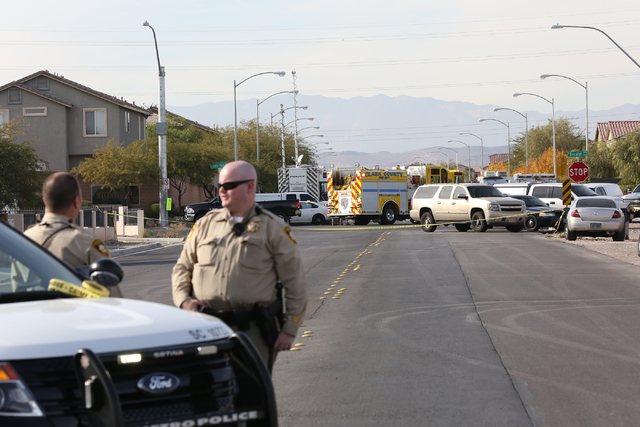 A southwest valley mother struggling with domestic violence sought a protection order just weeks before a family dispute escalated into an hourslong standoff with the Las Vegas police SWAT team Tuesday.
Clark County Family Court records show that Charlene Ganigan, 37, filed for a temporary protection order against Edison Somera, 37, on Nov. 28.
Somera was taken into custody Tuesday afternoon after police said a man held a neighbor hostage at gunpoint for more than five hours following a confrontation involving his family.
He was booked into Clark County Detention Center Wednesday morning on several charges, including seven counts of assault with a deadly weapon, three counts of second-degree kidnapping with a deadly weapon, burglary while possessing a gun and discharging a gun within a prohibited structure. Bail has been preliminarily set at $195,000 for all charges.
Metropolitan Police Department officers were called to a domestic violence incident Ganigan's home on South Coral Cactus Court, near Decatur Boulevard and Robindale Road, about 10 a.m. Police have said a man came out of the home and fired several shots at officers with a rifle.
One officer shot back, but no one was wounded in the exchange of gunfire. Police will likely name that officer Thursday in accordance with department policies.
The man retreated into a neighbor's home after the shootout, remained there and held the neighbor inside at gunpoint until surrendering to officers about 3:30 p.m., police said.
SWAT negotiators had spoken with the man during the barricade in an attempt to de-escalate the situation. While the man held the neighbor hostage, he shot at officers a second time. Officers were not injured and did not return fire during the second spray of bullets, police said.
The neighbor who was held hostage was not injured.
Ganigan accused Somera of threatening to kill her in her handwritten application for a protection order.
She and Somera, her boyfriend of 21 years and the father of her three children, had split earlier in November. According to the document, Somera began calling her and harassing her at work in an attempt to get her fired about a week after they separated. He choked her the next day when she went to bring their 11-year-old daughter food during a visit at his new apartment.
"I was trying to escape but he was too strong for me," Ganigan wrote in the document.
She said he attacked her again a few days later and filed for the protection order shortly afterward.
Ganigan noted in her application that Somara owned a gun and had threatened her or the children with a firearm before. According to the application, Somara had never been arrested for domestic violence.
A court order dated Dec. 1 barred Somara from coming within 100 feet of the Coral Cactus home or Ganigan's job and granted the mother full custody of their children.
Somara had not been charged in connection with Tuesday's events as of Wednesday afternoon. A court date for his arraignment is pending.
Contact Wesley Juhl at wjuhl@reviewjournal.com and 702-383-0391. Follow @WesJuhl on Twitter. Contact Mike Shoro at mshoro@reviewjournal.com. Follow @mike_shoro on Twitter.