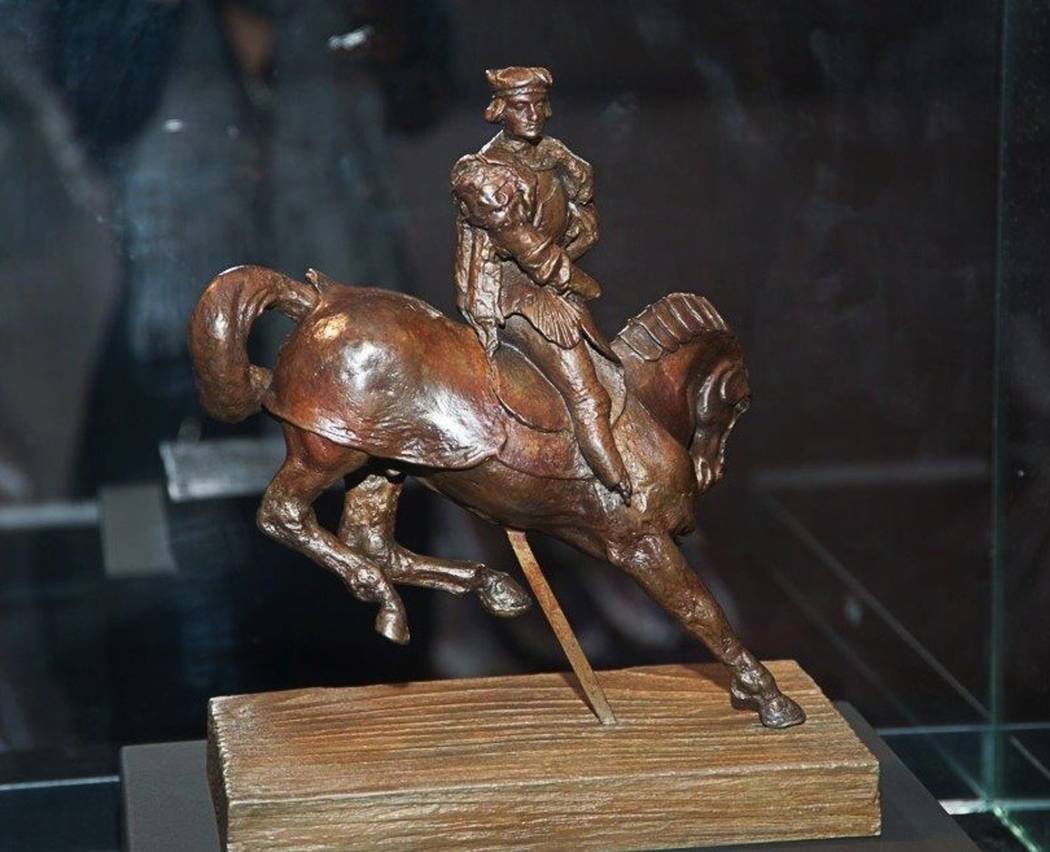 Leonardo da Vinci
"Horse and Rider," a bronze casting made from a beeswax mold believed to have been created by Leonardo da Vinci will be on display from 3 to 6 p.m. Sunday. A video at DaVinciHorseandRider.com details the history of the piece. Hotel Rotunda at Red Rock Resort, 11011 W. Charleston Blvd.
'Resonating Objects'
California artist Margaret Noble's exhibition of interactive sound and light sculptures influenced by the beat-driven dance culture of Southern California during the 1980s opens with a preview, artist talk and reception at 6 p.m. Thursday. Fine Arts Gallery at CSN's Cheyenne campus, 3200 E. Cheyenne Ave., North Las Vegas. csn.edu/artgallery
'Dia de los Muertos'
Colorful paintings and sculptures by 24 artists created to celebrate Dia de los Muertos. Wonderland Gallery in the Arts Factory, 107 E. Charleston Blvd., Suite 110.wonderlandgallery.com
Tim Bavington
"Sounds of Silence," features hand-painted watercolors by Tim Bavington. The opening artist reception will be from 6 to 9 p.m. Wednesday. MCQ Fine Art, 620 S. Seventh St. mcqfineart.com
Samurai exhibit
"Samurai: Armor From the Ann and Gabriel Barbier-Mueller Collection" represents the evolution of the samurai warrior's appearance and equipment over 600 years. Items on display include full suits of armor, helmets, weapons and masks. Bellagio Gallery of Fine Art, 3600 Las Vegas Blvd. South. bellagio.com
Nevada Crossroads
Nevada poets and artists share their reflections on the past, present and future through a wide range of mediums, techniques and styles. The invitational exhibition is part of the Las Vegas Book Festival's Illustrated Word Exhibition Series. Nevada Humanities Program Gallery, 1017 S. First St., No. 190. nevadahumanities.org
ArtNight
The opening reception for "Reminiscent Thoughts," the juried exhibition show by ThinkArt!, will be from 5:30 to 8:30 p.m. Thursday. At this year's reception, 70 percent of the sales will support the families, victims and survivors of the Route 91 Harvest festival tragedy and 30 percent will go toward the inner-city arts program. Artspace at SpringHill Suites Convention Center, 2989 Paradise Road. thinknwonder.org
'Preservation'
Photography, films and video by international contemporary artists explore the preservation of land, life and legacies in this group exhibition curated by Aurora Tang. East Gallery at UNLV's Marjorie Barrick Museum of Art, 4505 S. Maryland Parkway. unlv.edu/barrickmuseum
Vinyl banner exhibit
"Red" is the color theme for the vinyl banners on display as part of the city of Las Vegas Aerial Gallery. The exhibit features artwork on light poles spanning eight blocks in downtown Las Vegas created by eight artists. First Street Art Trail, located on First Street from Boulder Avenue to Bridger Avenue.
'Prima Facie'
Exhibition of paintings and prints by Whitman Lindstrom and Lubov. Bash Fine Art &Custom Framing, 750 S. Rampart Blvd., Suite 14. bashfineart.com
Pete Menefee
"The Artistry of Pete Menefee: Costume Design for the Nevada Stage," curated by Karan Feder, features photographs, stage costumes and original costume renderings for "Jubilee!" and "Splash." Nevada State Museum, 309 S. Valley View Blvd., next to the Springs Preserve. nvdtca.org/nevadastatemuseumlasvegas
'World Heritage Collection'
Mario Basner's photographic art collection, celebrating culture, diversity and humanity. Next to Cafe Leone at Tivoli Village, 400 S.Rampart Blvd. mariobasner.com
To submit gallery listings, email mrhynes
@reviewjournal.com.
'Las Vegas Lineup'
Viewers are invited to help identify figures in vintage photos of Las Vegas in this interactive exhibit by the Las Vegas News Bureau and Nevada State Museum. Nevada State Museum, 309 S. Valley View Blvd., next to the Springs Preserve. nvdtca.org/nevadastatemuseumlasvegas
'Desert Notes'
Artists Jill R. Baker, Megan Berner, Nicole Donnelly and Jennifer Meridian explore themes of desert, landscape and naturalism in their work, featuring drawings, photographs and short videos. Left of Center Art Gallery, 2207 W. Gowan Road, North Las Vegas. facebook.com/leftofcentergallery
Art installation
Eight rare cocktail books from The Collectif 1806: Antique Cocktail Book Collection are on display as part of the Delano Art Series. Delano lobby, 3940 Las Vegas Blvd. South. delanolasvegas.com; collectif1806.com
Heritage Gallery
"Over Here: Clark County and World War One" showcases the efforts of Clark County's young community during the war. Items on display include a collection of 1917 Red Cross magazines, railroad artifacts and promotional posters. Heritage Gallery at Clark County Museum, 1830 S. Boulder Highway, Henderson. clarkcountynv.gov
Windows on First
Camilla Quinn's exhibit "Appropriation" explores the history and evolution of the mandala, a Buddhist and Hindu geometric figure representing the universe. Windows on First at Las Vegas City Hall, 495 S. Main St., located along First Street. camillaquinn.com
Nevada Clay Guild
Functional and nonfunctional sculptural works selected by Nevada Clay Guild artists. Grand Gallery at Las Vegas City Hall, 495 S. Main St. lasvegasnevada.gov
'Hello From Japan!'
This touring exhibit celebrates modern and traditional life in Japan. Visitors will experience a kawaii (which translates to cute or adorable) streetscape, inspired by Tokyo's Harajuku district, and enjoy the serenity of a natural Shinto shrine park. Discovery Children's Museum, 360 Promenade Place. discoverykidslv.org
Obsidian Fine Art
Dia de los Muertos-themed paintings and landscapes by Mandy Joy and figure paintings by Steve Anthony. Obsidian Fine Art at the Arts Factory, 107 E. Charleston Blvd., Suite 240. facebook.com/obsididanfineart
Photography exhibit
"Ranching on the High Desert: Five Generations, One Family," a photography exhibit by former Review-Journal staffer Jeff Scheid, covers a cattle branding weekend with the Fallini family. Nevada State Museum, 309 S. Valley View Blvd., next to the Springs Preserve. nvdtca.org/nevadastatemuseumlasvegas
Georgia Lawson
Exhibit of oil and watercolor paintings by Boulder City Art Guild member Georgia Lawson. Boulder City Art Guild Gallery at Boulder Dam Hotel, 1305 Arizona St., Boulder City. bouldercityartguild.com
Modernist Cuisine
Chef, photographer, scientist and author Nathan Myhrvold's collection of food photography. Modernist Cuisine Gallery in the Forum Shops at Caesars, 3500 Las Vegas Blvd. South. modernistcuisine.com
Clinton Wright
Images of everyday life in Las Vegas' historic Westside neighborhood from the Clinton Wright Photograph Collection. Florence "Flo" Mlynarczyk Gallery at UNLV's Lied Library, 4505 S. Maryland Parkway. library.unlv.edu
'California Expressions'
Bobby Wheat's large-format film photography exhibition features photos taken throughout California. Bobby Wheat Gallery at Downtown Summerlin, 1825 Festival Plaza Drive. bobbywheat.com
'Past Perfect'
Jeana Eve Klein's mixed-media exhibit, inspired by abandoned houses, tells a visual story of a present place with the artist imagining its past. Charleston Heights Arts Center, 800 S. Brush St. jeanaeveklein.com
To submit gallery listings, email mrhynes@reviewjournal.com.