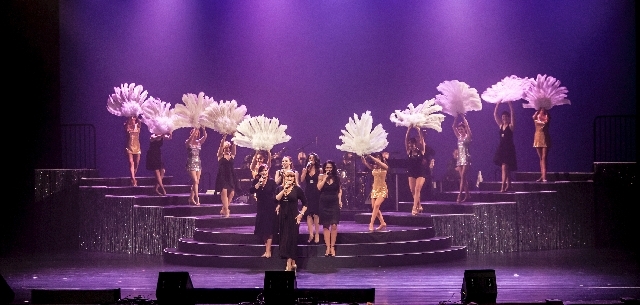 Variety show benefit
SECADA, GRIMM TOP
'TRIBUTES' LINEUP
One salute deserves another — as Golden Rainbow's 27th annual "Ribbon of Life" benefit demonstrates Sunday afternoon at The Smith Center.
This year's extravaganza, "Tributes," features a variety of tribute-themed performances, from contemporary to classic, pop to hip-hop.
Grammy-winning singer Jon Secada and hometown favorite Michael Grimm, an "America's Got Talent" champ, headline the show.
Also in the spotlight: performers Clint Holmes, Josh Strickland, George Wallace, Frankie Moreno and Reva Rice; vocal groups Mo5aic , the Las Vegas Tenors, the Phat Pack and Celebrity City Chorus; and cast members from Human Nature, "Jubilee!" and "Vegas! The Show."
TV personality Chris Saldana and Edie, Mistress of Sensuality for Cirque du Soleil's "Zumanity," host the benefit for Golden Rainbow, a nonprofit organization that assists those living with HIV/AIDS.
Last year's "Ribbon of Life" — the first at The Smith Center — drew a record crowd of 1,630 and raised more than $200,000.
"Tributes" will begin at 1 p.m. Sunday in Reynolds Hall at The Smith Center for the Performing Arts, 361 Symphony Park Ave.
For tickets ($35-$200), call 702-749-2000 or go online to www.thesmithcenter.com.
Holiday blasts
LOCAL FESTIVITIES
SALUTE THE FOURTH
From Summerlin to Boulder City, Southern Nevada will celebrate the nation's 237th birthday Thursday at a variety of free Independence Day events.
Boulder City's 65th annual Damboree celebration (themed "Be Kind — It Takes All of Us") kicks off at 7 a.m. with a pancake breakfast at Bicentennial Park, 1100 Colorado St., and ends with a 9 p.m. fireworks show at Veterans' Memorial Park, 1650 Buchanan Blvd. (Parking is $10.)
In between, there's a 9 a.m. parade down Nevada Highway to Broadbent Memorial Park, 1301 Fifth St., where a midway, games and contests will run from 10 a.m. to 4 p.m. The action moves to Veterans' Memorial Park from 6 to 11 p.m., with a pie-eating contest, a water park, live entertainment — and, of course, fireworks.
For more Damboree details, click on www.bcnv.org.
Meanwhile, more than 35,000 spectators are expected for the 19th annual Summerlin Council Patriotic Parade, which gets under way at 9 a.m. Thursday.
The 70-plus entries range from traditional floats to 25 Macy's-style giant helium balloons, plus bands and performing groups.
Among the new-to-the-parade entries: a "Pocahontas"-inspired "Colors of the Wind" float and balloons ranging from Thomas the Tank Engine and Mr. Potato Head to an inflatable "Star Wars" Death Star, accompanied by Imperial Stormtroopers.
The parade begins at the corner of Hillpointe Road and Hills Center Drive, moves south on Hills Center Drive toward the Village Center Circle roundabout and then heads west on Trailwood Drive, ending at the Trails Village shopping center.
Parade-watchers are encouraged to arrive early, bring water and wear sunscreen; for more information, call 702-341-5500 or visit www.summerlin.com.
Henderson's annual Fourth of July celebration starts at 5 p.m. at Mission Hills Park, 551 E. Mission Hills Drive.
On the menu: such all-American favorites as hamburgers, hot dogs, ice cream and snow cones.
Entertainment on two separate stages (including a battle of the bands) begins at 6 p.m., and contests range from volleyball and basketball tournaments to gunny-sack and three-legged races.
The Henderson Symphony Orchestra will perform a concert from 7:45 to 8:45 p.m. — and will keep playing throughout the fireworks display.
For more information on the Henderson festivities, call 702-267-2171 or go online to www.hendersonlive.com.
And North Las Vegas' 14th annual Independence Day Jubilee runs from 6 to 9:30 p.m. at James Seastrand Park, 6330 Camino Eldorado Blvd.
Serpentine Fire's tribute to Earth, Wind & Fire and Kings of Rock's tribute to Run-D.M.C. highlight the entertainment, capped by a fireworks display.
Also on the schedule: a kids' corner, teen zone, carnival midway and food and drink vendors.
Tickets are $3 per person through Saturday and $4 afterward; call 702-633-2650 or go online to http://cityofnorthlasvegas.com for more information.
Music
JAZZ SERIES LAUNCHES
AT LOCAL THEATER
Sweltering summer afternoons get a lot cooler starting Sunday, when the jazz concert series "Thred — New Adventures in Music" gets under way at 2:30 p.m. in the Gallery at the Las Vegas Shakespeare Company, 821 Las Vegas Blvd. North.
"Flat Five" — blues with Toscha Comeaux and Woody Woods — leads off the nine-concert series, presented by Vegas Jazz and the American Jazz Initiative. Performances continue every Sunday afternoon through Aug. 25.
Tickets are $10 at the door; tickets are $75 for all nine concerts. For group prices, email peacockentertainment@earthlink.net or call 702-528-0455.
Art
SCULPTOR EXPLORES
'E'RYDAY SCIENCE'
The wonders — and weirdness — of science and society inspire Las Vegas-based sculptor Miguel Rodriguez's "E'ryday Science," which continues through July 26 in the Clark County Government Center's Rotunda Gallery.
The free exhibit features six large-scale, stand-alone sculptures and installations made up of numerous small "clones."
Rodriguez's neo-pop style reinvigorates familiar forms through color, size and repetition. And, drawing on such scientific themes as human anatomy and evolution, Rodriguez's sculptures also draw analogies to civil rights and other social issues.
"E'ryday Science" is on display during regular business hours — 8 a.m. to 5 p.m. weekdays (except for Thursday's Independence Day holiday) — at the Clark County Government Center, 500 S. Grand Central Parkway. For more information on the exhibit, call 702-455-7340 or visit www.ClarkCountyNV.gov/parks.
— By CAROL CLING