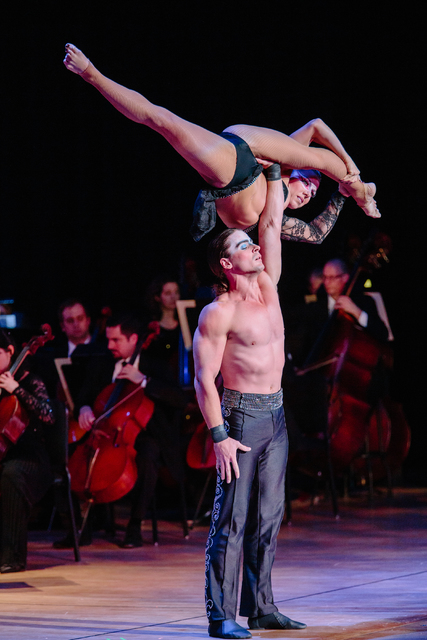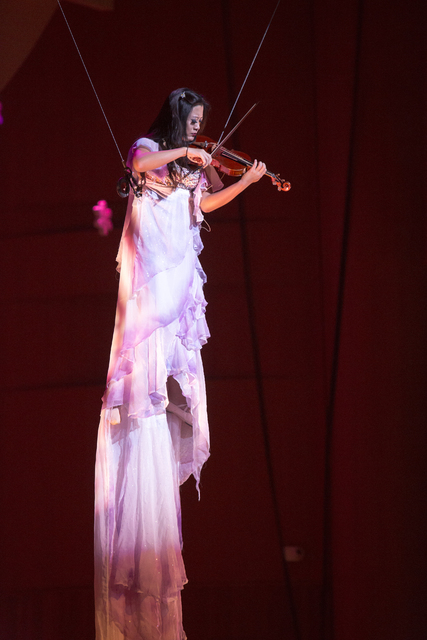 When you say "Cirque," you probably mean Cirque du Soleil.
Especially in Cirque-centric Las Vegas, where seven separate productions fill various Strip showrooms.
But, come Wednesday, there's a different Cirque in town: Cirque Musica, which checks into Orleans Arena for a one-night-only performance.
Produced by Texas-based TCG Entertainment, the Cirque Musica Holiday Spectacular presents circus acts with musical accompaniment.
In itself, that's nothing new.
But in Cirque Musica shows, the music is provided by local symphony orchestras — including 45 members of the Las Vegas Philharmonic, who will accompany acrobats, aerialists and other circus performers as they show off their skills.
It's a busy time for Philharmonic musicians, who played holiday concerts Dec. 3 and 4 and will accompany Nevada Ballet Theatre's "The Nutcracker" this weekend and next, according to Kevin Eubanks, the Philharmonic's director of orchestral operations and education.
The Cirque Musica show marks the second time in two years orchestra members have played Orleans Arena, following last year's Mannheim Steamroller concert.
Philharmonic musicians will be playing "pretty standard Christmas carols" for the concert, Eubanks notes, with arrangements to complement the acrobats.
A few light classics also make it into the musical mix, according to Cirque Musica creator and producer Stephen Cook. Broadway veteran Eric LaJuan Summers ("Motown the Musical") leads the show's vocal lineup.
Although the holiday spectacular marks Cirque Musica's Las Vegas debut, "half my cast is from Las Vegas," Cook notes — including the Senchihina Twins duo trapeze act (formerly featured in Cirque du Soleil's "O") and All-Star Russian Bar, a Russian bar act that formerly appeared in Cirque du Soleil's "Zarkana."
But perhaps "flying violinist" Veronica Gan best exemplifies Cirque Musica's mix of music and acrobatics.
"She comes out and plays 'Silent Night' and rises up in the air like an angel," Cook says of Gan's act.
The violinist, who studied at the New England Conservatory of Music, is "absolutely not a circus performer at all," she maintains.
When she started with Cirque Musica in late 2012, "the acrobats were all laughing and giggling at me and telling me to point my toes," Gan recalls.
But after she began working with the company and became friends with the acrobats, she started taking aerial silks lessons, she explains. "When in Rome … "
The fact that Gan had gone skydiving — and had performed 60 feet in the air, in a chandelier, during Dallas Cowboys owner Jerry Jones' 70th birthday party at his football team's stadium — proved Gan's adventurous side.
For circus veteran Ashley Winn, the presence of a symphony orchestra throughout Cirque Musica represents "just a whole different world" than the standard circus.
Many circuses no longer have live music, Winn notes. In the ones that do, "with a live band, the show plays to you" — the musicians reacting to the performers. But Cirque Musica is the opposite, she adds.
Performing to full orchestral accompaniment is "an awesome feeling, because it's so powerful," observes Winn, who does an aerial act to "O Holy Night" and a hoops routine to "Winter Wonderland."
She's "the most flexible person ever," Gan says of Winn, whose aerial performance "just embellishes the orchestra in a visual way."
Despite Cirque Musica's musical focus, the circus part of the show came first, according to Cook, who spent 25 years in marketing with the Ringling Bros. and Barnum & Bailey Circus. (He also did a marketing stint with Madame Tussauds in Las Vegas in the late 1990s.)
As the Dallas Symphony's chief marketing officer, however, Cook noticed that symphonies were struggling to attract audiences. "Kids don't know the music," he says. So he sought to create a way to bring new people into the symphony hall and be entertained.
Six years ago, Cirque Musica debuted with the San Diego Symphony and "5,000 people were cheering and clapping during the piece," Cook recalls. "Kids were laughing. That's what we want."
Cirque Musica's North American tours did so well that it has expanded from theaters into arenas, he notes. "The holiday show started a few years ago and really exploded," with two units "crisscrossing the U.S. and Canada."
At about two hours, the show is "really, really family-friendly," Cook says. "It's made for kids, made for families." Including his own.
"I have a 5- and a 7-year-old," he notes. And the Cirque Music Holiday Spectacular is geared toward "what they like, what excites them."
Read more from Carol Cling at reviewjournal.com. Contact her at ccling@reviewjournal.com and follow @CarolSCling on Twitter.
Preview
What: Cirque Musica Holiday Spectacular
When: 7:30 p.m. Wednesday
Where: Orleans Arena, 4500 W. Tropicana Ave.
Tickets: $26.58-$77.98 (800-745-3000, www.orleansarena.com)