Downtown Las Vegas celebrates Chinese New Year with parade, festivities— PHOTOS
January 28, 2017 - 11:42 pm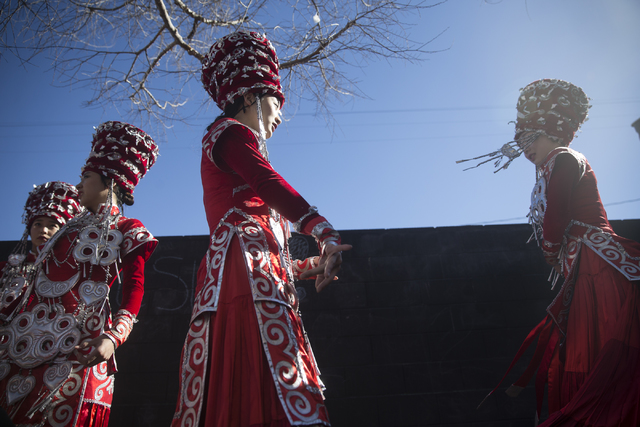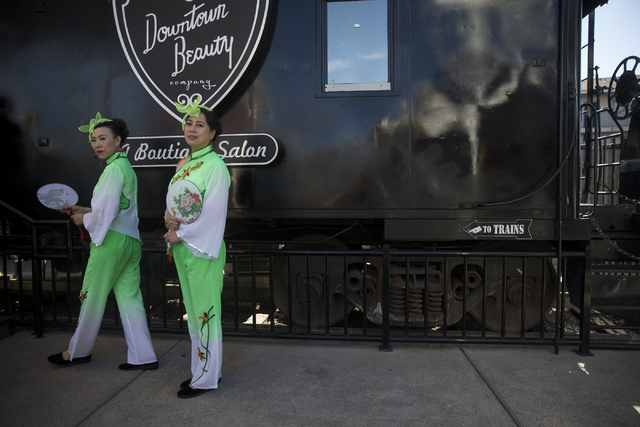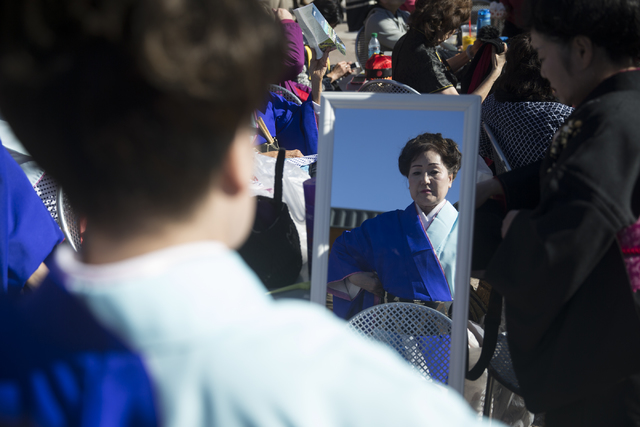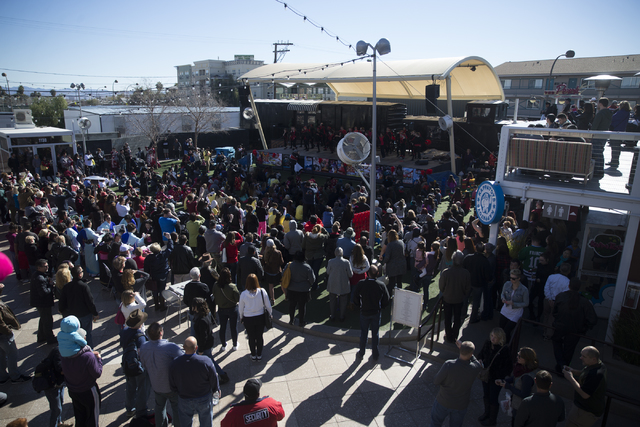 Downtown Las Vegas welcomed the Year of the Rooster with a parade, performances and an after-party Saturday during the sixth annual Las Vegas Spring Festival.
The celebration of the Chinese new year, also called the lunar new year, was a feast of sights and sounds: Children gazed as grinning women sang traditional songs, and painters made careful brushstrokes on images of roosters, monkeys and lions.
The downtown festivities, which began Saturday morning and lasted into the evening, were part of a four-day celebration that kicked off Friday evening and was organized by the nonprofit CNY in the Desert.
"It's important to us because it's bringing the whole community together," event organizer Jan-Ie Low said.
Groups of people lined up to watch people in dragon costumes and traditional dress on Fremont Street before heading to Container Park, where there were performances and crafts for children.
To Alicia and Jim Miller, it was a sort of welcome to the city.
The Northern California couple are moving to North Las Vegas, and Alicia Miller, who is a Chinese-American, said she was glad to see that Las Vegas celebrates the holiday she enjoyed as a child.
"They did a very good effort to be representative," she said. "It's just a continuation of a cultural tradition."
Miller fondly remembered collecting red envelopes with money inside as a kid and devouring noodles, chicken and oranges, what she called the staples of the celebration. But the most important part is gathering with family, she added.
To local Suggie Oh, the new year is an important opportunity to be immersed in her culture and family, and the parade and other festivities make that possible.
"It's a good way to hold on to your identitity," Oh said.
Her friend Peter Lee said it's hard to overstate the importance of the celebration.
"It's the biggest holiday in China," he said. "It's kind of like the Christmas over there."
Though it's often referred to as the Chinese new year, the lunar new year is also the basis of new year celebrations in Korea, Vietnam and other Asian nations. Each annual celebration has an animal symbol, and this year's symbol, the rooster, appeared on small and large paintings as well as banners downtown during the celebration.
Local artist and co-founder of the Guerrilla Artz Foundation Kim Johnson painted the symbol of last year's celebration, a monkey, on a crate in front of Container Park.
Johnson said she was grateful for the chance to show off her take on the playful monkey as she painted in front of a crowd, and she showed off artwork contributed to the event by children at Andre Agassi College Preparatory Academy and Opportunity Village.
"It's a great way for all of us to celebrate our artistic vision in such a wonderful city of diversity," she said.
Contact Pashtana Usufzy at pusufzy@reviewjournal.com or 702-380-4563. Follow @pashtana_u on Twitter.