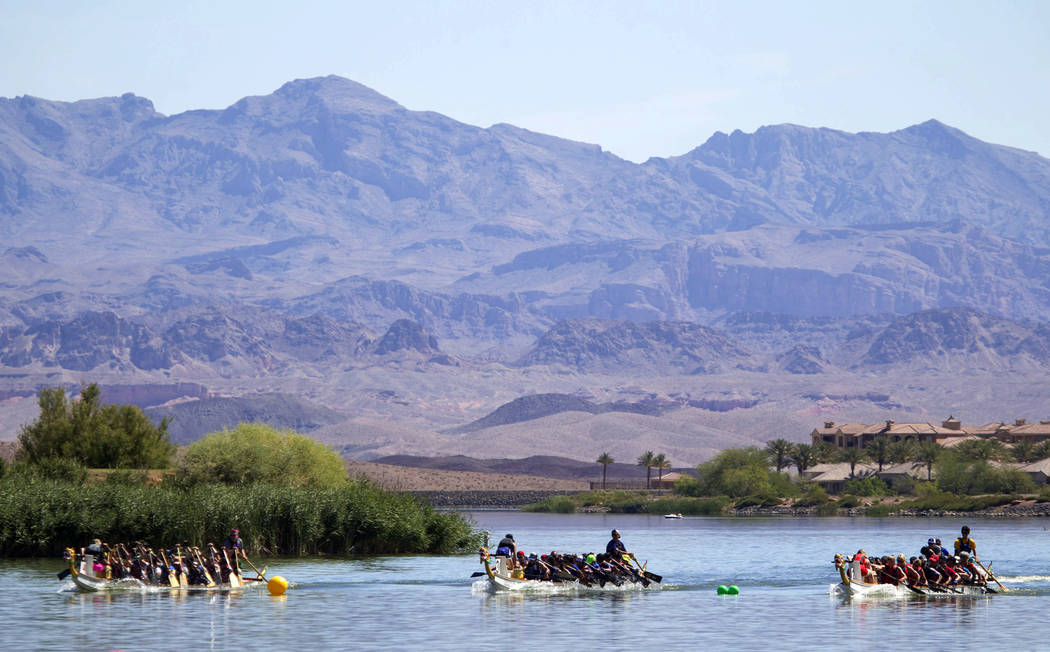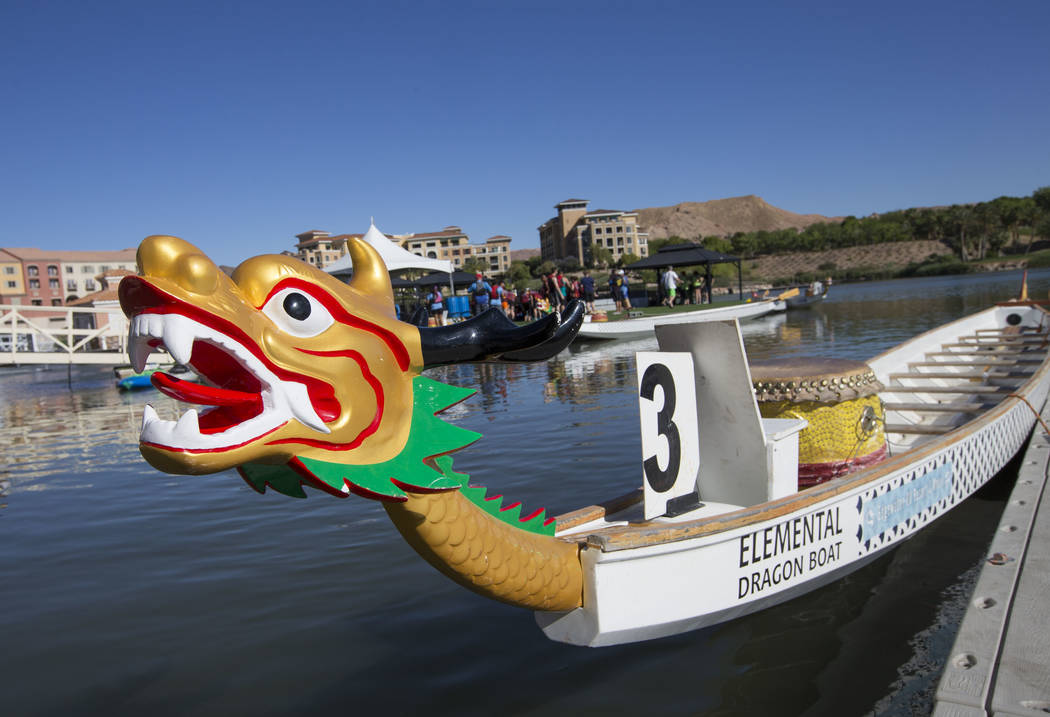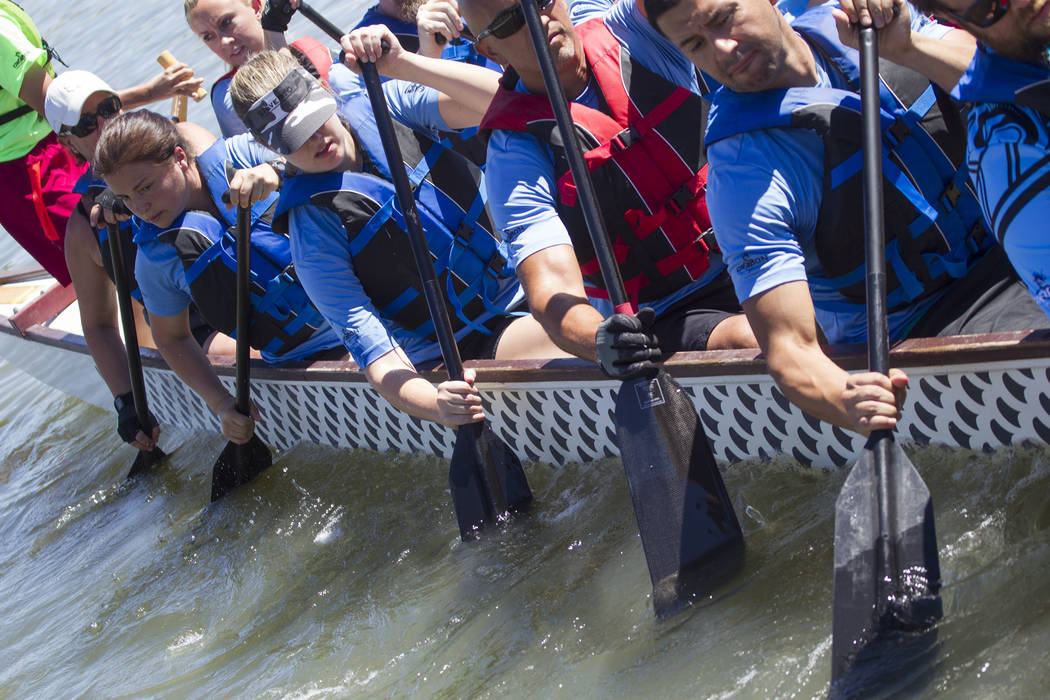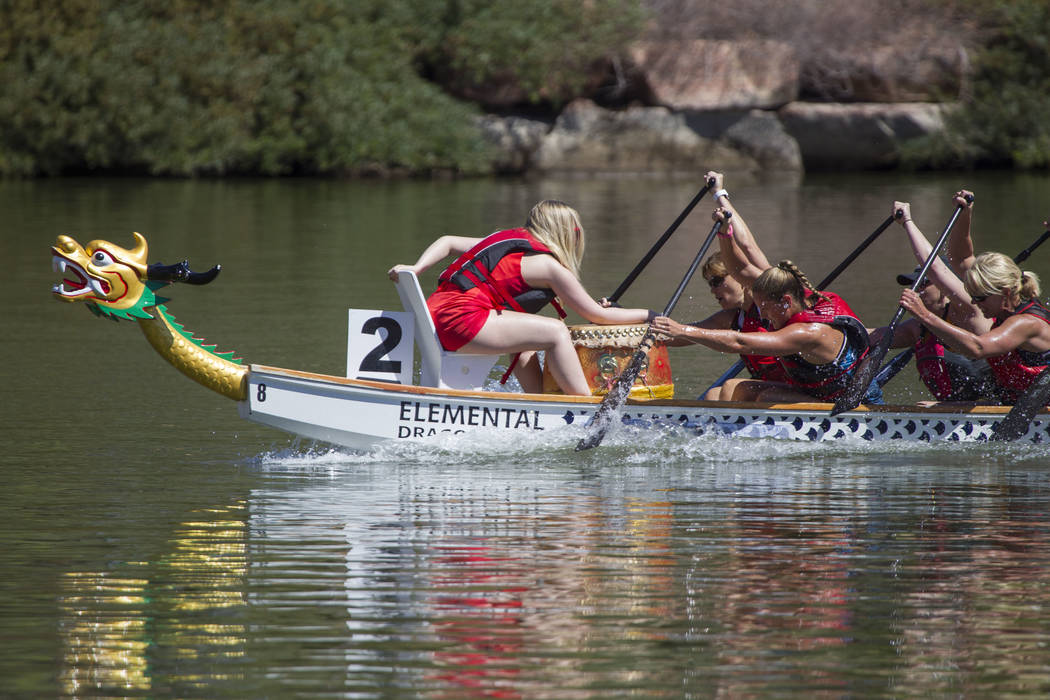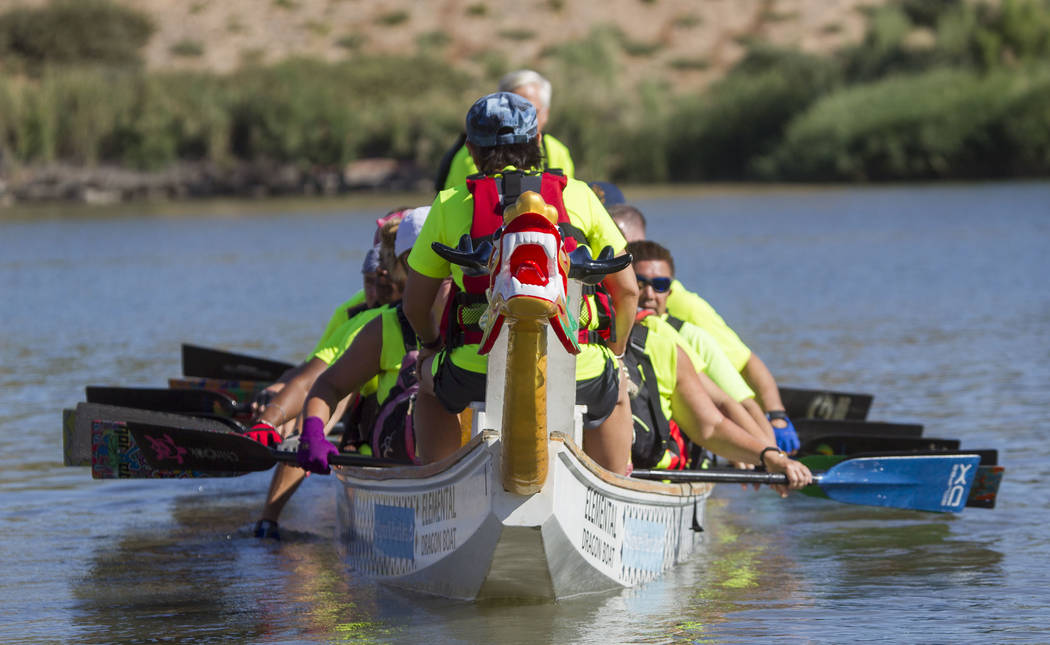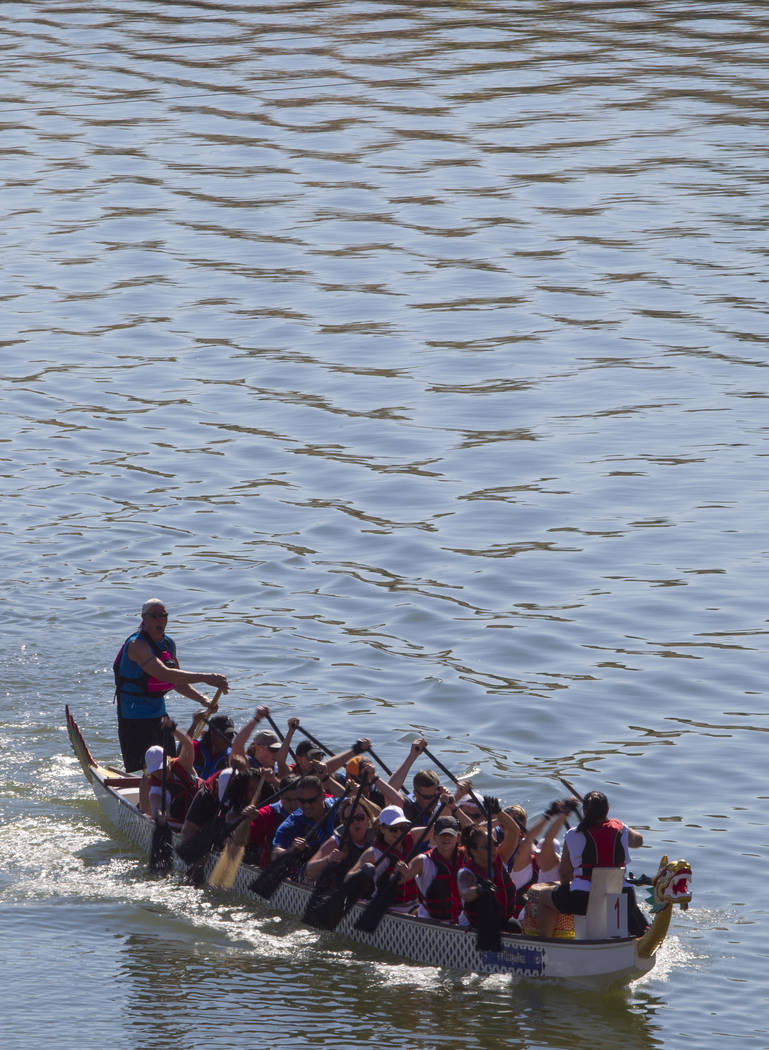 Long, sleek vessels graced with colorful dragon heads cut through serene, glistening waters in a quest to cross the finish line first during a weekend of races at Lake Las Vegas.
Teams from six western states and Canada competed in the second annual Nevada International Dragon Boat Festival at the Henderson lake. The two-day event featured 250-meter sprint and 500-meter races.
"Dragon boating is really all about having one boat, one beat," said Sherri Weaver, 52, president of the Dragonboat Racing Association Group of Nevada, a nonprofit with the primary purpose of promoting dragon boat racing in Nevada.
"People have to be in sync with each other or else that boat isn't going to go anywhere. It's really all about teamwork," she said Sunday.
Each vessel is powered by 20 people with paddles. One person in the front of each boat beats a drum to keep pace for the paddlers. Another in the back is in charge of steering the boat.
Since starting in 2016, the festival has grown from 14 to 28 teams. This year, the event drew teams from Nevada, Washington, Oregon, Arizona, Montana, California and Canada.
The festival this year broke new ground by hosting the first blind and visually impaired divisional race in the nation, Weaver said. The Flyin' Blind team, from the Blind Center of Nevada, competed against Blindstart, a California-based team.
"It's an awesome and exciting feeling when you get to compete," said Flyin' Blind team member Sylvia Montano, 48. "You just feel so energized. It's hard to describe."
"It's also a good social opportunity," chimed in team member Aarius White, 26.
Beyond the boat races
Racing teams weren't competing just for the sport — their participation also raised money for local nonprofit organizations.
Local team Rah Rah 4 the Ta-Tas competed to raise money and awareness for breast cancer. The team has three breast cancer survivors, including 61-year-old Patty Andrews.
"I enjoy the closeness and camaraderie of being on this team," said Andrews, a team member for nine years. "Some of us are breast cancer survivors, and all of us are supporters of the survivors and committed to creating awareness. It's the type of sport that creates a family."
Desert Dragons team member Lisa Brady said she has teammates who are breast cancer survivors and who were referred to the sport by doctors.
"This sport helps retain muscles and can be very therapeutic," she said Sunday.
Weaver, who is a Stage 3 breast cancer survivor, created the event in part to raise awareness for breast cancer and stress the importance of early detection.
This year, money raised goes to the Breast Care Center, Children's Cancer Center of Summerlin, Pueblo Medical Imaging and the Blind Center of Nevada.
To date, the Dragonboat Racing Association Group of Nevada and its teams have raised more than $44,000 for charities.
The festival also included cultural music, dance performances and children's activities.
"This is a beautiful venue with a great atmosphere and nice people," said Rosauro Espiritu, 53, of San Diego. "In boat racing we're all rivals, but we become friends as well. It's all part of the sport. We motivate each other."
The Nevada International Dragon Boat Festival is one of three dragon boat races held in Nevada. The others are the Northern Nevada International Dragon Boat Festival set for Aug. 19 in Sparks and the Rose Regatta Dragon Boat Festival slated for Oct. 14 at Lake Las Vegas.
Contact Sandy Lopez at slopez@reviewjournal.com or 702-383-4686. Follow @JournalismSandy on Twitter.
The history of dragon boat racing traces its roots to China more than 2,000 years ago, according to the Dragonboat Racing Association Group of Nevada's website, dragonboatnv.com.
The practice is believed to have started around the time of the first Olympic games in Olympia. However, it was only in 1976 that it became an international event after the Hong Kong Tourism Bureau organized the first international race, the website states.
The main legend (of boat racing) concerns a Chinese court official named Qu Yuan.
According to the website, in the year 278 B.C., upon learning of the upcoming devastation of his state from invasion by a neighbouring Warring State, Qu is said to have waded into the Miluo river, which drains into Dongting Hu (lake) in today's Hunan Province — near the provincial capital city of Changsha and south of the city of Yueyang on Donting Hu, site of the first IDBF World Dragon Boat Championship in 1996 — holding a great rock in order to commit ritual suicide as a form of protest against the corruption of the era.
The common people, upon learning of his suicide, rushed out on the water in their fishing boats to the middle of the river and tried desperately to save Qu Yuan. They beat drums and splashed the water with their paddles in order to keep the fish and evil spirits from his body. Later on, they scattered rice into the water to prevent him from suffering hunger. Another belief is that the people scattered rice to feed the fish, in order to prevent them from devouring the poet's body.