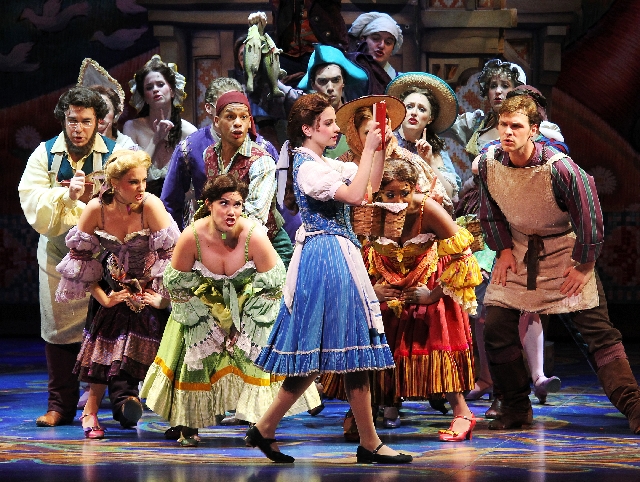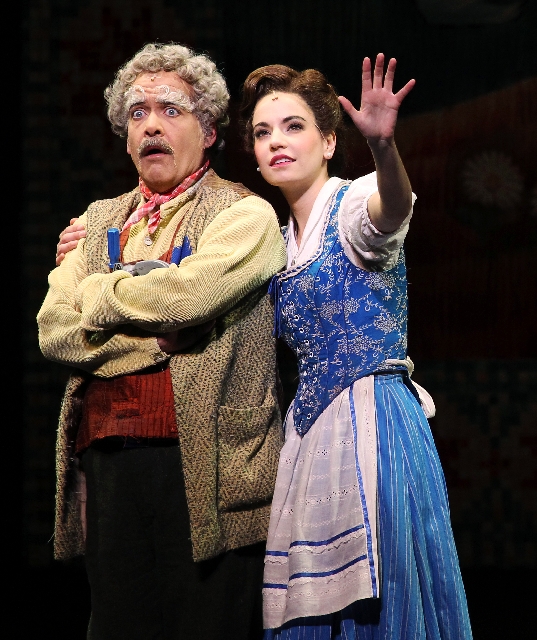 It's a bit disconcerting to realize that the live stage version of an animated musical is more cartoonish than the feature-length cartoon that inspired it.
Maybe if I'd never seen, and loved, the Oscar-winning 1991 Disney classic that started it all, I wouldn't be so "yes, but" about the touring stage version of "Beauty and the Beast" that continues at The Smith Center's Reynolds Hall through Sunday.
Much of what made the movie so magical — from its brainy bookworm heroine to the sparkling score by Alan Menken and the late Howard Ashman — remains.
Yet those enchanting elements seem offset by a bit too much bloat, a little too much forced, in-your-face comedy. In turn, that throws off the balance of humor and heart.
Happily, there's enough of each to keep "Beauty and the Beast" bubbling along. (Although, at 2½ hours — including intermission — it's a long sit for the younger kiddies, and all the stage magic in the world can't change that.)
A brief prologue explains how a handsome but heartless prince was cursed, and transformed, into a monstrous Beast (Darick Pead ), reminding us that "beauty is found within."
The scene then shifts to a provincial (in both senses of the word) French town, where Belle (Hilary Maiberger ), a misfit to her prosaic neighbors, escapes the workaday world through the wonder of books.
Even her intellectual instincts aren't enough to discourage the lunkhead local hunk, Gaston (big-voiced, buffoonish Joe Hager ) from pursuing beauteous Belle.
That is, until her absent-minded inventor father (William A. Martin) falls into the clutches of the reclusive Beast, prompting Belle's frantic search — and her brave decision to become the Beast's prisoner in exchange for her father's freedom.
Belle's arrival at the Beast's castle also signals possible freedom for the Beast's cursed staff, who are rapidly metamorphosing into household objects. There's motherly Mrs. Potts (a warm Erin Edell ) turning teapot (complete with spout) and candle-handed maitre d' Lumiere (debonair Hassan Nazari-Robati ). To say nothing of major domo Cogsworth (fussbudgety James May), on his way to becoming a perennially ticked-off clock.
If Belle can somehow bring out the Beast's loving side — assuming he has one — there's hope for them all.
Along the way, we're treated to such sprightly song-and-dance delights as "Be Our Guest" and "Gaston," with Matt West's inventive choreography amplifying the fun of the original Menken-Ashman songs. (The songs Menken wrote for the later stage version, with lyrics by Tim Rice, get the job done but rarely achieve the emotional impact of the movie originals, with the possible exception of the Beast's anguished first-act finale, "If I Can't Love Her.")
Director Rob Roth keeps things moving, if not always gracefully, while Stanley A. Meyer's flexible scenic designs and Natasha Katz's atmospheric lighting augment the fairy-tale feeling.
And in this production, we need all the fairy-tale feeling we can get — to counteract the show's over-the-top comedy, most egregiously embodied by Gaston's slapstick sidekick Lefou (Jimmy Larkin).
Even Pead's Beast sometimes falls victim to funny-or-die syndrome, diluting his character's melancholy with heaping helpings of broad, Cowardly Lion-style comedy.
As a result, it's up to Maiberger to hold everything — and bring everyone — together.
She handles the task with captivating ease, capturing Belle's adventurous spirit and open heart in consistently engaging fashion — even when she has to cut through the show's excess padding.
Once she (and we) get past that, however, "Beauty and the Beast" reveals its true nature — as a bright, lively storybook musical that earns its happy ending. (And almost earns its automatic standing ovation from the enraptured audience.)
Contact reporter Carol Cling at ccling@reviewjournal.com or 702-383-0272.
Review
What: "Beauty and the Beast"
When: 7:30 p.m. today and Friday, 9:30 a.m., 2 and 7:30 p.m. Saturday; 2 and 7:30 p.m. Sunday
Where: Reynolds Hall, The Smith Center for the Performing Arts, 361 Symphony Park Ave.
Admission: $24-$129 (extremely limited ticket availability; 749-2000)
Grade: B