Neon Museum offers up-close look at Fremont's iconic Blue Angel
Updated May 26, 2018 - 4:43 pm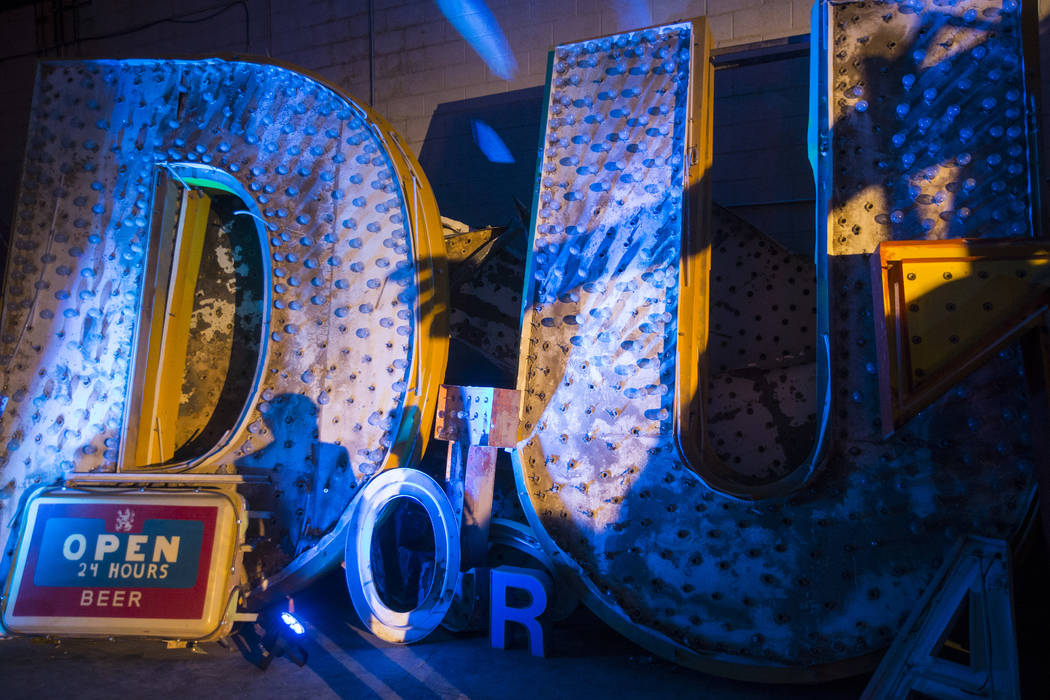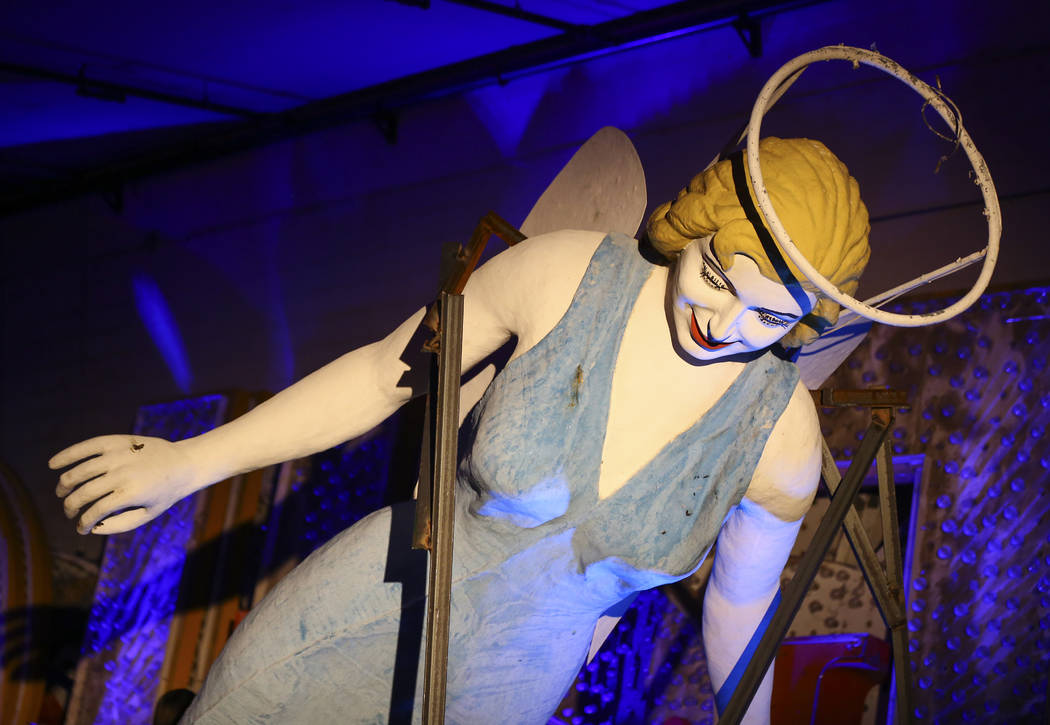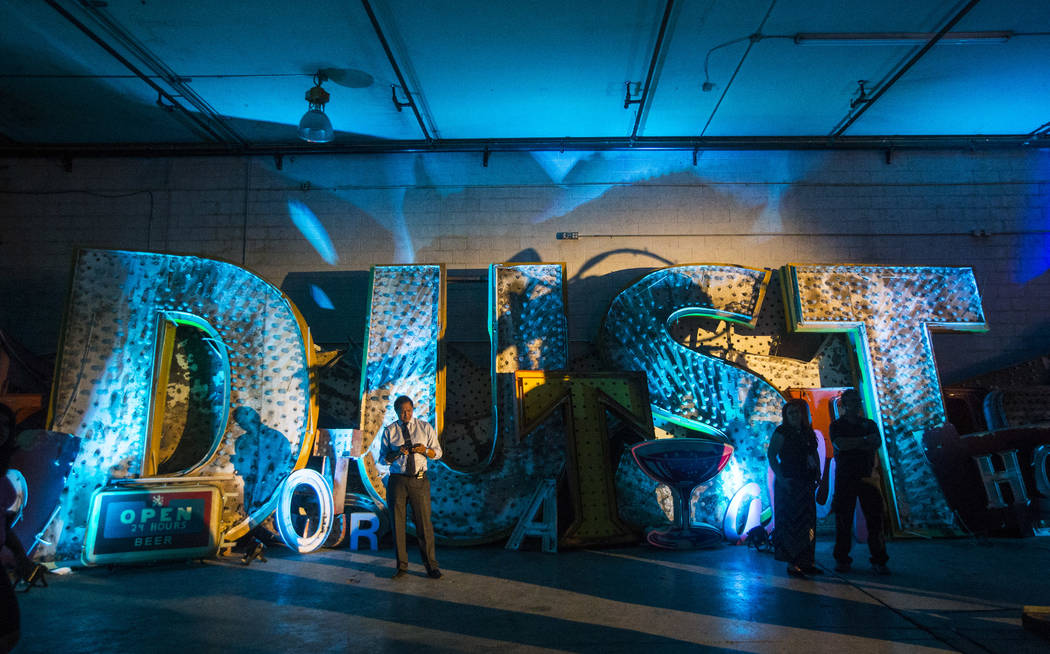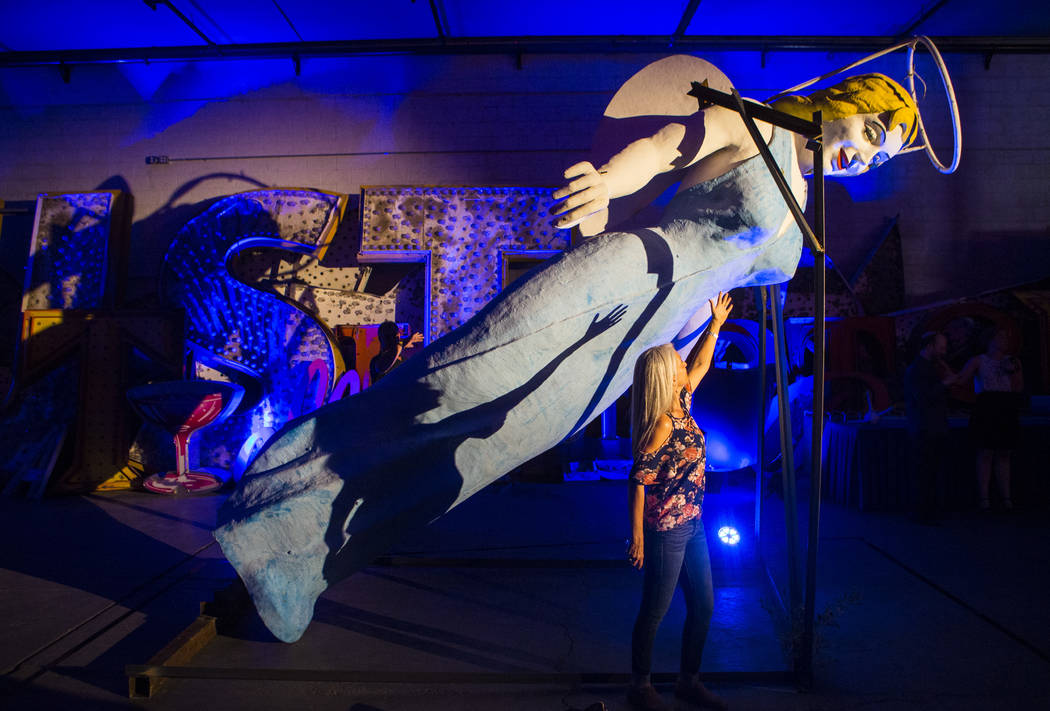 The 16-foot-tall lady who once stood atop the Blue Angel Motel cast her gaze over 100 people on Thursday at the Neon Museum's opening reception of "Blue Angel: Between Heaven and Earth," an exhibit honoring the decades-old sculpture before its restoration.
The blond-haired, blue-eyed fixture was surrounded by nostalgic hotel signs and slideshow displays of artistry inspired by her 61 years standing as the guardian angel of downtown Las Vegas. The exhibition is the first being shown at the museum's warehouse space at Ne10 Studio on West Bonanza Road.
"As a museum educator, personally, this is so gratifying to me, because I'm aware of the community love for this sign," said Cynthia Behr Warso, director of education and engagement at the Neon Museum. "Everyone's always asking what's happened to her. It just feels like a perfect fit for our mission. It's all about the community."
Designed by Betty Willis, best known for her design of the "Welcome to Fabulous Las Vegas" sign, Blue Angel has inspired several local artists — the work of many showcased at the event on-screen displays.
"At a time of life where Betty was, most things were male dominated," said Nancy Good, a local artist featured in the showcase. "But she was still finding success. (The Blue Angel) is rough — masculine in her femininity. And strong — but there's a delicacy to her still. I think that is very much a testament to the woman who designed her — a woman artist recognizing how tough women are."
Willis died in 2015, and many who remember her say she was humble about her work.
"I don't think she even thought what she did was iconic," said Robert Stoldal, a Las Vegas history expert and chairman of Las Vegas' Historic Preservation Commission. "To her, it was a piece of Vegas. She was very modest in her thoughts about her work."
Stoldal grew up in Las Vegas and remembers the Fremont Street of 1950s when the Blue Angel Motel opened. He recalls grabbing food with friends from the Blue Onion drive-in right up the street from the Blue Angel — passing by car dealerships and restaurants in the area. They'd cruise down Fremont — "being loud, being kids" — and look up to discover an angel staring down at them.
"As a teen I thought it was kind of odd," Stoldal said. "But I've certainly grown to appreciate it because it represents an important part of our history."
The temporary exhibit is a partnership between the Neon Museum, the city of Las Vegas and the Desert Space Foundation.
"I think she represents 'tikkun olam' — the healing of the world," said Joshua Abbey, director of the Desert Space Foundation and the Las Vegas Jewish Film Festival. "In these difficult times, anything that we can focus on and gravitate to that's a force for positive change and for encouraging people's hope for a better future, has to be acknowledged, cherished and preserved."
Contact Mia Sims at msims@reviewjournal.com. Follow @miasims___ on Twitter.