Popular musical 'Rent' at The Smith Center falls short of glory
February 1, 2018 - 12:23 pm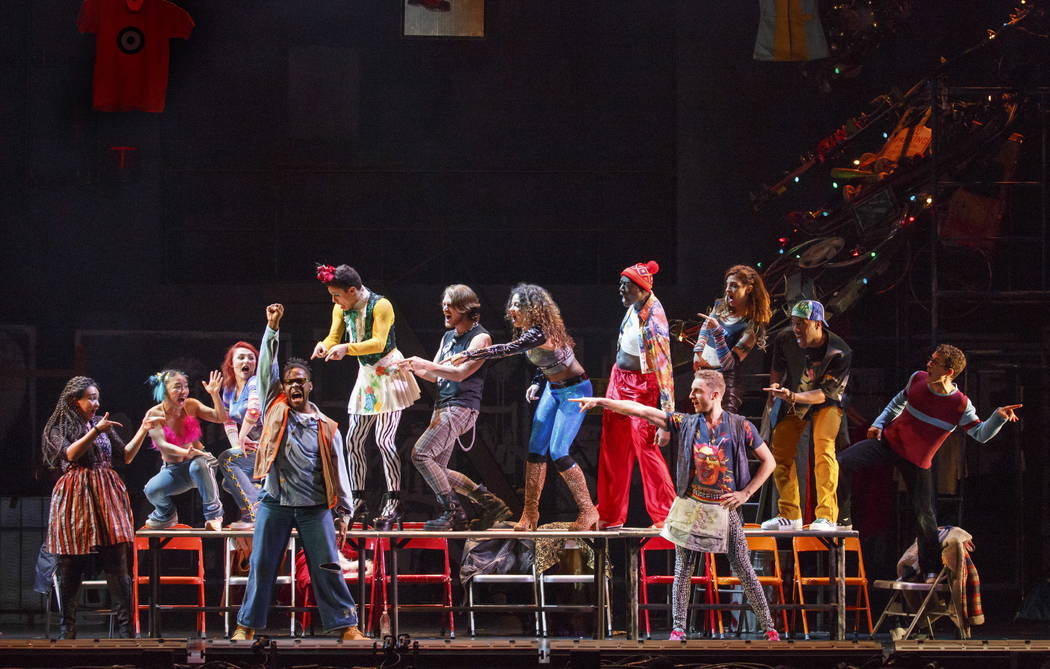 Forget regret.
That's what the youthful bohemians of "Rent" sing, in defiance of poverty, the political establishment, personal angst, looming doom.
It's apt advice, especially when considering the 20th anniversary tour of the landmark musical, which continues at The Smith Center through Sunday.
Writer-composer Jonathan Larson's Tony- and Pulitzer Prize-winning spin on "La Boheme" — which transports Puccini's young artistes of 19th century Paris to New York City's East Village "at the end of the millennium" — remains a lively and affecting portrait of starry-eyed dreamers confronting, and defying, the inevitable slings and arrows of existence.
Yet what once proved so gripping, and groundbreaking, seems a trifle quaint today. That's what happens to any of-the-moment sensation when its breakthrough moment passes.
Look beyond its dated elements, though — from pay phones to answering machines to HIV-positive status being an automatic death sentence — and "Rent's" essential relevance endures.
Issues from homelessness and urban gentrification to artistic integrity versus selling out remain undeniably timely. And we still understand, all too well, what aspiring filmmaker Mark (Sammy Ferber) means when he observes that "real life's getting more like fiction every day."
Mark serves as "Rent's" unofficial narrator, introducing his fellow dwellers of New York's gritty Alphabet City. There's his roommate and best friend Roger (Kaleb Wells), a wannabe rocker still struggling to move past his girlfriend's suicide. Mark's ex-girlfriend Maureen (Lyndie Moe), an over-the-top performance artist, has taken up with Joanne (Jasmine Easler), an attorney not quite at home — yet — among the artsy set.
Also on the scene: Mark and Roger's former roommate Collins (Devinre Adams played the role opening night), a philosophical academic who falls into the path, and under the spell, of the aptly named Angel (Aaron Alcaraz), an endearingly sassy street drummer.
And, of course, there's exotic dancer Mimi (Skyler Volpe) — sex kitten on the outside, scared kitten on the inside — who just might be able to pull Roger out of his existential funk. Assuming, of course, that Mimi can keep her own demons at bay.
Larson's eclectic rock score remains as vital and inventive as ever (sample beguiling rhyme: "curry vindaloo" and "Maya Angelou") and the performers deliver it in solid, if not always soul-deep, style.
Working from original director Michael Greif's template, tour director Evan Ensign keeps things moving — sometimes to the point of rushing, thereby undermining "Rent's" considerable emotional impact.
That's especially problematic during the second act, when all too real anguish replaces tortured-artist preoccupations, forcing "Rent's" characters to confront death as well as life.
As a result, this "Rent" misses its full potential, emerging more as a collection of moments than as a cohesive, transcendent and transformative whole.
But forget regret — and concentrate on the strengths of "Rent" that remain.
Preview
■ What: "Rent"
■ When: 7:30 p.m. through Sunday; also 2 p.m. Saturday and Sunday
■ Where:Reynolds Hall, The Smith Center for the Performing Arts, 361 Symphony Park Ave.
■ Tickets: $36-$127 (if available), plus $21 rush tickets at the box office two hours before each performance (thesmithcenter.com)
■ Grade: B-
Contact Carol Cling at ccling@reviewjournal.comor 702-383-0272. Follow @CarolSCling on Twitter.