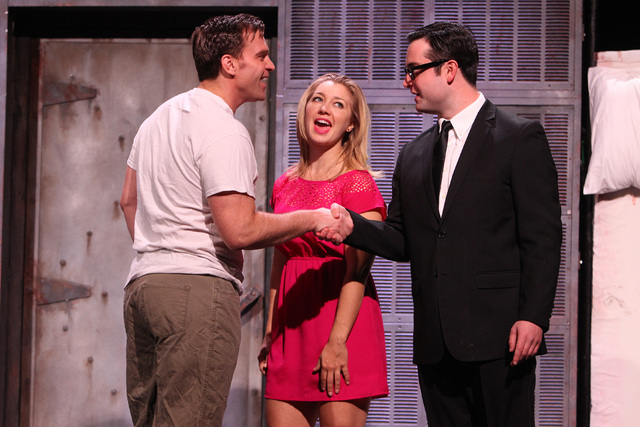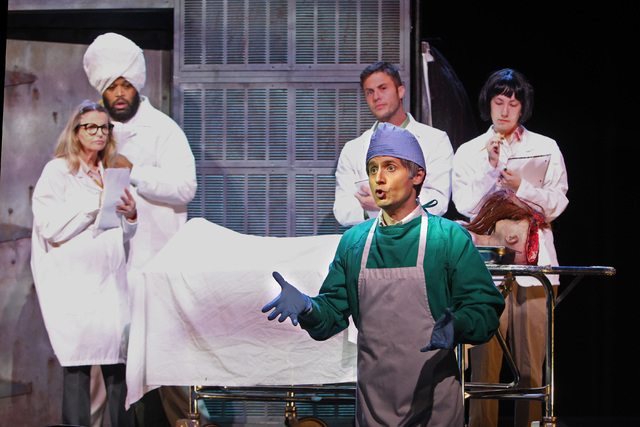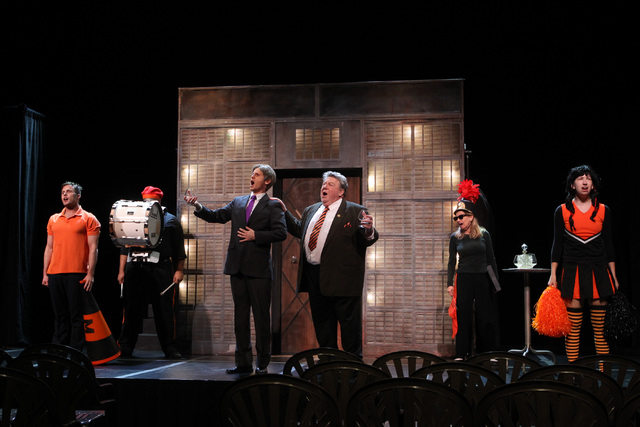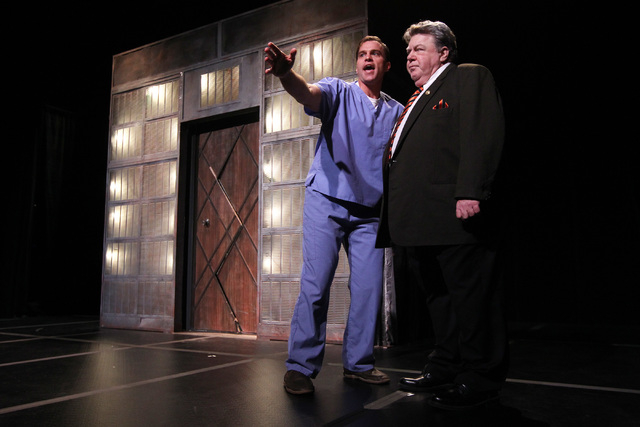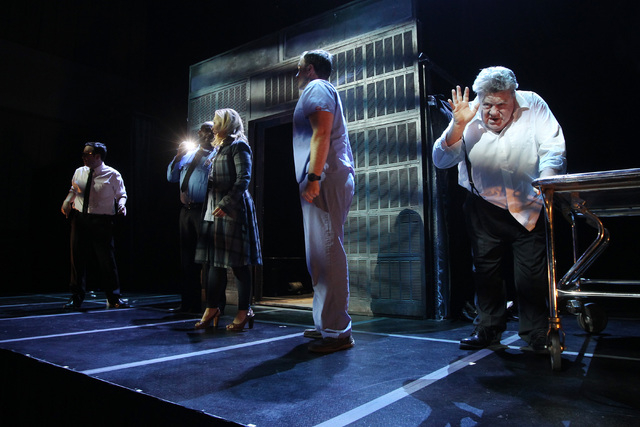 There will be blood. Copious amounts.
So copious, in fact, that the squeamish are advised to arrive early and sit far away from the first three rows — which have been designated "Splash Zones" for those willing to wear plastic-bag ponchos and brave frequent floods of stage blood. (To say nothing of the pass-around body parts and other break-the-fourth-wall assaults on the audience by the enthusiastically demented players.)
Fortunately, there will also be laughs — which is precisely the point in "Re-Animator the Musical."
An L.A. import playing The Smith Center's cozy Troesh Studio Theater through Jan. 18, "Re-Animator" is aptly named.
It's based on the 1985 cult movie (a critics' award-winner at the annual Cannes film festival, mind you) based on a 1922 H.P. Lovecraft tale that originally appeared as a six-part serial in something called Home Brew Magazine.
That gives you some sense of the show's campy origins, which this musical adaptation scrupulously respects — and resurrects.
It helps that the movie's writer-director, Stuart Gordon, is back to helm the show — and that he and co-writers Dennis Paoli and William J. Norris maintain the movie's delirious mix of humor and horror.
It helps even more that Mark Nutter's witty, derivative-by-design score not only carries the narrative (there's hardly any spoken dialogue, aside from the groans and screams) but reflects "Re-Animator's" slice-and-dice aesthetic.
Listen closely and you'll hear echoes of everything from Gilbert and Sullivan to Bernard Herrmann's classic "Psycho" score, complete with shrieking strings, along with a gut-busting variation on Frank Sinatra's "My Way." (A special shout-out to music director Peter Adams, who must have borrowed a spare hand from one of the onstage corpses to help him keep up on the keyboards.)
In a series of skitlike scenes, we witness the often hilarious terror that ensues when mad med student Herbert West (owlish, bespectacled Graham Skipper — think Harry Potter-meets-Young Frankenstein) develops a glowing green serum capable of reviving the dead.
Such a shame it transforms its recipients into raging zombies.
Still, sacrifices must be made on the road to scientific triumph — some of whom may be, in no particular order, Herbert's jealous medical school professor (the operatically trained, uproariously over-the-top Jesse Merlin); the ambitious medical school dean ("Cheers' " George Wendt, going from Norm to abnormal in briskly comic style); and the dean's winsome daughter Meg (a slyly perky Jessica Howell).
Alas, Meg's dreams of a fancy formal wedding to Herbert's roommate, never-say-die med student Dan Cain (the amusingly earnest Darren Ritchie), seem doomed once Herbert starts re-animating unsuspecting subjects — starting with Dan's cat Rufus.
Credit the award-winning special effects crew ("Re-Animator" movie veterans John Buechler, Tony Doublin and John Naulin, along with Tim Devlin and Greg McDougall) with "Re-Animator the Musical's" impressively in-your-face array of giggle-inducing gross-outs.
They may be tasteless, shameless and nasty.
But they're also the point in "Re-Animator the Musical," so there's no point in pointing out what's missing: the utter lack of characterization, let alone character development, that would give all the camp-it-up comedy some genuine emotional impact.
Don't laugh; even horror musicals can have heart along with all the blood. Think of Stephen Sondheim's masterpiece "Sweeney Todd" (which bestrides the narrow subgenre like the colossus it is) or even "Little Shop of Horrors," which gives its characters — human and otherwise — genuine yearnings, motivations and emotional shadings.
"Re-Animator the Musical's" not interested in any of that, of course. It just wants to give its audiences a (literally) bloody good time. And on that score, it scores.
Contact reporter Carol Cling at ccling@reviewjournal.com or 702-383-0272. Follow @CarolSCling on Twitter.
Review
What: "Re-Animator the Musical"
When: 8 p.m. Thursday and Friday, 2:30 and 8 p.m. Saturday and Sunday; also 8 p.m. Jan. 13-16, 2:30 and 8 p.m. Jan. 17-18
Where: Troesh Studio Theater, The Smith Center for the Performing Arts, 361 Symphony Park Ave.
Tickets: $44 (702-749-2000, www.thesmithcenter.com)
Grade: B