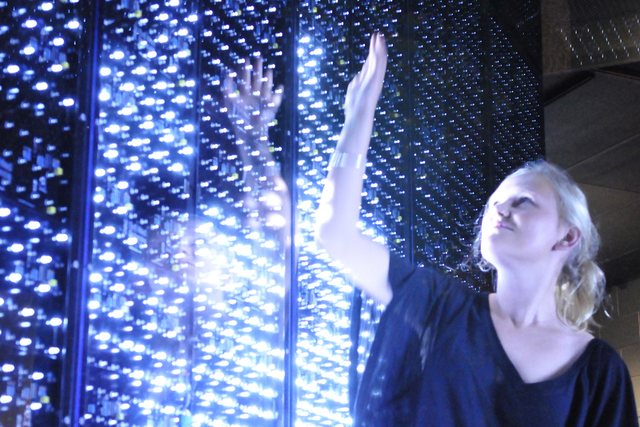 'Playing With Light'
Illumination is as close as the Springs Preserve, thanks to the new touring exhibit "Playing With Light," where interactive exhibits give visitors the chance to sneak past a laser-light security block, step inside a giant telescope and more. The Origen Museum exhibit is included with admission ($4.95-$9.95 for Nevada residents, $10.95-$18.95 for nonresidents). For more information, visit www.springspreserve.org.
'A Few Good Men'
Can you handle the truth? That is the question — one of them, anyway — in Aaron Sorkin's tale of a young Navy lawyer who uncovers a high-level conspiracy while defending two Marines accused of murder. Magnolia Productions stages the court-martial drama at 8 p.m. Fridays and Saturdays and 5 p.m. Sundays through July 3 at the Onyx Theatre, 953 E. Sahara Ave. For tickets ($20), visit www.onyxtheatre.com.
Juneteenth Festival
Celebrated every June 19, Juneteenth commemorates the June 1865 announcement of slavery's abolition in Texas. And Las Vegas' 16th-annual Juneteenth Festival will mark the occasion with historical storytelling — as well as entertainment, shopping, food and fun — from 6 to 9 p.m. at Lorenzi Park's Sammy Davis Jr. Festival Plaza, 720 Twin Lakes Drive. The festival is free ; refreshments will be available for purchase . For more information, visit www.june19lv.com.
'Ancient Rome'
With apologies to Caesars Palace, "Ancient Rome: The Empire That Shaped the World" — which continues through Sept. 11 at the Las Vegas Natural History Museum, 900 Las Vegas Blvd. North — offers a more accurate excursion almost 2,000 years back in time. More than 50 displays offer hands-on experiences, from navigating the empire through ancient maps to telling time via sundial. Museum hours are 9 a.m. to 4 p.m. daily; admission is $5-$10. For more information, visit www.lvnhm.org.
'Cabaret'
Life will always be a cabaret, but the national tour of the Tony-winning "Cabaret" revival hits the road after this weekend's shows. So what good is sitting alone in your room? Maybe this time you'll decide to come for a holiday at The Smith Center; performances continue at 7:30 p.m. through Sunday, with 2 p.m. matinees Saturday and Sunday. Tickets are $29-$129 and may be reserved at www.thesmithcenter.com.