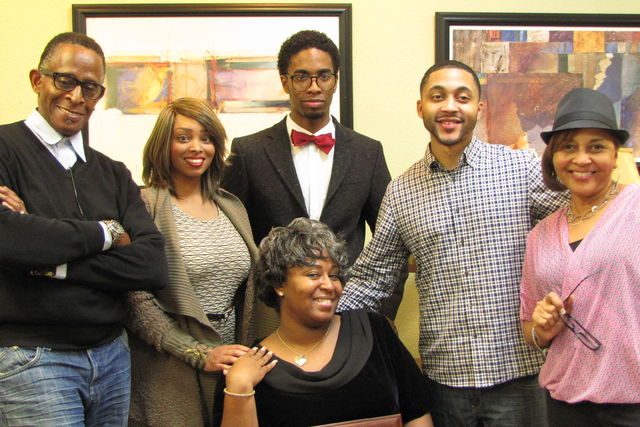 During 2008, when the country was going through financial hardships, many families had to persevere to make it through.
Those stories of struggle and endurance inspired Frances Hall when she wrote her gospel production "Troubled Waters."
"I think these are real issues that people can relate to," Hall says. "I think the story of the play is timeless and can still apply today."
"Troubled Waters" is scheduled for 7 p.m. Friday at the West Las Vegas Library Theatre, 951 W. Lake Mead Blvd. The performance is free and open to the public. It is part of the Martin Luther King Week celebration happening throughout Las Vegas.
It all started when Hall, a Clark County School District administrator, wanted to use her degree in English.
"I am a former English teacher," she says. "I have always enjoyed writing as a pastime and I'm a big fan of gospel plays."
The gospel play she came up with was "Troubled Waters."
Hall says she wanted the story to revolve around a family that must band together to overcome adversity. Along the way, each member overcomes an individual struggle.
"I have a strong belief in the family unit," she says. "I believe they are a support system that can get you through the challenges and issues you face."
The play, set in 2008, follows the lives of the Waters' family. The patriarch dies, and because of financial hardship, the mother's oldest son has to move back home.
"Then you have the daughter who has kept this secret from her family we find out," Hall says. "And the youngest son is on the verge of financial devastation."
The family relies on faith and each other to weather the struggles.
"There is really a gamut of emotions you see each character go through," Hall adds. "You can easily relate to these emotions."
The story also centers around faith.
"I have a religious upbringing," Hall says. "My faith and religious values are close to me so when I developed the play, I put them into the play."
Hall then submitted her play to a playwriting competition with the National Black Gospel Play Association, which honored her as its national grand prize winner in 2013.
"I am really humbled by the honor," she says.
The Martin Luther King Jr. Committee, which organizes the yearly parade and celebration, heard about Hall's achievement and asked for her participation for King Week in 2014.
"And it just took off from there," she says.
To carry out the play's vision, she collaborated with Antonio Fargas, who has worked on Broadway and in movies. He is most associated with his role as Huggy Bear on television's "Starsky and Hutch."
He became the play's original director. Fargas says the play continues to develop, growing stronger as time goes on.
"It's like seeing an actor on opening night opposed to seeing him months later," he says. "They have time to grow into the role and strengthen the character."
They put on the show again in July.
This year, Fargas and Hall have brought on Torrey Russell, who is affiliated with A Source of Joy Theatricals and Broadway in the Hood, along with Andrew Mays to co-direct the play.
"We wanted to be able to mentor younger talent," Fargas says, adding they bring a fresh perspective.
"Troubled Waters" isn't all that Hall has in store.
She wrote two more parts of the family's saga: "Silent Water Falls" and "Still Waters."
"They are written, I am just fine-tuning them," she says.
Once the other two plays are ready for production, Fargas imagines that they would have a time when they would run them in sequence.
For now, they are excited for this production to open.
"I am amazed and in awe we are in our third run," Hall says. "There is such a rawness and relatability to the story. I think people are really going to enjoy it."
Contact reporter Michael Lyle at mlyle@reviewjournal.com or 702-387-5201. Follow @mjlyle on Twitter.
Preview
What: "Troubled Waters"
When: 7 p.m. Friday
Where: West Las Vegas Library Theatre, 951 W. Lake Mead Blvd.
Admission: Free (702-507-3989)