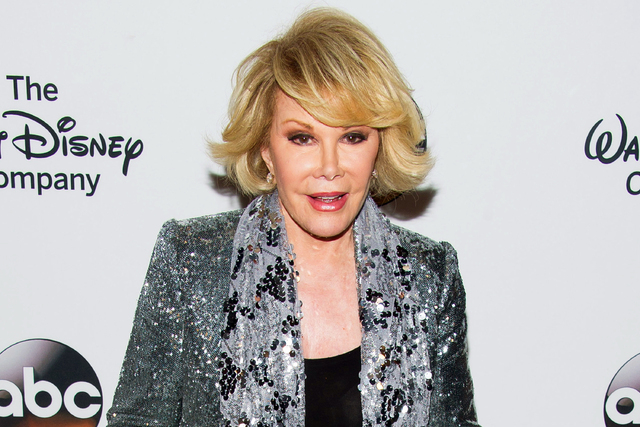 Perseverance took Joan Rivers to the top, says Las Vegas comedy legend Shecky Greene.
But winning over Johnny Carson put her over the top, Greene said Thursday from his home in California.
"When I first met her, I thought she was very good," said Greene, now 88. "But in show business, you gotta get over the hump. There was something special she had that, once she got over that hump, they loved her.
"Once she got on the Carson show and the way he handled it with her, with the laughter, if she made Johnny Carson laugh, Nebraska accepted her, Iowa accepted her, Middle America accepted her. They got over that New York thing," he said.
"I thought she had lot of balls, but not like she had now. She didn't give a (expletive) because she got so big, she had one limousine following another limousine."
Greene said he was very fond of Rivers' husband, Edgar Rosenberg, and got along with Rivers fine. But he wasn't happy when Rivers, in one of her books, suggested he ran from fame.
"She said I was tremendous, but she didn't understand why I didn't want to be a star."
Not long after the book came out, some friends called Greene and said they were having dinner with Rivers and she asked them to invite him.
Rivers must have picked up a vibe from Greene, because "she never looked at me. She was frightened to death. She didn't say six words to me."
"She didn't understand why I didn't have that New York thing."
I asked Greene to explain the "New York thing."
"Those kids from New York had a different love for show business than I had. Billy Crystal, who I adore, has a same kind of background. They became writers and actors.
"I wasn't that crazy about show business. I made a wonderful living out of it, but I was hiding out at the racetracks. She thought everybody was like her."
I told Greene the Las Vegas New Bureau sent out photos Thursday of marquees featuring Rivers and Greene at the same hotels at the same time. The earliest photo showing Rivers headlining was Nov. 11, 1969, at the Riviera. Greene was the king of the lounges in those days.
Ten years later, they were on the same marquee at the Sands on July 5, 1979, when she was headlining with Tony Bennett, who had top billing.
Greene's competitive spirit flared during the conversation about marquees.
"I don't think she could have followed me," he said. "No one could have followed me then. That's arrogant and conceited, and I want it to be that way."
JOAN RIVERS: R-J COLUMNIST
While researching Rivers' Las Vegas years, R-J colleague Mike Weatherford uncovered a gem. In an Aug. 19, 1991, column, former R-J editor Don DiGilio recalled how he and Rivers had "comically crossed paths" in the mid-1970s.
The introduction came when longtime Las Vegas publicist Mary Rettig accompanied Rivers into the editor's office.
Rettig said Rivers wanted to write a humor column for the R-J and handed over a couple of columns. Rettig and Rivers returned a couple of days later, and DiGilio informed them he was hiring Rivers.
"Always the comic, Rivers acted so surprised that she fainted dead away in my office," wrote DiGilio.
The article doesn't say how long Rivers' column ran, if indeed it truly happened; but DiGilio said several years later, "after she made it big and appeared at Caesars Palace, she invited me and my family to join her in her dressing room after one of her shows."
AEG DENIES REPORT
AEG Live, operators of the Colosseum at Caesars Palace, issued a press release to rebut a report that country stars Blake Shelton and Miranda Lambert turned down $1 million to perform for a weekend at Caesars Palace.
AEG Live said the report by TMZ.com "was not true." TMZ said Shelton and Lambert countered with $1.25 million, but AEG Live backed away.
AEG's statement read: "AEG and Caesars Entertainment have a wonderful relationship with Blake and Miranda, and would love the opportunity to have them perform at any of their venues worldwide, including the Colosseum at Caesars Palace, but the report is not true."
THE SCENE AND HEARD
The 35th anniversary Chippendales reunion will be held Sept. 20 at the Rio featuring about 100 former and currents Chipps.
SIGHTINGS
Mike Tyson, posing for photos with the staff at Mundo Mexican restaurant Thursday at the World Market Center. After lunch he headed to H Studio with an interior designer to do some shopping. … Film director and producer Michael Bay and "Beacher's Madhouse" producer Jeff Beacher, dining Wednesday at STK (Cosmopolitan) before heading for Light at Mandalay Bay. … Comedy hypnotist Marc Savard appeared on the History Channel's "American Restoration" show Wednesday. Savard brought in a 1953 table hockey game that belonged to his wife's father when he was a kid. Savard had it restored to surprise his wife on the show.
THE PUNCH LINE
"The NFL season kicks off (Thursday) night. And then Friday is the start of the Super Bowl pregame show." — David Letterman
Norm Clarke's column appears Sunday, Monday, Wednesday and Friday. He can be reached at 702-383-0244 or email him at norm@reviewjournal.com. Find more online at www.normclarke.com. Follow Norm on Twitter @Norm_Clarke. "Norm Clarke's Vegas," airs Thursdays on the "Morning Blend" on KTNV-TV, Channel 13.