Even near death, Merle Haggard kept his dignity in Las Vegas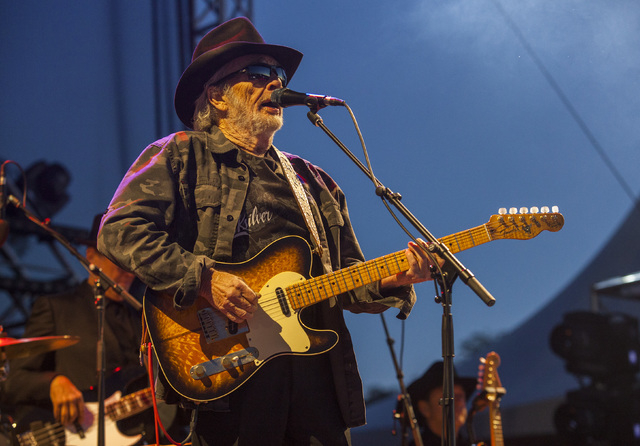 Country-music icon Merle Haggard performed for one of his last shows during Super Bowl weekend at Mandalay Bay.
His health had declined to the point that he needed a Plan B.
Haggard, who died Wednesday on his 79th birthday, should have been in a hospital, "not on a stage," according to friend and actor W. Earl Brown.
"Merle had already canceled months of shows, but this particular booking was a big payday. Merle had to pay his band and crew, so there was no calling in sick for this gig," Brown wrote on his Facebook page.
Fellow country star Toby Keith was in Las Vegas with his wife and got word that Haggard also was in town doing the show in a Mandalay Bay ballroom.
When Keith showed up at the event, Haggard "was in bad shape," Brown wrote. "Merle would not take charity from anyone, but he did turn to Toby and say, 'How many of my songs do you know?'
"All of 'em," said Keith.
"All of 'em?"
"Yep," said Keith. "And I won't need a teleprompter."
"Well, stay nearby," said Haggard.
Brown continued, "After four or five songs, Merle's infected lungs were spent. He couldn't draw enough air to sing any longer."
Haggard told the audience he had a special guest.
Keith came on and finished the show. "And the audience, while not realizing it at the time, saw something special," wrote Brown.
"Thanks to Toby Keith, Merle exited the stage with his dignity intact," wrote Brown, who starred in HBO's "Deadwood" as hired gun Dan Dority.
Haggard had a longtime friendship with Las Vegas gaming pioneer Benny Binion. They shared a common bond: time in prison.
"Merle named his youngest son Benion. He goes by Ben," Binion's daughter, Becky Behnen, said Thursday in a telephone interview.
"Merle and Dad were very close. He called my father Dad," Behnen said. "My father lived with me at my house his last six years. Merle was here a lot. They always enjoyed eating chicken and dumplings a lot."
Benny Binion, who opened Binion's Horseshoe Casino in 1951 and later founded the World Series of Poker, died Christmas Day, 1989. He was 85.
CLOSE ENOUGH
Back on Oct. 26, two weeks before the announcement of the opening-night lineup for the new Strip arena, I wrote here: "If the arena decision-makers want to blow the roof off, I say bring in local heroes The Killers and Imagine Dragons."
Close enough for a shameless plug: I happily recalled that prediction on Wednesday night near the finale at T-Mobile Arena when Brandon Flowers, The Killers frontman, teamed up with Dan Reynolds, frontman for Imagine Dragons.
"You're supposed to blow the roof off a new venue," Flowers told the crowd. "We're gonna test the foundations."
ON THIS DAY
April 8, 1999: The Las Vegas Planning Commission unanimously rejects a plan by Stratosphere founder and legendary character Bob Stupakto build a 1,200-room, $400 million dollar hotel shaped like the Titanic, complete with iceberg. At the presentation, former Broadway star Robert Goulet sings a Titanic song that Stupak wrote.
SIGHTINGS
The Killers' Flowers and Ronnie Vannucci, presented with crystal keys to the Las Vegas Strip by Clark County Commission chairman Steve Sisolak on Wednesday during a preshow press conference in front of the arena.
THE PUNCH LINE
"A new study claims one in 50 men is unwittingly raising someone else's child. I was shocked, and so was my son, 'Rodrigo Garcia.' " – Conan O'Brien
Norm Clarke's column appears Sunday, Monday, Wednesday and Friday. He can be reached at 702-383-0244 or norm@reviewjournal.com. Find more online at www.normclarke.com. On Twitter: @Norm_Clarke