'Absinthe's' Gazillionaire makes his mark on Las Vegas
Updated May 7, 2018 - 6:10 pm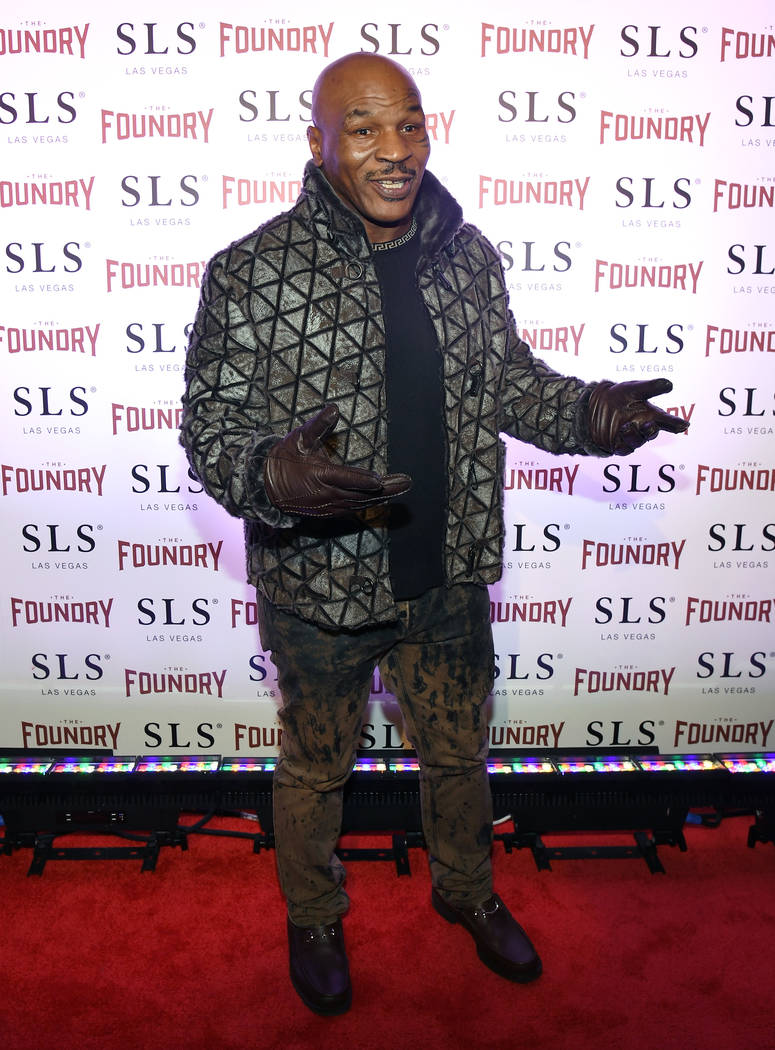 The Kats! Bureau at this writing is the Caesars Palace sports book. We're ensconced in the VIP area, outfitted with power outlets and side tables for fizzy-water placement.
Earlier, Clark County Commissioner Lawrence Weekly issued a proclamation that May 7 is Absinthe Day in the county, handed a crystal key to the Las Vegas Strip to an indifferent Gazillionaire and renamed the Strip Gazillionaire Blvd. in honor of the character host and producer of the show.
I loved Weekly's presentation. As he took the stage at Bella Luce Terrace just behind the Spiegeltent, he glanced at the slick-haired and garishly tuxedoed Gaz and his daffy green-skirted sidekick Wanda Widdles and said, "What kind of assignment did I get myself into today?"
The street renaming is for one day and entirely ceremonial (a study in fiction, similar to the show) honoring "Absinthe's" seventh anniversary at the Spiegeltent at Roman Plaza.
After the event, Caesars Palace President Gary Selesner, who helped forge the deal that brought "Absinthe" to the Strip, said he thinks the show can remain a powerful box-office draw even as Spiegelworld has opened "Opium" at a competing property, The Cosmopolitan of Las Vegas.
Acts from that show, which opened in March, were to perform in Monday's anniversary celebration at Caesars.
"I think the fact that this team is confident in having a show somewhat like 'Absinthe,' but at the same time different, says that the market can support this type of internal competition, and I agree with that," Selesner said. "Their success with 'Absinthe' will likely cause others to think they can bring this type of show to Las Vegas, with 45 million visitors a year. Spiegelworld obviously feels they can achieve success with multiple shows, and I haven't seen 'Opium' yet, but I understand it is a different scale of show."
Selesner recalled the show's meandering opening months in its original Spiegeltent, which nearly collapsed under a heavy October rainstorm (the tent was replaced with a $4 million venue after the show re-signed with Caesars Entertainment).
"Honestly, it took about six months for the show to jell," Selesner recalled. "After that rocky start, word of mouth took hold and it became a hit. At that point we started to fill all the shows, and I thought, 'Wow, this might have a really good chance for a lengthy run.'
"But if you had told me at the beginning that the show would run seven years, I would have said you were crazy."
Golden Knights' Gray
Those who recognize newsmakers in VegasVille caught Palms General Manager Jon Gray and his wife, Ruth, seated behind the Vegas Golden Knights' bench Sunday during NBC Sports Network's broadcast of the Knights' Game 6 victory at San Jose.
The Grays are bona fide VGK fans — and Ruth has the NHL in her blood, having grown up near Minneapolis as a fan of the Minnesota North Stars and Wild. Their 6-year-old son, Nash, plays for the Junior Golden Knights.
Both Grays posted pics and video to Instagram during the game, including a trick slow-motion clip of James Neal batting a pyramid of pucks to the ice for pregame warm-ups. Gray didn't call in any favors for the tickets — but did put down some serious cash for the two seats at SAP Center. He hit the nhl.com ticket link Friday and scored the pair for a total of $1,900.
The Palms exec said, "We are just huge fans, and Ruth is literally obsessed."
Tyson's not a fan
Bruce Willis has signed on to star as the late boxing trainer Cus D'Amato in the upcoming feature film "Cornerman." The film chronicles D'Amato's time as trainer and mentor to 13-year-old Mike Tyson, who is not backing the project. Kiki Tyson, Mike's wife and chief confidante, said in a text Monday, "Mike is not supportive of the project."
The couple declined further comment.
Directed by Rupert Friend ("Homeland"), the film is to commence production by the end of the year. The role of the teenage Tyson has yet to be cast.
Tyson is still considering a return of his one-man show, "Undisputed Truth: Round 2," to Brad Garrett's Comedy Club at the MGM Grand. As Kiki said, "It's more than likely he will be back, but he's just not there yet."
Seating for 3,000
That was the approximate, and official, attendance at the Official Golden Knights Watch Party at Toshiba Plaza on Sunday. I don't know what's louder, those 3,000 fans caterwauling as the clock ran to zero, or sitting next to New York-New York entertainment executive Stephanie Sanchez at Beerhaus.
Cool hang alert
Elvis fans dig this guy: Justin Shandor, back in action with his tribute to the King at 8 p.m. Friday at the Italian American Club showroom (tickets are $25). Shandor is a past International Elvis Tribute Artist champ, cast member of "Million Dollar Quartet" at Harrah's Las Vegas and a dandy performer.
John Katsilometes' column runs daily in the A section. Contact him at jkatsilometes@reviewjournal.com. Follow @johnnykats on Twitter, @JohnnyKats1 on Instagram.