Beatty, Rhyolite hold a wealth of history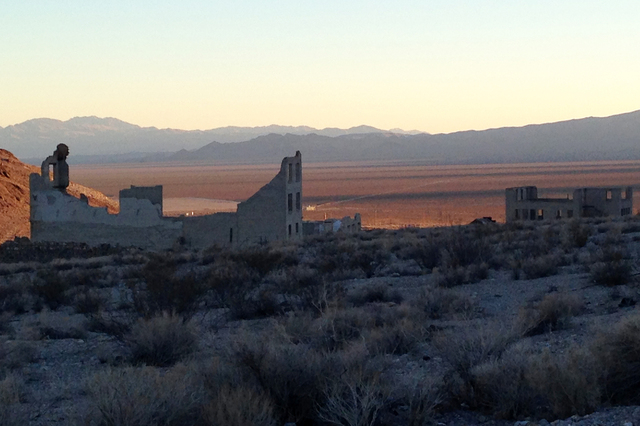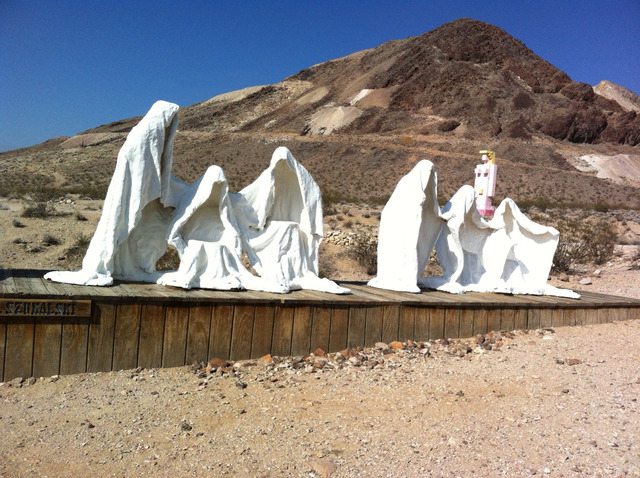 A familiar stopping place for travelers on busy U.S. Highway 95 through Nevada and a major portal to nearby Death Valley National Park, Beatty lies 115 miles from Las Vegas. It is the sole survivor of a gold rush that created several towns and mining camps in southern Nye County in the early 1900s.
Named for a ranching pioneer in the Oasis Valley along the Amargosa River, Beatty was established in 1904 and developed as a supply center for the Bullfrog Mining District.
After rich ore discoveries by prospectors Shorty Harris and Ed Cross in the area's volcanic rhyolite deposits in 1904, a mining frenzy drew hundreds of miners and millions of dollars in investments, resulting in 2,000 claims and about 200 mines. The biggest of the diggings, the Montgomery Shoshone Mine, spawned the town of Rhyolite in 1905.
Now one of the West's most famous ghost towns, Rhyolite sits four miles from Beatty on a short side road off state Route 374.
Visitors can also check out the Goldwell Open Air Museum, a collection of outdoor statues by various artists and sculptors that began in 1984 with shrouded life-sized figures created by a Belgian sculptor near the ruins of Rhyolite. The nonprofit art park operates the Red Barn Art Center, a combined visitor center, studio and sale facility. The outdoor sculptures are open daily to Rhyolite visitors free of charge.
Stop in Beatty at the Beatty Museum to acquaint yourself with area history before heading for Rhyolite. This visit to yesteryear is open daily except holidays from 10 a.m. to 3 p.m., free of charge. The museum is housed in a former church building and an annex at 417 Main St. The museum is operated by volunteers from the Beatty Historical Society, created in 1995 by a group of local women concerned about the loss of the historic area's artifacts. The society assembled museum artifacts that rapidly outgrew their first two locations.
Aiming to preserve the history of the colorful Bullfrog Mining District and the Oasis Valley surrounding Beatty, the museum houses an eclectic collection donated by residents and others interested in the area's past. Visitors find relics, minerals, mining and ranching equipment, railroad remnants, pioneer furnishings and local Native American artifacts, as well as documents, photos, diaries, letters and other ephemera valuable for research.
With just a couple of intact buildings, stark ruins of several others, faint street outlines and foundations overgrown by sagebrush, old Rhyolite hardly looks like it once was Nevada's third-largest city, home to several thousand residents.
The camp arose in the Bullfrog Hills in 1905 and transformed into a modern city almost overnight, powered by investment in the area's largest gold mine by industrialist Charles M. Schwab in 1906. His backing quickly helped bring electricity, water mains, telephones and a railroad connection to Rhyolite. It soon boasted a school, a hospital, banks, a stock exchange, an opera house, businesses, brothels, more than 50 saloons, restaurants, lodging houses, newspapers, an ice house and an ice cream parlor.
Getting equipment and supplies to the district's mines and ore out of them was difficult until the first railroad arrived in late 1906. The Las Vegas and Tonopah Railroad was soon followed by the Bullfrog and Goldfield Railroad, then the Tonopah and Tidewater, which also served borax mines in Death Valley.
All three lines used the Rhyolite Depot, a handsome 1907 structure that still stands. Also still standing is a three-room house constructed in 1905 of thousands of castoff beer and whiskey bottles, Nevada's finest remaining example of a structure made of bottles. It was rehabilitated in the 1920s by Paramount Pictures, which used Rhyolite as a movie location. Further repairs in 2005 used bottles donated by the Beatty Historical Society and Tonopah's Central Nevada Museum.
The last train left the depot in 1914, following mine closures that left Rhyolite a ghost town nearly bereft of residents and exposed to building movers and material scavengers.
Margo Bartlett Pesek's Trip of the Week column appears on Sundays.