Beyond bright lights, Nevada boasts plenty of dark skies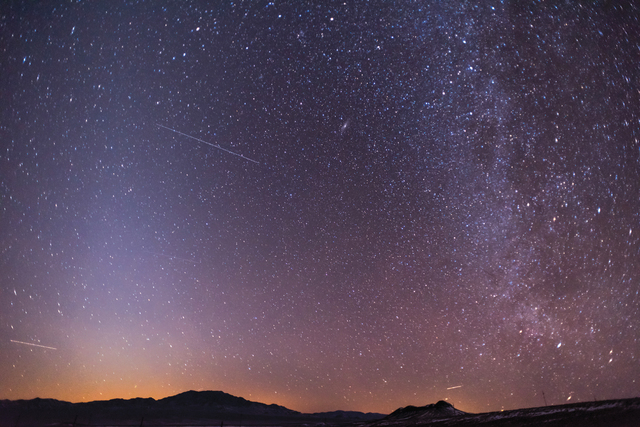 Despite brilliant lights and high-decibel sounds in the urban areas surrounding Las Vegas and Reno, Nevada retains some of the darkest night skies and quietest open spaces left in our nation. These natural attributes are enhanced by the Silver State's sparse population spread over a huge expanse of territory.
Where you find people, you find lights and noise. Most Americans are so used to brilliant lights and loud sounds that we do not realize what we have lost because of them.
Increasingly, intense night lighting and incessant noise are being recognized as pollutants in need of control. Mapping and photography from satellites and spacecraft reveal that intense city lights dim night skies around the world. City dwellers now see only the brightest stars and planets, losing views of the Milky Way, constellations and thousands of stars that used to be visible to the naked eye and familiar to many more people. Likewise, in urban settings, natural sounds and silence are drowned out by the cacophony of traffic, machinery and the electronic gadgetry of the modern world. Many people have become so accustomed to constant noise that they are uncomfortable with silence and no longer recognize sounds of nature.
Concern about light pollution includes the fact that it is getting harder for scientists to study stars and planets from established observatories. Flagstaff, Arizona, home to an observatory and located just 60 miles from the South Rim of Grand Canyon, was the first city in the world to address the problem of light pollution. In 1958, the city passed ordinances to promote the use of capped street lights and curb indiscriminate use of searchlights, spotlights and field lighting while ensuring safety and security lighting for people and property. When other cities followed suit, they successfully enhanced their night sky views. Some communities in dark-sky areas have profited from their locations, such as Tonopah, in Central Nevada. Playing up national mention as a dark-sky destination, Tonopah promotes ecotourism by designating paved routes as Star Trails fanning out from the former mining town.
Many experts worry that, with the loss of dark skies and natural sounds and silence, we are losing connection with our environment. These concerns have resulted in the growth of activist organizations such as the International Dark Sky Association and formation of a division of the National Park Service that gathers and assesses information on these issues. Visitors to national parks now benefit from broadened programs that promote appreciation of night skies and celestial events, as well as opportunities to experience nature's sounds and silences.
Most of the national parks featuring such activities are located in mountainous areas of several western states where skies are clearer and distances between cities are greater.
Great Basin National Park near the Nevada-Utah border is Nevada's only such federal preserve. It provides visitors with a busy schedule of nighttime astronomy and daytime solar programs, as well as full-moon hikes that include bright moonlight, starlit skies and nocturnal forest and animal sounds.
The park schedules programs with Dark Rangers on Saturday nights in April, May, September and October. From Memorial Day to Labor Day, night sky programs are offered on Saturdays and Sundays during holiday weekends, as well as on Tuesdays and Thursdays. On full-moon nights, rangers guide a limited number of hikers on lightless treks on park trails. Inquire about free tickets at the Lehman Caves Visitor Center the day of the hike. The park also offers afternoon solar viewing. The summer astrology programs culminate with a three-day Astronomy Festival from Sept. 29 to Oct. 1.
Plan to enjoy some of America's greatest places during this 100th-anniversary year for the National Park Service. Some of the best are within easy reach for Nevadans, including several with dark-sky programs. The first park entity to offer such programs was Natural Bridges National Monument in Utah. Other accessible areas featuring astrology programs include Bryce Canyon, Cedar Breaks, Grand Canyon, Death Valley, Joshua Tree, Kings Canyon and Sequoia National Parks.
Margo Bartlett Pesek's column appears on Sundays.