Escape urban bustle at Floyd Lamb Park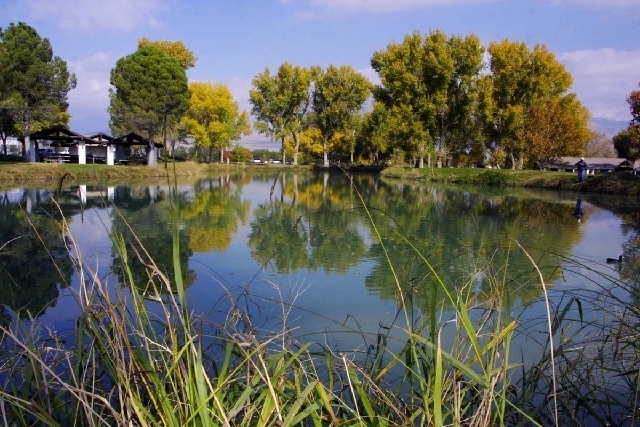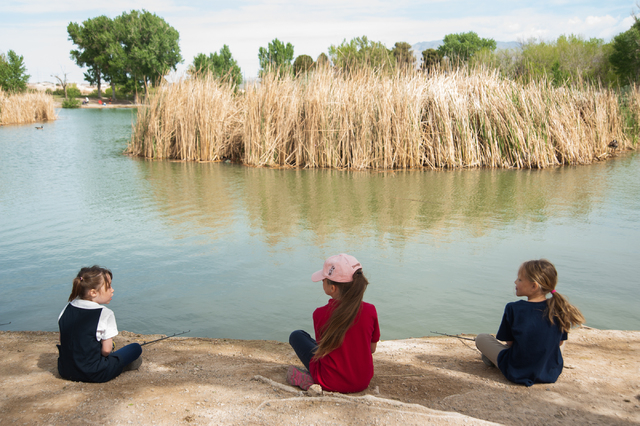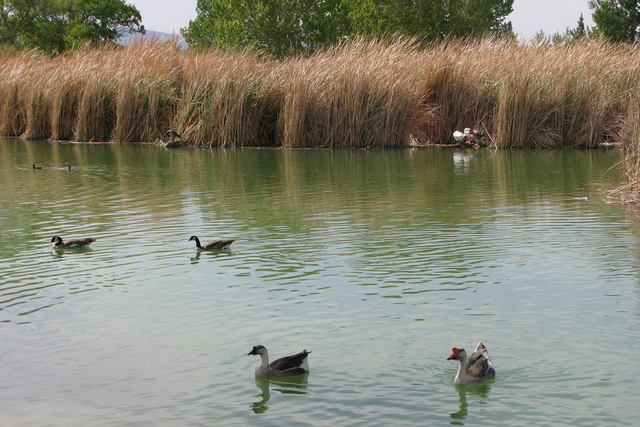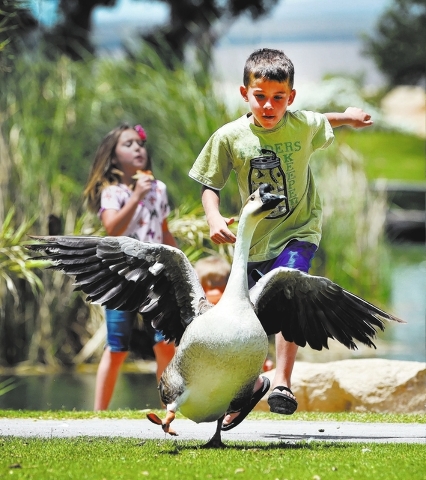 A survivor of the last ice age, Tule Springs in the northern part of the Las Vegas Valley became a vital oasis as the climate grew hotter and drier and lush wetlands turned to desert. The water and vegetation would attract wildlife and scattered bands of native hunter-gatherers. Over time the oasis was variously used as a livestock ranch and farm, a stage line stop, a railroad watering stop, and a divorce resort. The historic ranch is now at the heart of a popular city park in rapidly growing Las Vegas. Officially named Floyd Lamb Park at Tule Springs, it is widely known simply as Tule Springs.
The rugged Sheep Mountains form a beautiful backdrop for the park, which lies adjacent to the new Tule Springs Fossil Beds National Monument. Created in 2014, the national monument protects the remains of ice age animals drawn to the ancient wetlands where some became mired and died. The monument remains undeveloped, but hikers and horseback riders may access the area from Las Vegas and North Las Vegas streets around the park and east of it. The chalky soil of the former wetlands is evident along some park access roads and trails through washes and open desert.
To reach Tule Springs, drive north on U.S. Highway 95 and turn right at exit 93 onto Durango Drive. Follow Durango through the light at Grand Teton Drive. Continue north to Brent Avenue. Turn right to reach the park access road and the fee booth at the entrance. Fees for the day-use area are $6 per car or $1 for those entering on foot, on bikes or on horseback. Frequent visitors should inquire at the booth about money-saving annual fees, especially the bargain annual fee for senior citizens.
The park attracts more than 200,000 visitors a year who come for picnics, birding, fishing, biking, hiking, horseback riding and photography. Once located far from downtown, it is now an open-air island in a sea of development. Tule Springs offers visitors respite from city traffic, bustle and noise. The park is open daily, though its hours of operation change with the seasons. From September through April, hours are from 9 a.m. to 5 p.m. From May through August, it is open from 8 a.m. to 8 p.m. Check the city's parks website to reserve a picnic site on busy upcoming holidays like Easter and Mother's Day.
From the entrance, follow the meandering road to parking areas near family and group picnic shelters and four ponds stocked with fish. Anglers must have Nevada licenses. Ducks, geese and peacocks wander near the water and on lawns surrounding white-painted ranch buildings and fences. Shade trees, fruit trees and shrubbery break up the open acreage.
The trails through the washes and desert area east of the ranch and lakes may also be reached by turning on Racel, a side street about a mile south of the park entrance where there is some parking. Desert wildflowers are starting to reward hikers using the trail network, which has scattered bench seating with shade structures. Bring drinking water, dress in layers and wear sunblock and a hat.
The water at Tule Springs made it possible for native people to grow their small patches of corn, beans and squash. One of a string of owners, early settler John Herbert Nay bought the land and water rights at Tule Springs in 1916 and farmed there until 1928. Prosper Goumond of Las Vegas then bought the property for a ranch and family retreat in 1941. He soon took advantage of Nevada's liberal divorce laws to turn the site into a resort where guests waited out the state's six-week residency requirement in a comfortable Western setting.
Facing the threat of development in 1964, Tule Springs was saved when the city of Las Vegas purchased the land and turned it into a park. But it proved difficult for the city to maintain, and in 1977 the land was acquired by the state and renamed Floyd Lamb State Park. Decades later, after urban growth crowded the oasis, it was deemed better suited as a city park. The city reacquired the area in 2007 and it was renamed Floyd Lamb Park at Tule Springs.
Margo Bartlett Pesek's Trip of the Week column appears on Sundays.