Heritage railroad offers scenic ride through Arizona's Verde Canyon
September 7, 2014 - 12:40 pm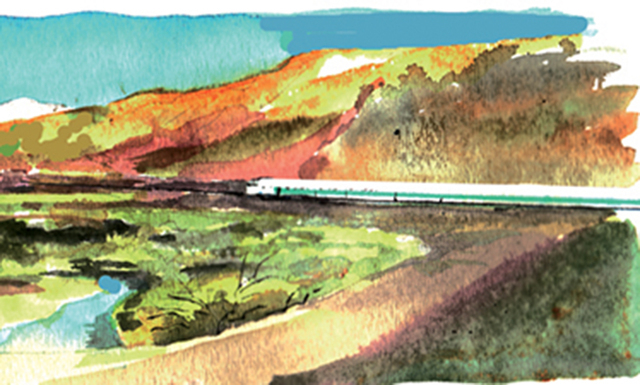 The Verde Canyon Railroad provides a scenic adventure through spectacular canyons in a wilderness area along the Verde River near Sedona, Ariz.
The four-hour excursion follows 20 miles of a branch line that once hauled smelted copper from the mines at Jerome to the main Santa Fe railroad near Seligman. It runs along the sinuous course of the river from a depot in Clarkdale to old Perkinsville and back, using tracks first laid more than a century ago and original bridges, trestles and a 680-foot tunnel.
The Verde Canyon Railroad is a half-day's drive from Las Vegas. Head for Arizona on U.S. Highway 93. At Kingman, go east on Interstate 40. At Ash Fork, turn south onto state Route 89. Before reaching Prescott, turn east onto state Route 89A, a scenic drive that will take you down Mingus Mountain through the ghost town of Jerome to the railroad depot in Clarkdale.
The heritage railroad carries about 100,000 passengers a year, running several days a week for most of the year. From late September through November, trains are scheduled almost daily to accommodate an increased number of passengers drawn to the area by its gorgeous fall foliage.
Restored 1950s diesel locomotives pull trains of refurbished observation cars, open gondolas with shade canopies and a vintage caboose. All closed cars have heating and air-conditioning, restrooms and access to open cars. Narration heard throughout the train keeps passengers abreast of the passing scenery, historical points of interest and wildlife often seen along the river, on the high cliffs or in wooded areas.
The handsome engines bear stylized American bald eagle symbols, appropriate because bald eagles and other raptors nest in the canyons. The birds frequently shadow the trains closely enough for passengers to admire their gliding flight and distinctive markings.
The trains offer first-class and coach fares, as well as caboose seating for small groups. The first-class cars carry fewer passengers, seated in upholstered comfort near large windows with panoramic views. First class includes Champagne and a variety of snacks. First-class fare is about $80 for all ages. Coach passengers ride in traditional Pullman rows in cars with many windows. Beverages and snacks are available for purchase. Fares cost about $55 for adults, $50 for seniors and $35 for children. The caboose is available for parties of up to six adults for $600. Seating and amenities are similar to those in first class.
Most trains start at 1 p.m., but a few special evening excursions are scheduled for special events during the year. In October, the Ales on Rails trains will showcase local craft brews. The railroad also works with wildlife experts to present programs at the depot on raptors and other area wildlife. The autumn color trains fill up fast, so make your reservations soon at verdecanyonrr.com or by calling 800-582-7245. Certain travel discounts are available only when making reservations by phone. Visitors may save money with travel packages offered by various hostelries and tour companies in the region that include train tickets.
The Verde Canyon Railroad started in 1988 with the private purchase of the old branch from the Santa Fe. It had served Jerome's mines since 1912, also carrying passengers and freight until 1958. Renamed and revitalized, the old route reopened to passengers on scenic excursions in 1990. It rapidly drew notice, adding more excursions, refining the experience and increasing the number of passengers each year.
The experience begins at the Southwestern-style depot. Allow some time to browse through the gift shop, sample the fare at the cafe, explore the local vintages, brews and food at the Whistle Stop and learn about railroads and area history at the museum housed in a former caboose.
Margo Bartlett Pesek's Trip of the Week column appears on Sundays.